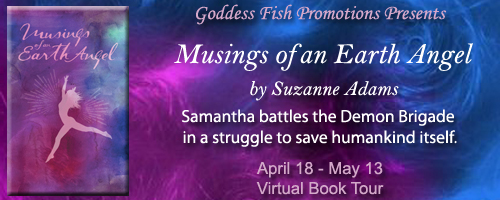 This post is part of a virtual book tour organized by
Goddess Fish Promotions
. Suzanne Adams will be awarding an autographed copy of Musings of an Earth Angel (US only) to a randomly drawn winner via rafflecopter during the tour. Click on the tour banner to see the other stops on the tour.
How I handled the research of my book
Musings of an Earth Angel was inspired by my story and a lot of things that had happened to me, so the research was exciting and super interesting. I did extensive research on angels, power spots, traveling, life purpose, self love, and spiritual awakenings. All of these things are relevant and fun to me. So I thoroughly enjoyed all of the research. It was sort of like a fun obsession actually. 
I also realized that self love and life purpose are 2 of the major key components to living a life of happiness and fulfillment. I believe as a society we are moving in the right direction and today, more so then ever, people are on a mission to be happy once and for all. I believe that this story can help trigger memories deep in your soul and allow you to connect with the Samantha in a way that will help unlock what your own purpose is and what things you could do in your life to be happier.
The research for my book was also based on so much of my life experience and it was really fun for me to sort of go down memory lane as I was writing different scenes and adventures. The first question people always have for me when they find out the characters were inspired by real life people is, "Well, who is Uncle Bill?"
The short answer is Uncle Bill is based on all of the naysayers in my life, the people that told me I couldn't and wouldn't do certain things and then I always managed to do them. Uncle Bill represents a lot of the negativity we all have to face on a daily basis. My hope and my intention is that this story and relating to Uncle Bill will allow people to see that it doesn't really matter what other people think, all that matters is that you come from a place of true authenticity and that you are living your life for you and seeing people with love and not fear!
22-year-old Samantha Kingston had the perfect job, perfect boyfriend, and perfect Friday nights. When disaster strikes she loses everything and is propelled into a journey where evil and good, dark and light are battling for her destiny. Will the Demon Brigade viciously destroy her? Or will her Angel team and the Divine help her to elevate and see her real truth as an Earth Angel?
Enjoy an excerpt:
I had heard of being possessed by demons, but I never thought I would be so lucky as to get to have the experience firsthand. Once again, I could feel my body trembling and that strange bitter saliva building in my throat. I needed an exit strategy—and fast. I'd learned to expect and accept crazy episodes, but I had hoped I could at least enjoy Rose's birthday dinner out with my friends.
Sweat trickled down my forehead, and I pushed my chair away from the dinner table and staggered to my feet. Rose grabbed me by the forearm. She and the others had already enjoyed three bottles of Prosecco; and the night was just getting started at La Lune et La Soleil, the hot new restaurant in midtown.
Rose raised her voice above the clink of glasses and hum of conversation. "Where are you going? Jacob's just getting to the good part. You gotta listen."
With sweat now dripping down my cheeks and the back of my neck, I sat back down as Jacob continued with his crazy story. He'd been over served at a party a few weeks ago and jumped into a parked cop car. The keys were somehow still in the ignition, and he drove through town shouting at random people through the car's megaphone. Then he somehow managed to escape without the local cop tracing him. He'd gotten away scot-free—so far.
The waiter brought over the first course and Ken, a good friend to both Rose and me, proposed another toast. "To the beautiful birthday girl and to another great year of us all having fun together!"
I raised my glass of sparkling water—I could barely stay sane as it was these days and was terrified to think how my body would react to alcohol, at least for now anyway. Woozily, I toasted my dearest friend as best as I could. I fought to keep my eyes from rolling into the back of my head and almost dropped my glass.
"Whoa!" Ken said. "You sure that's just sparkling water?"
About the Author: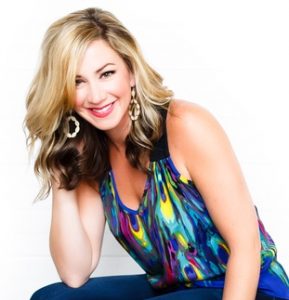 Suzanne Adams is an author, motivational speaker and Life Purpose consultant from Atlanta this is sharing her zest for life with audiences around the globe. She believes that having fun and following your passion are the keys to finding true happiness and she's passionate about helping unlock what that means for you.
Suzanne's purpose is to teach people how to live a life of fulfillment and joy. She does this through teaching you her proven 5 step process to attract happiness and freedom into your life. Her first book, Musings of an Earth Angel, was just published this fall.
| Facebook | Twitter | Instagram | Book Website
Check out the Spotify playlist for the book.