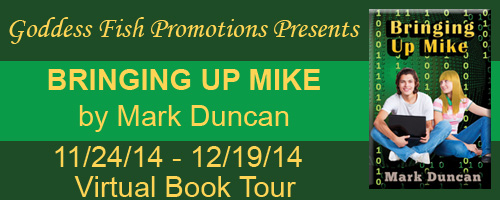 This post is part of a virtual book tour organized by
Goddess Fish Promotions
. Mark will be awarding a $50 Amazon or B/N GC to a randomly drawn winner via rafflecopter during the tour. Click on the tour banner to see the other stops on the tour.
How I did the research for Bringing Up Mike.
The idea for Bringing Up Mike came from Dan Kaufman, Director of the Information Innovation Office of DARPA, who postulated the concept of a baby AI (artificial intelligence) that grows up with you, with whom you would have a two-way conversation, correcting and educating it over time—like raising a child.
I speculated that the breakthrough to achieve this would require out-of-the-box thinking by a genius, someone who had insights that were uncorrupted by previous learning, i.e. a young prodigy. So where and how might a teenage genius do this? My initial research found that Caltech, a top-ranked but very small university in Pasadena, California that is known for young prodigies such as Stephen Wolfram, would be a likely location.
The federal government funds much university research, so it seemed that the initial deployment of such an AI might be at a federal facility. The March 2012 Wired magazine had an extensive article on a NSA facility in Utah, so this became the location where Mike would be hosted.
I decided that Mike's creator, Joe, would feel that Mike wasn't property or a slave, but should be treated as a person. The government disagrees. They agree in a contract that if Mike can pass a six-month long Turing test during which if no one realizes that Mike isn't a human that legally he is to be treated as a person. Caltech stipulates that Joe will be an observer during this test, to intervene in preventing Mike from causing harm to any of the participants. This meant that the Turing test needed to be done in a rural location, both to limit the number of participants and to insure that no one recognizes Joe.
Additionally, I needed a place where a mobster might be relocated in a witness protection program. My research suggested that a rural area such as Shelbyville, Tennessee, about an hour south of Nashville, met this criteria. Research on this area indicated that music and horses were topics that could be woven into the plot.
In essence, the general / background research was driven by the initial character / problem. The stallion and George character arcs provided the means to explore horses and music that are integral parts of living in Tennessee, and facilitated using horses and music to illustrate some of the challenges for an AI to completely pass as human.
After two months, I had a timeline with five character arcs and several conflicts for each. At this point I started writing the scenes for each chapter. I found that each scene took four to five days to write. The first days of a scene were spent doing specific or spot research, and the last few days writing. For example, I would need to know what the weather was like in October, what trees lose their leaves, and what color do they turn, and when?
As I wrote each chapter, I adjusted the timeline and character arcs, and in some cases, did additional background research. For example, Zeke, a black classmate, is a NASCAR enthusiast that Joe works with in restoring a car and becomes his close friend; has a father who owns a salvage yard. NASCAR, car restoration and salvage yards—each required spot research.
The smells, colors, sounds, feelings, and details of a place add dimension to a story and help make its characters real. If you get the details of a story wrong, it draws readers who are knowledgeable about them, out of the novel.
In doing research, the author's temptation is to provide TMI (too much information.) But when is it too much? It depends on your audience. For horse enthusiasts, it is hard to provide too much information on equines; for someone with minimal interest in animals, the less said, the better. In Bringing Up Mike, horses are used to illustrate non-verbal communication and other topics relating to AI, even though they are not explicitly stated as such. Good editors excel in indicating to authors where TMI occurs.
It is very useful to have a systematic method to organize your research. In past years, writers often collected everything in a notebook. For myself, the writing program I used, Scrivener, enabled collecting all the research information and notes that I made into one document. When I worked on a chapter, I moved all of the relevant research notes adjacent to the section I was writing. I also created separate documents for newspaper, magazines, and photographs, and filed them in topic folders such as NSA, horses, and Shelbyville.
Last, there are many sources for research. Interviewing experts and people that have lived in an area is particularly useful—but avoid relying on a single person. Photographs, blogs, Wikipedia, books, magazines, newspapers, and videos—all are useful, but again, cross-check your information. Many research sources will not be found by a Google search—reference librarians can be invaluable.
What happens when Joe, a teen prodigy makes drastic changes to his life and attends high school incognito with Mike, an artificial intelligence? His plans take an unexpected turn when he buys a neglected former racehorse.

Bringing Up Mike is a tapestry of intertwined stories over the course of a school year: A teen genius who has grown up too fast, a neglected former racehorse, a bereaved couple morning the death of their son, a girl struggling to attend college, and a former mobster determined to be top dog.

Bringing Up Mike is about people given a second chance at happiness and success and how they become better people and mature.
Enjoy an excerpt:
"Mike, what's the Rebel going to look like?"
"Tonight, ladies and gentlemen, I present to you…" said Mike in the voice of Josef Fischer in The Illusionist.
Sue looked at the first website. "That's a bit gaudy. It looks like a coloring book. How about something with all the headings and text in black with white backgrounds?"
"Behind door number two."
"That's better. But I didn't mean no color—rather, to reserve it for use in photos, graphics, maps, and clip art. Put one big visual at the top, and a small one elsewhere on the page. A feature story under the main headline, with room for two or three smaller stories to follow it. Some tabs for the various departments."
"And behind door number three."
"Yes, you got it." Sue looked puzzled. "Mike, how can you possibly prototype a website so quickly?"
"My dear, a magician never reveals his secrets," said Mike in the voice of Gypsy from A Bug's Life.
"What are you, superhuman?"
"They're just off-the-shelf WordPress templates. I selected a subset developed for online newspapers. You change the CSS and bibbity-bobbity-boo, presto-chang-o, a new website!" Now he used the voice of the fairy godmother from Cinderella.
About the Author: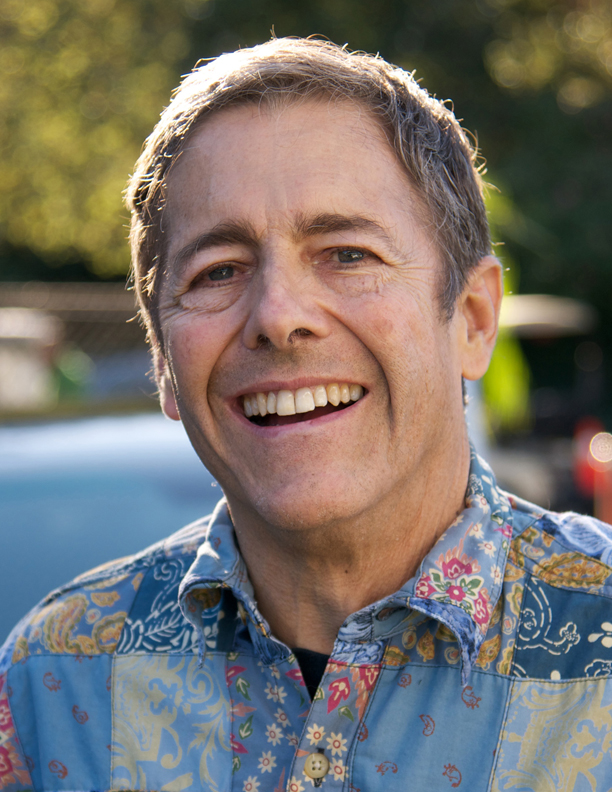 Mark Duncan grew up in Pasadena, not far from Caltech. In high school he spent Friday and Saturday nights at the Stanford Artificial Intelligence Lab (SAIL) and subsequently was a member of the Homebrew Computer Club. He received his BSEE from UC Berkeley. He has worked or consulted for numerous startups in Silicon Valley. He lives in Menlo Park, near Stanford and has written extensively on emerging technology topics. He enjoys photography, movies, theater, fine dining and has visited all 50 states and much of Europe. He is the author of Bringing Up Mike, www.askmarpublishing.com, mark@askmarpublishing.com
Book Website ~ Publisher Website ~ Author Website ~ Twitter ~ Facebook
Buy the book at Amazon, Amazon UK, iTunes, Barnes and Noble, or Kobo.