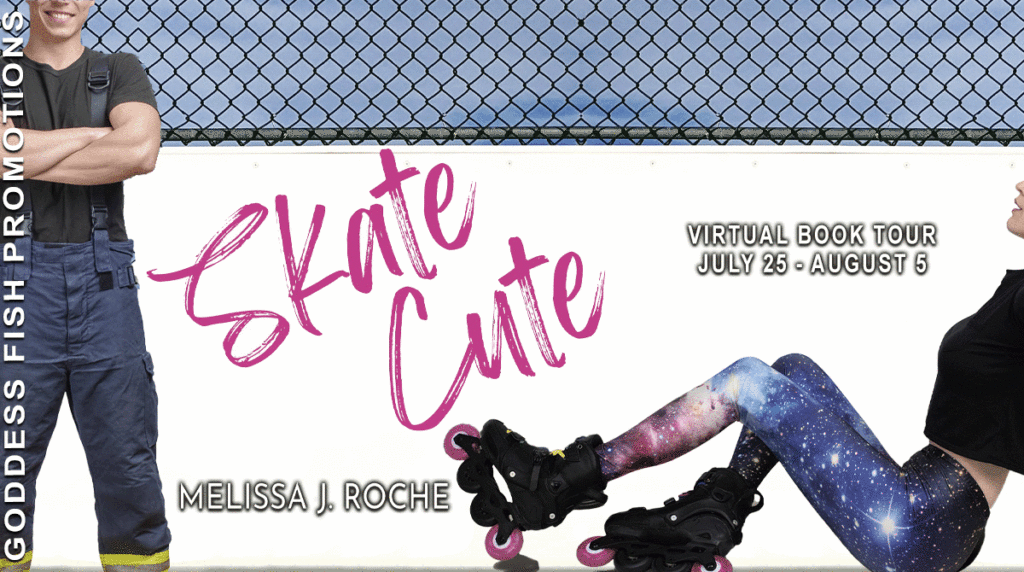 This post is part of a virtual book tour organized by Goddess Fish Promotions. Melissa J. Roche will be awarding a $25 Amazon/BN GC or a digital copy of the book to two randomly drawn winners via rafflecopter during the tour. Click on the tour banner to see the other stops on the tour.
How do you fight fear in creativity?
Fear is the mind killer. ~ Bene Gesserit litany, Dune Chronicles, Frank Herbert
I'm a roller skater, so I know what fear feels like.
Fear is the bunching of the muscles in my back and neck, bracing for the impact on hard concrete. Fear is those same muscles clenching early, anticipating failure, throwing off my balance before I even find it. Fear is the heavy sigh that says I shouldn't even try next time—not when my bruises already have bruises.
I'm a writer, so I know what fear looks like.
Fear is a blank page that refuses to be filled. Fear is red ink, lifeblood leaking into the margins. Fear is a haze of alphabet soup, phrases floating through my peripheral vision—you can't, that's ridiculous and wrong, just delete it already, why would anyone ever want to read any of your words?
I'm an author, so I know what fear sounds like.
"How'd the release go?" "Did you hear about her six-figure deal?" "What are you working on next?" "Oh, that's nice." And let's not forget the sound of silence—from the inbox, from the comment threads, from the vast void of social media marketing. A newborn author can find herself swallowed in that silence, fast forgetting the sound of her own voice.
I'm human. I stare Fear in the face, sometimes daily. I roll out of bed, put my feet on the floor, and find Fear already parked on my slumped shoulders, whispering lies into my ear. It's hungry, ravenous even. It gobbles up insecurity, shame, comparison, scorn, failure, rejection—the table scraps of a diet no human should sustain. And just like that, it's bigger, meaner, hungrier, ready for the next day.
But I'm still human, which means something else too: I'm stubborn. Tenacious. And equipped with the one weapon Fear fears most.
Anyone who's put themselves through training knows it—only the stubborn become the skilled. Out on the skate rink I get up again, dust off my bruises, and get back at it. I spin around again, trip again, fall again, get up again, spin around again. And slowly, spin by spin, my reflexes grow more familiar with success than afraid of failure.
As a writer, I'm tenacious. To be honest, I learned tenacity from the words themselves. Words sometimes wake me in the middle of the night, restless until written. Ideas won't let go until they're shaped into story. That blank page that tries to dictate my opinion of myself as a writer? I've found I have to grab hold of it, shake loose all the unhelpful words, then put pen to paper and simply write the next right thing.
But then I have to face Fear's greatest weapons: those whispers. They'll hate it… She's a better writer than you… You're a fake… They're all laughing behind your back… You'll never be enough… These are the moments when stubbornness and tenacity fade, the words run and hide, and the doubt creeps in. And the only one weapon I've found that's strong enough to counter Fear's fiercest whispers… is Love.
Love yourself. As a writer, as a skater, as a human—love yourself. Learn to laugh when the words play tricks on you or when the wheels fly out from under you. Look yourself in the mirror, and speak truth to lies. Be proud of a first draft, however malnourished, no matter its Apgar score. Practice patience with yourself and your creativity, giving it the time it needs to work its magic.
Then, love outward. Love someone else's creativity enough to shout it from the rooftops. Assume the best of the human behind every rejection letter. Show up on social media for the sake of another, or the Other. And above all, love your world by offering it the greatest gift you have—the gift of yourself, your brave creativity, the best and only antidote to fear.
Kriss heads home to her small prairie town with 98% of an astrophysics PhD, a load of memories she'd rather not think about, and a survival plan: skate and graduate. Her plan doesn't include the attention of a familiar admirer from the nearby fire station, one with an impressive physique, a hidden singing talent, and a smile dazzling enough to sweep her off her skates. Before she knows it, she's falling for him—hard.

Chase has settled into the rhythms of his small-town firefighter routine, but he remembers Kriss from high school: the starry-eyed skater girl on her way out the door of his life. Now she's back, just as gorgeous as ever, spinning around the next-door rink without a care in the world. Or so he thinks, until Kriss is targeted with mysterious acts of vandalism designed to derail her dreams. Can he help Kriss find the courage to stand up under the attacks and trust herself to love again?
Enjoy an Excerpt
He rounded the first corner at the far end of the field and snuck a glance back toward the rink just in time to watch Kriss's long ponytail sail out behind her helmet with another tight spin. That one must not have gone quite as planned, because she stumbled a little and lurched sideways. But she recovered gracefully enough with a quick laugh a moment later, as if she enjoyed the thrill of almost wiping out on the concrete.
Yup. Gotta fall to get better. His ass knew as well as anyone else's, after too many falls on that very same rink, shuffling his own inline skates and hockey stick around one of the goals in his spare time.
Too much of his spare time. But he wasn't so bad on wheels himself, these days—MVP on the fire department's informal team, crushing the police department's lousy attempts at rivalry in the yearly Battle of the Badges tournament.
His high school self would die a thousand deaths before admitting it, but young Chase had taken up street hockey for a very… specific reason. Kriss had been just as badass on her skates all those years ago as a senior at Sacreola High, three years ahead of him. Hot, smart, and senior—and totally out of his league.
She had graduated and moved on without giving him so much as a second glance. But his newfound love for skating had stuck around long enough to turn him into a decent hockey player on the side. No harm done.
About the Author Melissa received her first pair of black-and-hot-pink inline skates in fourth grade, a couple of years before she swore her life to the study of the stars (in a fit of sci-fi inspired passion). Two decades later, she has acquired several larger pairs of skates and an astronomy PhD, both of which tend to slip out from under her at the most inopportune moments. She enjoys skating and singing at the neighborhood rink in her small town in Colorado, where she lives with her husband, two boys, and a cozy lap cat. Only one of which is allowed to read her writing over her shoulder.
Writer Chick PHD | Website | Twitter | Facebook | Instagram | YouTube | TikTok
Buy the book at Amazon.