This post is part of a virtual book tour organized by
Goddess Fish Promotions
. Mae will be awarding $20 Amazon or B/N GC to a randomly drawn winner via rafflecopter during the tour. Click on the tour banner to see the other stops on the tour.
How did I choose the background/setting for my novel?
When ECLIPSE LAKE, my most recent release published, several early readers wanted to know how I came up with the setting for the book. The region I chose, tucked into northwestern Pennsylvania, is an odd combination of farming communities, small-town rural life, recreational water sports, and hunting/fishing cabins. Within that placid environment, there are also several dozen multi-million dollar homes nestled among the mountains that shelter a resort lake.
The setting was born over several visits to a lake house owned by my sister and her husband, in an area that is somewhat similar. Once, while swimming, I noticed a park ranger making his rounds and was immediately struck by the idea of having a ranger as one of my lead characters. The ranger became my hero's brother and my fictional resort area became Eclipse Lake—a vacation destination sheltered by twin mountains (Registry and Lazy Bend) with a sleepy rural town (Onyx) tucked at the base.
Because I built the setting around an area I was familiar with—embellishing and tweaking to suit my plot—I was able to draw on aspects I knew. Boating on the lake, visiting the marina and restaurants, grabbing ice cream at the local "hot spot," enjoying a town festival.
Then there are the homes—elaborate chalets tucked high in the mountains, windows tinted tangerine with the fading light of the sun as it sets over the lake. At night, the surroundings grow so dark you can barely see your hand in front of your face. Overhead, the sky is jeweled with the dance of stars, intensely bright without the glare of city lights to tame them. Crickets and tree frogs create a nighttime serenade, and in the morning, the rustle of a foraging woodland creature or deer can usually be heard outside the window.
Into this peaceful and picturesque setting, I dumped a fifteen-year-old crime, and a man who knows more about it than he's willing to admit. The result is a stark contrast between the hostility his arrival stirs, and the tranquility of the setting.
Have you ever visited an area and envisioned it as a setting for a novel?
Small towns hold the darkest secrets.

Fifteen years after leaving his criminal past and estranged brother behind, widower Dane Carlisle returns to his hometown on the banks of sleepy Eclipse Lake. Now, a successful businessman, he has kept his troubled past a secret from most everyone, including his seventeen-year-old son.

But memories in small towns are bitter and long.

Ellie Sullivan, a nature photographer for a national magazine, has a habit of ping-ponging across the map. Her latest assignment leads her to Eclipse Lake where she becomes caught up in the enmity between Dane, his brother Jonah, and a vengeful town sheriff. When freshly-discovered skeletal remains are linked to an unsolved murder and Dane's past, Ellie is left questioning her growing attraction for a man who harbors long-buried secrets.
Enjoy an excerpt:
Ellie stopped walking and turned to face him. "Why are you here?"
Dane picked up a flat stone. With a flick of his wrist he sent it skimming across the lake. It danced effortlessly across the surface as if he'd done the same thing a thousand times before. "You know that skeleton they found?"
She nodded.
"I've got more skeletons than a graveyard. I can't pick up and go to another place…to the next photo shoot." He turned to face her. "Half of my life is here and half's on the west coast. I have to make them fit together."
The revelation reminded her of the family she'd left behind in Idaho, reawakening a familiar tug of homesickness. In an effort to find more comfortable ground, she changed topics. "You told me you're from San Diego. I did a photo op there four years ago. What do you do for a living?"
"I get by." He took her hand and started walking again.
She sent a speculative glance in his direction, recognizing evasiveness when she heard it. He was wearing a Rolex, and though dressed casually, clearly had expensive taste. Yet he'd booked an ordinary cabin rather than one of the exclusive chalets higher up the mountain.
She liked the feel of his fingers around hers, warm and firm. The contact sent a pleasant tingle up her arm. What the hell was wrong with her, getting caught up in his touch as if it were magic? As if she'd waited her whole life for that sensation. He had skeletons in his past, a brother who couldn't stand the sight of him and a sheriff who wanted to run him out of town. Eccentric, or just plain trouble?
About the Author: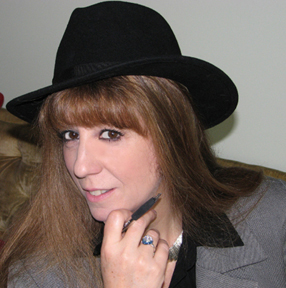 Mae Clair opened a Pandora's Box of characters when she was a child and never looked back. Her father, an artist who tinkered with writing, encouraged her to create make-believe worlds by spinning tales of far-off places on summer nights beneath the stars.
Mae loves creating character-driven fiction in settings that vary from contemporary to mythical. Wherever her pen takes her, she flavors her stories with mystery and romance. Married to her high school sweetheart, she lives in Pennsylvania and is passionate about cryptozoology, old photographs, a good Maine lobster tail and cats.
You can find Mae Clair at the following haunts:
Website | Twitter | Google+ | Facebook | Amazon Author Page | Goodreads
Purchase ECLIPSE LAKE from Amazon. Add ECLIPSE LAKE to your Goodreads List.