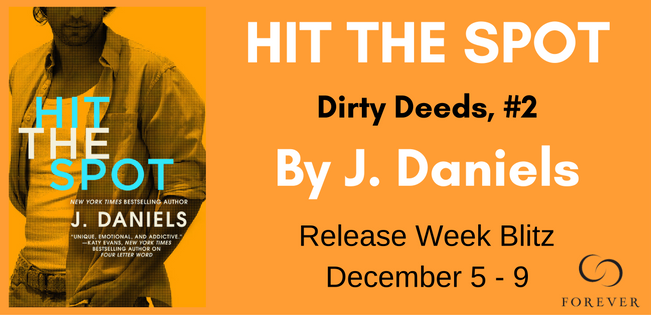 This post is part of a virtual book tour organized by the publisher to celebrate the release of
Hit the Spot
by J. Daniels. Enter the Rafflecopter at the end of the post for a chance to win a copy of the book.
TOP FIVE VACATON DESTINATIONS
1. The beach. Any beach. It's my go-to summer vacation spot.
2. Massanutten, V.A.. I honeymooned here. We went skiing and ate pizza every night. We've been back several times with our kids. It's a beautiful vacation spot.
3. California. I went to San Francisco this past year and LOVED IT. I think I'm a secret West Coast girl.
4. Texas. Cowboys? Check. Fantastic weather? Check. Southern hospitality? Double check.
5. My house. I'm a homebody.
Is this love or just a game?

Tori Rivera thinks Jamie McCade is rude, arrogant, and worst of all . . . the sexiest man she's ever laid eyes on. His reputation as a player is almost as legendary as his surfing skills. No matter how her body heats up when he's around, she's determined not to be another meaningless hookup.

Jamie McCade always gets what he wants. The sickest wave. The hottest women. And Tori, with her long legs and smart mouth, is definitely the hottest one. He knows Tori wants him—hell, most women do—but she won't admit it. After months of chasing and one unforgettable kiss, it's time for Jamie to raise the stakes.

Jamie promises that soon Tori won't just want him in her bed, she'll be begging for it-and he might be right. Somehow he's found the spot in her heart that makes her open up like never before. But with all she knows about his past, can she really trust what's happening between them? Is Jamie playing for keeps or just playing to win?
LISTEN TO AUDIO CLIPS HERE
Listen to two clips from the audiobook from HIT THE SPOT, narrated by Sebastian York and Kate Russell
About the Author: J. Daniels is the New York Times and USA Today bestselling author of the Sweet Addiction series and the Alabama Summer series. She loves curling up with a good book, drinking a ridiculous amount of coffee, and writing stories her children will never read. Daniels grew up in Baltimore and resides in Maryland with her family.
Website | Facebook | Twitter | Instagram | Pinterest | Goodreads
Buy the book at Amazon, Audible, Barnes & Noble, Books-A-Million, Google Play, iBooks, Indiebound, or Kobo