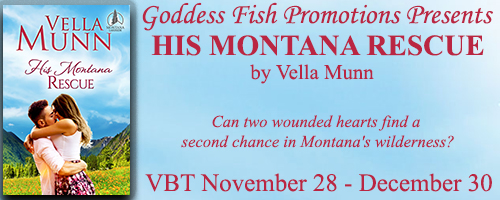 This post is part of a virtual book tour organized by
Goddess Fish Promotions
. Vella Munn will be awarding a several photographs of Montana's wilderness sent via email (international and U.S. giveaway) to a randomly drawn winner via rafflecopter during the tour. Click on the tour banner to see the other stops on the tour.
What books/authors have influenced your writing?
I'm such a book junkie that's hard to answer, but even though his horror scares me, I swear no one does characterization better than Stephen King. He blows me away with the tiny details he uses to make even minor characters three-dimensional. When it comes to romances, my dear friend Catherine Anderson is a master of slowly building the process of falling in love. She too uses details to create a full experience.
Tell us something you hate doing. Why?
Shopping. Of any kind. Oh, I can tolerate grocery shopping because it has become a rote experience. Same things on the same aisles at the same store. Then I stand in the checkout line looking at other shoppers' carts and am amazed that certain products exist. I'm not much for processed foods so learning there are such things as pre-mashed potatoes boggles my mind. As for the rest of the dreaded shopping experience, I was raised in remote, rural areas and to this day crowds intimidate me. Most stores have so many products jammed together and the colors are so bright. I feel my mind shutting down. What the hell did I come in here for? Shoot, I can't even remember my name at that point.
What's your pet peeve?
I'm not sure I have one because I pretty much roll with the punches. There is a matter of a 16 year old dog who lets me live with her. The older she gets, the less bladder control she has and there's only so much the carpet shampooer can accomplish. I'd love to get new carpet instead of being on the constant search for damp spots. (Sorry if this is too much information)
When you are in writer mode, music or no music? If music, do you have a playlist?
Music. Silence makes me antsy. I rely a lot on Pandora, lots of country and western but sometimes I'm in the mood for Indian flute music.
Who was your favorite hero/heroine?
I can't say there's been one favorite but Winter Barstow in my romantic suspense Death Chant is near the top of the list. She was found by the side of the road when she was a little girl and knows nothing about her background except she has Native American features. I love her mix of strength and vulnerability. For the record, I give all of my characters emotional hang-ups—just like real people.
Former firefighter Echo Rose may have recovered from the injuries that nearly ended her life but the emotional scars still linger. She now devotes herself to protecting wildlife and sheltering her heart until local contractor Rey Bowen reminds Echo that life can offer so much more.

Rey Bowen is not the only one at Lake Serene with secrets and a desire to reboot his seriously derailed life. Meeting Echo reminds him that life can sparkle with joy and laughter and passion, but can he show the cautious Echo how to love again even as he struggles to trust his own heart?
Enjoy an Excerpt:
"Ranger Echo Rose," a rumbling voice said.
Taking it slow, she turned in the direction the words came from.
Rey Bowen was looking at her, or rather looking down at her. He wasn't a giant of a man, just a shade over six feet, but that didn't stop her from remembering she was at least seven inches shorter and only one hundred twenty pounds. For reasons she was careful not to examine too closely, she'd told herself the breadth of his chest and width of his shoulders were responsible for her unsettling reaction to him.
What was she thinking? Hadn't she learned, painfully, to keep emotional distance between herself and men? She had, darn it. She'd never drop her guard.
Until she'd done in her ankle, she'd spent much of her time around physical people, most of them men. She still was around more men than women, but in recent months she'd mostly rubbed shoulders with people who spent their days behind desks.
Despite how she'd been forced to earn her living since last summer, she believed she still understood the physical male. When he was around women he was trying to impress, the breed carried himself as if he was a bull elk, strutting a bit, hard muscles pushing against too-tight T-shirts, and gazes giving out bedroom vibes.
Rey did none of those things. Instead, it was as if he'd built an emotional wall around himself. The reason was none of her business, darn it. She had enough to do dealing with her own life.
About the Author: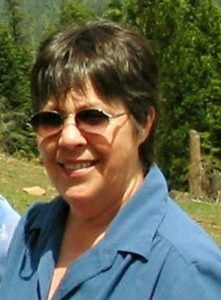 Vella Munn freely admits to being a dedicated and sometimes demented fiction writer. She has always been drawn to nature and those who feel at home in it. A career writer, she has had way over 60 books published, most of them romances both past and present. As far as personal statistics go, she has one husband, two sons, four grandchildren, and is owned by two rescue dogs. Home is southern Oregon within a two hour drive of Crater Lake. She frequently visits Montana in her mind and heart.
Website | Facebook
Buy the book at Amazon.