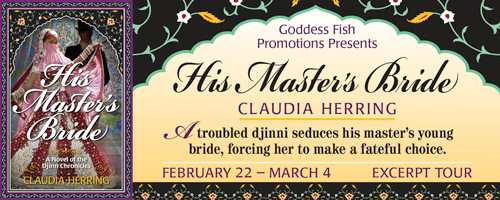 This post is part of a virtual book tour organized by
Goddess Fish Promotions
. Claudia will be awarding a $15 Amazon or B/N GC to a randomly drawn winner via rafflecopter during the tour. Click on the tour banner to see the other stops on the tour.
NOTE: The book is on sale for only $0.99!
A troubled djinni seduces his master's young wife, forcing her to make a fateful choice.

The djinni Yasir, imprisoned in an urn by a jealous magician, searches the centuries for his lost love. He finds Lavinia reborn in 1811 England, only to discover she's his new master's bride.

Desperate to have her, Yasir spell-casts Lavinia's husband to forget he is master and give her the urn. When she opens the ancient vessel, Yasir emerges, terrifying in his magnificence yet somehow familiar, but she fails to recognize him. She distrusts this djinni even though his very presence enchants her.

Yasir's spell is fading. Lavinia's husband has changed. Now he's violent as he struggles with returning memories of when he possessed the urn. Lavinia strives to keep the two from encountering one another, while torn between fidelity for her husband and her increasing attraction to the djinni.

Impatient to win Lavinia's confidence, Yasir must convince her of her true identity so they can reclaim their life together. He dare not reveal a deeper reason: Only with Lavinia can he regain his freedom and exact revenge on the magician who confined him to the urn—

If she does not go mad from the spell to awaken her memories.
If her husband does not escape the djinni's magic and discover her secret.
If the magician does not find them first.
Enjoy an exclusive excerpt:
Exhausted and exhilarated after the wedding banquet, the dancing, the endless toasts, Lavinia had changed into her French lace nightgown enduring the assistance of her new lady's maid. With a sly smile, the maid dimmed the oil lamp, and left, closing the door without a sound, leaving Lavinia alone in her new room, in her new manor, trembling in the thin filigreed silk.
The first thought that flitted through her head—she was thankful her courses had come two weeks before, early, thank God—threw her into the confused litany of advice from her girlfriends and nanny about various male body parts and what she was to do upon encountering them. She swallowed hard, envisioning Peter in his cravat, silk shirt, buttoned jacket and trousers. The only flesh she had seen were his hands and face. And that's not what the advice covered.
The door opened. She whirled around, heart pounding.
"There you are." Peter strode towards her. "Fleming was supposed to escort you to my rooms, but," he looked around, "this will do fine. There's a fire in the hearth. Warm enough?"
All Lavinia could do was nod at this sophisticated, well-favored lord of the manor eyeing her in a most pleasing way. She swayed on her feet and chided herself: She would not faint on her wedding night at the appearance of the man she had loved since she had first seen him.
Peter slipped off his full-length dressing gown.
Lavinia breathed a sigh of relief at his perfectly proper pajamas. He embraced her, his arms cool in the wine-colored silk. She stifled the impulse to wriggle away and stood stiffly, her head whirling.
"Aye, if he hurts you, just bear it, don't say anything."
"Kiss him on the lips, then on his chest, that way he can't grab you and do it too fast."
"If he asks you to do something, even if it seems . . . ah . . . peculiar. Do it."
Peter caressed her hair. "I like it loose. You looked beautiful in the tiara, but," he chuckled, "I'm glad you removed it."
She laughed. "It almost slipped off before I started down the aisle. Aunt Alice worked a miracle with hairpins and a few twists of wire."
"Rose would've scrambled for it, had it fallen off. She's had her eye on that tiara since I insisted to mother that you wear it." Peter ran his hand down her cheek, sending a tingle through her body.
"Your sister doesn't like me." Lavinia looked into his eyes, cerulean and sea foam.
"Nonsense. Rose is merely jealous of my love for you. She has always begged every bit of my attention."
About the Author: Claudia Herring aspired to be a baton twirler when she was five and an archaeologist at thirteen. When she became a graphic designer and an author of fantasy, she decided she'd hit upon the perfect compromise.
As a designer and illustrator she formats the written word around visual art. As a writer she weaves words into stories that form worlds. Her novel, "His Master's Bride," a historical fantasy with romantic elements set in Regency England, won first prize in the Houston Writer's Guild Novel Competition. "Ties of Smoke," next in "The Djinn Chronicles" series, is in its second draft.
When she's not delving into the world of the Djinn, Claudia is practicing yoga to go to that hushed space where she imagines and plots her next fantasy novel.
If you like Diana Gabaldon's Outlander series, or Carol Berg, you'll love His Master's Bride.
Website | Blog | Twitter | Facebook | Amazon Author Page
Buy the book for only $0.99 at:
Amazon
Barnes and Noble
Apple ibooks
Scribd
Kobo
Page Foundry
24 Symbols