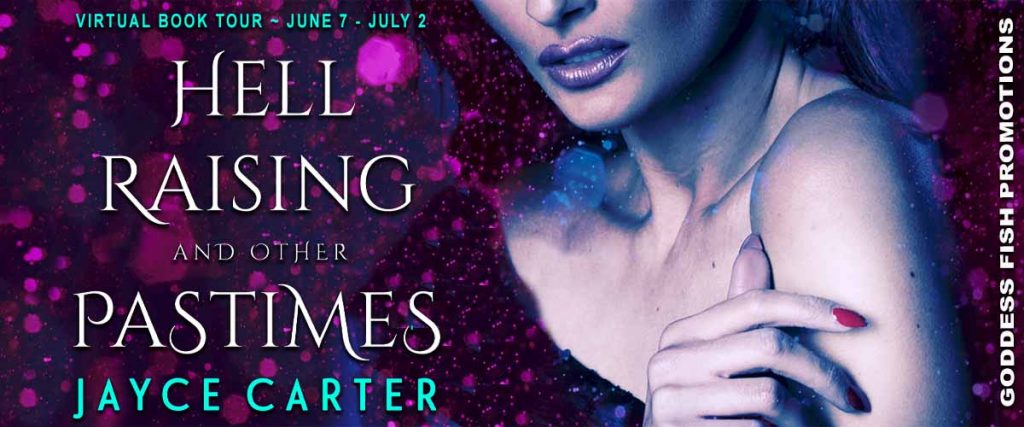 This post is part of a virtual book tour organized by Goddess Fish Promotions. One randomly chosen winner via rafflecopter will win a $50 Amazon/BN.com gift card. Click on the tour banner to see the other stops on the tour.
Lots of people have told me to go to hell—I guess they finally got their wish.

I've finally accepted the fact I might not be entirely human, so you'd think life could give me a minute. Instead, I find myself sucked into hell at Lucifer's demand, and I realize death is even more complicated than my life was.

I'm still searching for how to stop the missing spirits before it's too late, and with no suspects other than Lucifer, I have to survive hell—where everything wants to kill me—so I can confront the devil himself. Not even my love life can be simple, though. Troy is terrified of his werewolf side hurting me, Kase and Grant are lying to me, and Hunter is keeping his own secrets. I know better than to trust anyone, especially the men who have taken over my life.

Get to Lucifer's Court, find out the truth about the missing spirits, figure out exactly what I am, and try not to die along the way. Oh, and don't fall in love with the men who will for sure break my heart and possibly get me killed.

Easy enough, right?
Enjoy an Excerpt
Hunter nodded, then tossed pieces of twine onto the table. "Rooms for the night. I'd say it'll be better than sleeping on the ground, but they often rent these things by the hour."
"Let's just be glad they don't have black lights here," Grant said.
I nodded at the twine. "What's with the rope? Does the bondage come complimentary? Come for the rooms, stay for the rope play?"
"You telling me you want me to tie you up, shadow-girl?" Hunter picked one up and reached across the table to catch my wrist. He tied it on me, the feeling of his strong fingers against me enough to make me wonder if the rooms might give us a second, spider-free, shot at sex. "These are enchanted to get us into the rooms. Think of it like a keycard, hell-style. We have four rooms, and the sigil on the bead matches the one on the door of the room."
I twisted the string on my wrist. "There isn't a bead on mine."
"That's because you're approved for all the rooms."
The statement sounded nice until math caught up with me and fucked me like it always did. "That means I'm not getting my own room, doesn't it?"
Hunter didn't even try to look sorry. "It isn't nearly safe enough for you to sleep alone, shadow-girl. You'll bunk down with someone else."
"And let me guess—you're offering?"
About the Author Jayce Carter lives in Southern California with her husband and two spawns. She originally wanted to take over the world but realized that would require wearing pants. This led her to choosing writing, a completely pants-free occupation. She has a fear of heights yet rock climbs for fun and enjoys making up excuses for not going out and socializing.
Instagram | Facebook | Website | BookBub | Amazon Author Page
Buy the book at Amazon, Kobo, Barnes and Noble, or Totally Bound.