This post is part of a virtual book tour organized by the publisher to celebrate today's release of Hard Breaker, the sixth book in her Gargoyles series where even the most beastly gargoyle is able to win the heart of a beautiful human female.
From New York Times bestselling author Christine Warren comes Hard Breaker, the sixth book in her Gargoyles series where even the most beastly gargoyle is able to win the heart of a beautiful human female.

Ivy Beckett 's gift feels more like a curse. She can hear things happening in distant locations, which is how she knows the very instant her family is killed by servants of the Darkness. Furious, she joins the fight to save the world – but the losses are mounting up. She thinks only a miracle can save them—but she doesn't expect the miracle to come in the form of a handsome gargoyle.

Baen is a fearsome Guardian, but when he awakes, even his surprised by war that is going on. But what's even more distracting is beautiful Ivy. Driven by passion, she's ready to charge head-first into battle. But Baen's primal instincts to protect what's his rise within him, and Ivy is dangerously attracted to him. Can she and her gargoyle warrior save the world…and fall in love?

"Soars with fun, witty characters and nonstop action." –Publishers Weekly on Stone Cold Lover

Don't miss the other books in the Gargoyle series:

Book #1: Heart of Stone
Book #2: Stone Cold Lover
Book #3: Hard as a Rock
Book #4: Rocked by Love
Book #5: Hard to Handle
Enjoy an Excerpt
Ivy felt a surge of satisfaction. Well, adrenaline, really, but whatever.
"Perfect." She got to her feet and pitched her voice back to where it could just be overheard— significantly louder, but still natural. Also, a bit wheedling. "Let's get out of here, Marty. You promised me dinner in a proper restaurant, not a pub, and I'm abso famished."
Martin rose awkwardly, sending their glasses to wobbling again. "Lead on, then, darling. Wherever you like."
She forced a giggle. She hated to giggle. "Oh, you're such a pudding. But now I've got to decide. Hm, Judy told me about this café . . ."
Her mouth continued to babble, spewing nonsense she pulled off the top of her head as she led the way through the crowd— steering well clear of Teddy and his mates— and out the front door. Turning onto the pavement, she kept up the patter until they had stepped well away from the pub en route to the tube station. Even then, though she let the inane drivel dry up, she continued to clasp Martin's hand in hers and lean into him. They hadn't been the only ones to leave the pub and the streets continued to bustle with both vehicular and pedestrian traffic. It was important to keep up appearances all the way through this journey.
"Okay, stage two," she said softly as they strode toward the Underground station. "I have a bag at Left Luggage in King's Cross that we'll need to pick up. It has more information you'll need to look over for your time with Paul, some snacks, and cash and new identification for you hidden in the lining. I'll show you where. We're on the last train to night, but we should have plenty of time to make it, so don't worry about that."
He nodded, but his gaze was glued to the pavement in front of them. Poor guy really didn't have the right temperament for all this cloak- and- dagger stuff. But then again, she hadn't thought she did, either, and look at her now— practically an expert, and armed on top of it.
Under her anorak and tight jeans, a custom- made dagger rode in a sheath at the small of her back. And oddly enough, she knew how to use it. Over the last several months, she hadn't had much choice but to learn, until these days, it felt so comfortable, she almost forgot it was there.
Until moments like this, that is, when the hair on the back of her neck began to stand up and her senses put her on high alert.
About the Author: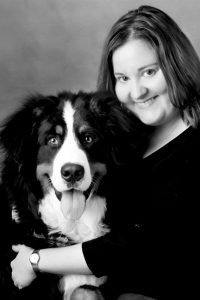 CHRISTINE WARREN is the author of Stone Cold Lover and Heart of Stone, as well as the Novels of the Others, including New York Times Bestsellers Big Bad Wolf, Walk on the Wild Side, and One Bite with a Stranger. Born and raised in coastal New England, Christine Warren now lives as a transplant in the Pacific Northwest. When not writing (as if that ever happens), she enjoys horseback riding, playing with her pets, identifying dogs from photos of their underbellies, and most of all reading things someone else had to agonize over.
Twitter | Facebook | Website
Buy the book at Amazon, Barnes and Noble, Books a Million, IndieBound, or Powells.