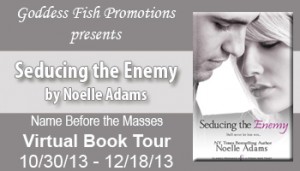 This post is part of a virtual book tour organized by
Goddess Fish Promotions
. Noelle will be awarding a $25 to Amazon or B&N GC to a randomly drawn commenter during the tour. Click no the tour banner to see the other stops on the tour–remember, the more you comment, the better your chances of winning.
Handling Negative Criticism
by Noelle Adams
I handle negative criticism by pretending it doesn't exist. Seriously.
I should probably give some context by explaining that I'm talking about negative reviews. If I've asked for criticism—for instance, if it's an editor giving me feedback on one of my books—then I'm very open to criticism and try very hard to take it seriously and make necessary revisions. I do sometimes take it personally, but I can put that aside and do what needs to be done to improve the book. The kind of criticism I pretend doesn't exist are negative reviews of my book.
Reviewers should be able to say whatever they want about what they read, and I shouldn't resent them for not liking everything about my books (or anything about my books). But if I read negative reviews, I'm always going to feel hurt and a little resentful, and I'll start thinking of all the ways the reviewer didn't read carefully or isn't thinking clearly. This is natural. It's the way we react when we've been criticized, but unless a writer wants to work herself into a frenzy over every negative review, she needs to find a way to deal with it. Different writers learn to handle it in different ways. My way is to simply not to read the negative (or even the mediocre) reviews.
I'm really impressed by writers who can read negative reviews and try to learn from them. I've discovered that I can't learn anything from them at all. Nothing good comes from me reading them, so I just don't anymore. I do check reviews on Amazon and Goodreads, and I can always tell if there has been a negative one posted. But I only read the four and five-star reviews. I make myself move on from all the others. I click away from the site before I'm tempted to see what was said. Even three-star reviews, which are average rather than bad, aren't helpful for me to read so I don't read those either.
I've been much happier as a writer once I made this resolve. If I had more self-control, I wouldn't check reviews at all, but I just can't take that step. I do like to read four and five-star reviews. They encourage me and make me happy, so I'll keep reading those. But I don't read any of the others. That way, reviewers can do what they're supposed to do—share their honest opinions on what they read—and I can do what I'm supposed to do—write instead of obsessing on what everyone thinks of my work.
About the Author: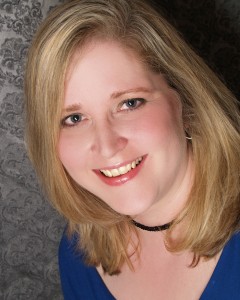 Noelle handwrote her first romance novel in a spiral-bound notebook when she was twelve, and she hasn't stopped writing since. She has lived in eight different states and currently resides in Virginia, where she teaches English, reads any book she can get her hands on, and offers tribute to a very spoiled cocker spaniel.
She loves travel, art, history, and ice cream. After spending far too many years of her life in graduate school, she has decided to reorient her priorities and focus on writing contemporary romances.
Website ~ Facebook ~ Twitter: @NoelleAdams3 ~ Goodreads
After being injured in a tragic accident as a child, Marietta Edwards has lived a sheltered life. Finally recovered, she wants to indulge in pleasures entirely new to her, beginning with seducing a sexy stranger. It's her bad luck when she realizes that the man who awakened her body and emotions is none other than Harrison Damon. Their families have been embroiled in a fifteen-year legal battle. The man she's given herself to is her worst enemy.

The heir to a vast fortune, Harrison believes the unforgettable night he spent with Marietta is just a fling. Then he discovers she's an Edwards—a woman born of the family he despises most. He shouldn't see her again, but no matter how he tries, he can't quench his attraction for her. He doesn't know what her game is, and he won't let her seduce him again.

Can two people destined to be enemies find love with each other?
Buy the book at Amazon or Barnes and Noble.