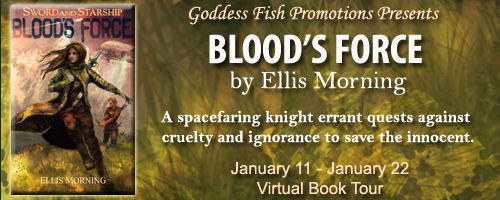 This post is part of a virtual book tour organized by
Goddess Fish Promotions
. Ellis Morning will be awarding a $20 Amazon/BN GC to a randomly drawn winner via rafflecopter during the tour. Click on the tour banner to see the other stops on the tour.
Handling Negative Criticism
Would-be authors must master their approach to negative criticism well before their first book is published. In fact, if they haven't learned this skill by the time their work is first reviewed by an editor or beta reader, they stand to lose out on a lot of valuable advice that can elevate their manuscript.
Once criticism is received from any source, you must first determine whether it's constructive. Non-constructive criticism puts someone or something down, sometimes in a hurtful way, without offering any suggestions on improvement. A simple "This book sucks" is the sort of criticism you can safely disregard, because there's nothing actionable within it. The commenter offers nothing to justify their opinion, and may have written the comment out of spite.
But what about something more like, "In Chapter 3, the pacing was too slow to hold my attention?" Now this is more the sort of criticism you can do something about. It may still feel like a punch to the gut. It may make you biting mad. But there's something here that's potentially valuable to your writing. So here's how you handle it:
1. Walk away for a few days. That's right—if you're angry, step away from the keyboard! Don't fire off any righteous replies. If you must get something off your chest, do it in a plain text file or a notebook, something that you can't send to someone and regret later.
Focus your attention and energy on other things. It's OK to grumble once in a while, but don't obsess. Wait until all the hurting defensive instincts calm down.
Feeling better? Good! Now it's time for step 2.
2. Return to the criticism with a less sensitive, more receptive eye. When you're calm, you'll be able to determine if there really is merit to the criticism. Look into it as carefully as you can. If you're not sure about it, ask the opinion of a neutral third party.
3. Take to heart the criticisms and improvements that make sense to you. Whether it's in a current rewrite or future work, make whatever changes are needed, then give yourself a pat on the back. Slow, conscious improvement like this is the only way to become a better writer!
4. Place more weight on criticism received from several sources. You can't please everybody. Some things might not need changing just because one person complains about them. However, if you see a common theme throughout reviews or your editor's feedback, that's something you want to take more seriously.
If you like my advice, I've written more about receiving great feedback on your writing here.
Have you had any memorable, informative experiences with dealing out and/or receiving feedback? I'd love to here about it.
Where superstition is law, there is no order!

Dame Jessamine is a knight errant with a spaceship for a steed, a pupil of ancient science and technology who quests on behalf of the downtrodden. She's accustomed to forging her own path through the galaxy—until she's hijacked at sword-point and sent to investigate Nidaros, a remote barony known for bursts of rebellion.

In Nidaros, Jessamine finds a populace short on food and patience, innocents detained for torture, and a court trapped in a web of delusion. The Baron considers her a distraction. The magicians, convinced of a "curse," dismiss her pleas for rational action. Even as Jessamine forges an alliance with the soldiers, an unknown foe seeks to frame her as an agitator.

Stuck amid murderous intrigue and cut off from her mentors, Jessamine must figure out how to save Nidaros from starvation. But the only people who understand the true "curse" have been accused of witchcraft—and if Jessamine's not careful with her ancient knowledge, she'll join them in the dungeon!

Blood's Force is Book 1 of the Sword and Starship series of science fiction/fantasy adventure.
Enjoy an excerpt:
The uneven fence lacked the care and planning of a permanent fixture. It also lacked a gate. At the point where cobblestone met fence, a proclamation had been nailed up on the boards, stalwart against the wind threatening to carry it elsewhere. Flanking the parchment were two iron amulets of circular serpents gagging on their own tails, warning enough for those who couldn't read. Weathering had warped the parchment and smeared the issuing party's seal, but the message remained legible:
TURN BACK
By the Will of the UNSEEN,
by Decree of OUR LORD AND SOVEREIGN Albion Hadwin Catherwood VII (LMHR)
and by the Might of his Magic Adepts is the Settlement once known as Gules hereby
CURSED
for Failure to protect Assets sacred to OUR LORD and his Dominion.
Gules is cast from the Domain of Catherwood, furnished back unto Nature,
Her Denizens confined herein without Wish or Aid.
An any should trespass, shall the Trespasser share the Curse.
An any should render Succor to the Wretched within, shall the Renderer share the Curse.
Such is the Will of the UNSEEN, the Powers holding Dominion over all Dominions.
"Hell," I muttered, for once regretting my gift of literacy. I felt like I'd just read the account of a madman who'd cut off his own hand to teach the rest of his body a lesson. My ribcage tightened, but not with the primitive fear of evil forces. Drea and my other mentors had freed me from belief in curses, Unseen, and other powerless superstitions. My heart ached for the people trapped beyond the fence, who almost certainly hadn't done anything to deserve being so cruelly severed from the rest of the galaxy.
Damned magic adepts. They were the same everywhere I went. There seemed no limit to the evil they could justify as "the Will of the Unseen."
About the Author: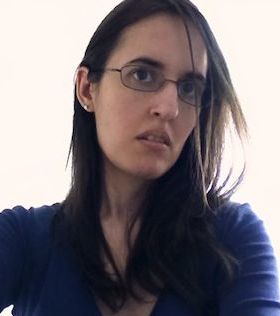 Ellis has always loved staging adventures in her head before going to sleep each night. When she was twelve, she started putting these adventures on paper.
For the next twenty years, she wrote with varying degrees of seriousness, but always as a hobby. In that time, she fell in love with Mark Twain and Kurt Vonnegut, the original Star Trek series, and Mystery Science Theater 3000. Science fiction became her favorite domain to work in, but she also enjoyed reading fantasy, horror, Western, and detective stories, and incorporating their elements into her work. One of her favorite things to do was make people laugh.
Ellis denied being a writer for decades. But then she sold articles to The Daily WTF, and a short story to Analog Science Fiction and Fact. After quitting her full-time job to finish her first novel, it was time to own up to writing as her calling. She's currently an editor at The Daily WTF, and having the time of her life penning novels and short stories.
Google+ | Twitter | Goodreads
Buy the book at Amazon, Barnes and Noble, Kobo, or iBooks.