Scotland—the Land of Green and Ghosts
By Terry Spear
I've had a few ghostly encounters—and the oddest thing is most of them have been auditory, not visual.
I never expect to see ghosts, or hear them. My first instinct is that there's a normal explanation for the paranormal happening. As in—it's NOT attributed to ghosts.
Until I can find no earthly explanation.
We visited seven castles in Scotland—all purported to be haunted. And why not? They're centuries old and people died at these places—often suffering violent deaths.
In one, the castle had gardens that had a room where they found the remains of a young woman and when they buried her elsewhere, she haunted the place until they put her back under the hearth, but I saw nothing, felt nothing.
I didn't expect to. I never do.
We were driving along a narrow road—western side of Scotland—no homes for miles, no people, nothing. A river, trees, rolling green hills, and we spied Highland cows. So we stopped to take pictures.
As soon as we headed across the grass to reach the fence, I heard Celtic music. It faded in, then abruptly cut off as I drew closer to the fence. I felt it was like one of the Highland romances I'd read where the woman kept hearing the ghostly piper playing. Only this was of more than just a piper's playing, no singing, just instrumental. It was beautiful and made the place even more special, as if the Highlanders were having a celebration in the wilds of Scotland in a green, green glen. I was so disappointed that the music ended so abruptly as it did, wanting to feel the heavenliness of the music while I photographed the cow.
Beyond the pasture, a river flowed. It was truly idyllic. My friends had walked toward the gate, but the cows weren't there, so when the two ladies headed in my direction, I asked them, "Didn't you love the music?"
They both looked at me like I was a wee bit daft. No, neither of them had heard a thing.
I didn't hear music playing anywhere else in Scotland—just that one isolated place for the span of a very brief time, and yet I'd longed to hear more of it. It was like a welcome home from a clan long forgotten.
Have you ever had any ghostly experiences?
I'm giving away one ebook copy of Highland Rake—a ghostly tale of romance in medieval Scotland.  Just leave a comment and you're entered to win!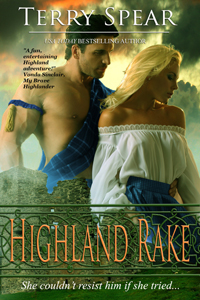 Highland Rake
Dougald MacNeill takes Lady Alana Cameron to his laird brother James's Craigly Castle when he finds her roaming the heather on the MacNeill lands. But who has sent her there and why? Her uncle, laird of the Cameron clan, and warring with the MacNeill for years, has made a marriage arrangement with another clan and now that is even at stake.
Having witnessed her father's death, and even believing he had returned her home when all along he had been dead, Alana discovers she has the gift, or curse, of seeing the newly departed and sometimes those who should have long ago passed over. Her own deceased brother continues to plague her, the rake, and now another, who is very much of the flesh, Dougald MacNeill, has her thinking marrying a rake might just have its benefits. Dougald's sister, who is one fiesty ghost, has offered to help Alana keep Dougald in line if he thinks of even straying.
But who sent Alana on a fool's errand in the first place to remove her from the Cameron's lands and set her squarely in Dougald's care, and who really killed her father and her brother, and what has it all to do with Alana? Will she and Dougald learn the truth before it is too late?
ABOUT THE AUTHOR
USA Today bestselling author Terry Spear has written over fifty paranormal romance novels and medieval Highland historical romances. In 2008 Heart of the Wolf was named a Publishers Weekly Best Book of the Year. A retired officer of the U.S. Army Reserves, Terry also creates award-winning teddy bears that have found homes all over the world. She lives in Crawford, Texas. For more information, please visit www.TerrySpear.com, follow her on Twitter, @TerrySpear, and like her on Facebook, https://www.facebook.com/terry.spear. Join Terry's Shifters at: http://terryspear.wordpress.com/