One Misty…….Moisty…..
Halloween, when dead leaves rustle along dark edged pavements and graves give up their dead…was that really the time to be out like this? At four o'clock when the sun's dying fingers crept above the grey clouds, making them shiver? At five in the softly perishing light? But now tiny clock hands point to seven? Yes. Yes, of course it was. Three of us had gone from door to door, door to door. Doors we were told were safe. Safe to knock at. Safe to enter. Safe to sing the words of the immortal song….
One misty, moisty, morning,
When cloudy was the weather,
There I met an old man
All clothed in leather
Look….think slow, think menacing, think some twisted old dude in leather with a face like the grim reaper. Okay, so I was trying to. But it didn't help I couldn't remember the words…..
All clothed in leather,
With a cap under his chin.
How do you do?
Not terribly well actually since I was wearing my blazer back to front and it was cutting my throat. Not literally you understand. If it was doing that would I have been laughing so hard my mind was blank? No, though just as well it was. Our first night's guising was soon to become our last.
And how do you do?
And how do you do again?
Outside, the world had turned darker. Tendrils of fog snaking across the cold, wet paving stones. Still, jingling our money, we stepped into the frost, the cold, unbroken ground of a winter's night. A howl rent the air. We froze in our gym shoes, these things we wore because they made no noise. But whatever pounded towards us made a noise. Slavering and snarling, it bounded closer. Closer. And as it did and we stood, as if our toes had grown shoots, we each knew with sick certainly what it was.
"Ahhhhh! The dog from 172!"
We said 172, but maybe it was 162, or even 168. We weren't actually clear where the dog was from. What we were clear about was at one foot tall, the dog was a terror. It could probably jump fences that were four foot high and see through houses we hid behind. It could certainly chase the three of us at once. Robert, the quarter mile home, Laura and I through barbed wire topped fences where our money spilt from our pockets and I somehow lost my blazer. The old man all clothed in leather could not have been scarier than that little dog. It was Halloween after all. Having our fingers blown off by some random firework seemed safer, bonfires seemed safer, which was why, the next day at school, we made a solemn, never-to-be-broken vow.
To stick to Guy Fawkes Night instead.
Any memories you want to share? I'm giving away a free ecopy of His Judas Bride to a randomly chosen commentator.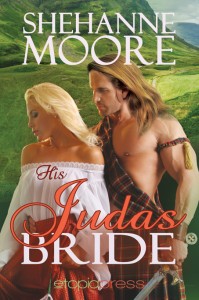 BIO:  Shehanne Moore writes gritty, witty, historical romance, set wherever takes her fancy. What hasn't she worked at while pursuing her dream of becoming a published author? Shehanne still lives in Scotland, with her husband Mr Shey. She has two daughters. When not writing intriguing historical romance, where goals and desires of sassy, unconventional heroines and ruthless men, mean worlds collide, she plays the odd musical instrument and loves what in any other country, would not be defined, as hill-walking.
Social Media
http://shehannemoore.wordpress.com/‎ http:/pinterest.com/shehanne/‎
https://twitter.com/ShehanneMoore
‎ http://shehannemooreweeblycom.weebly.com/‎
https://www.facebook.com/pages/Shehanne-Moore/163736780417433‎ http://furiousunravelings.wordpress.com/‎
http://furiousunravelings.wordpress.com/‎
http://www.facebook.com/pages/Kilting-the-Book/1400031303553598‎
Buy links.
Amazon
Barnes and Noble
All Romance Ebooks