Halloween, the fantastic holiday
Sharita Lira
Greetings readers.
Oh it's that time of year, AGAIN? *grumbles* Almost Christmas. Time to get out the pocket book and do last minute shopping. But not before we celebrate my favorite holiday, Halloween. No, I'm not really into scary stuff. Heck, I don't even watch scary movies and I hate haunted houses. What I love about Halloween is the costumes and the parties; the one time of the year where it's totally okay to look ridiculous. Over the years, I've been to several Halloween bashes dressed up and other times just in a witches hat. The fun is watching other people and laughing at some outrageous costumes. Not only that, since I have kids, I enjoy dressing my little princess up as her favorite Disney character for the holiday. At the moment, she's feeling Cinderella but she was looking at Jasmine and Ariel too so we'll see what she decides.
Me, I'm not sure. I always wear black and usually go for the witch or goth type costume harking back to my younger days. After all, we like to hang on to our youth for as long as we possibly can. *laughs* Or I might go for something different this year, who knows. That's the brilliance of Halloween, putting your mind to work and coming up with something brilliant to show off.
What about you? What are your favorite things about Halloween? Oh did I mention how much I love candy corn? Leave me a comment along with your email, telling me what you like as well as your email. My prize is a $5 GC from Amazon and a book from my backlist. Good luck.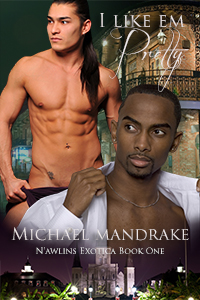 Blurb: New Orleans is supposed to be the big easy. One night changes everything for Frankie Choteau.
New Orleans. A city rich in tradition, diversity, and on the comeback trail from hurricane Katrina. Francois "Frankie" Choteau, a resident of this town, a cop with a hot temper and low tolerance for bs. Kajika Fortier, a transplant from Oklahoma came here looking for a dream and unfortunately it's turned into a nightmare. On a hot summer night, they meet and cross paths during a very difficult situation. Despite this, the attraction between them is evident and loneliness for both men is a fate worse than death. They'd both like a chance at happiness but will the circumstances and Frankie's uneasiness prevent their happy ever after?
Read chapter one here
Michael Mandrake pens complex characters already comfortable with their sexuality. Thorough these, he builds worlds not centered on erotica but rather the mainstream plots we might encounter in everyday life through personal experiences or the media. To find out more please visit http://tabooindeed.blogspot.com.
Author Sharita Lira: In one word, crazy. Just crazy enough to have 3 different muses running around in her head, driving her to sheer exhaustion with new plot bunnies and complex characters.
This happily married mother of two beautiful children loves music, computers, reading, and still enjoys reading and writing fanfiction. She's a proud member of the Erotica Readers & Writers Association, as well as an advocate for rights of LGBT citizens. She's also a contributor to the heavy metal ezine Fourteeng.net.
For more information, please visit http://www.thelitriad.com as well as her Facebook fanpage, The Literary Triad.