Have you ever been in an old house and knew you weren't alone? There's something about old houses. Strip away the wallpaper and paint throughout. Change the drapes. Refinish all the furniture. They still don't feel new. How do I know? After all my mother's efforts to restore our century-old family home, we always knew we weren't alone.
Pre 1906. Great-great-great Grandmother Mary is on the porch. The tree to the right fell in the 1906 hurricane, one of the worst to hit Mobile.
My great-grandfather, a cotton broker who built the house in 1889, lived comfortably with his wife and son in what their rich relatives called "the cottage." Great-great-grandmother Mary moved in with them. She was the first to die there—of old age in 1906. In time, both of my great-grandparents died in their beds.
My grandfather and grandmother lost twin boys in a late-term miscarriage and their baby daughter during the influenza epidemic of 1918. Grandfather died when Mama was twelve. Like his parents and baby daughter, his wake was held in the living room.
When Mama married my father, they built their own home on the river, but we were frequent visitors in town. Even as a child, I felt Gramma wasn't alone there, but it was always a comfortable, welcoming feeling—never threatening.
We moved in with Gramma when she was diagnosed with leukemia and couldn't live alone. She died in her bed on Christmas Eve. I KNOW she stayed around but to this day can't talk about what happened the week after she died.
After Gramma died, Mama totally restored the house. We're talking award-winning with signs and plaques. When we held my wedding reception there, I discovered later that some of the guests had been a little uneasy about attending. A cousin confided that everyone was certain the house was haunted.
Years passed, Daddy died from a heart attack while working in the yard. The neighborhood changed from rural to urban shambles. Mama refused the invitations to move in with my family. Then, abruptly, she accepted. Years later, she told me why.
Our spectral family had always confined themselves to the living room, dining room, and hall. They were benign presences, strictly observers; that is, until one of them invaded the kitchen. One day, when Mama was washing dishes, she thought she heard something in the front of the house. She walked over to the door leading to the hall. She stopped, unable to touch the doorknob. Suddenly, her hair was yanked from behind and a voice distinctly said "Go!" She grabbed her head and turned quickly but the room was empty. For the first time in her life, she felt unwelcome in her home. She believed that this was her family's way of telling her—or giving her permission—to leave.
We maintained the empty house for more than a year before putting it on the market. We didn't attend the closing when it sold. The new owner died within the month. His widow never lived there. Today, the house is a well-maintained business. I don't know if my spectral family stayed with their home or accompanied their possessions which are in my home. They're welcome to visit or reside with us anytime or maybe they're already here.
* * * * *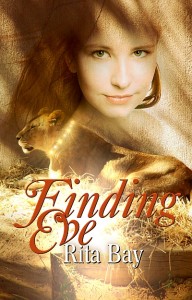 ABOUT RITA, HER BOOKS, & A GIVEAWAY Rita Bay is an author of paranormal and erotic fantasies (Champagne Book Group), historical romances (Siren BookStrand), and contemporary novellas (Secret Cravings Publishers). Her blog (http://ritabay.com/) features posts on the history of Europe and the United States omitted from the history books AND blurbs and excerpts of her books. This month her blog features Goosebumps, a salute Halloween, with ghost stories, ancient Halloween traditions and recipes, and vintage Halloween postcards.
Rita's books are available from Amazon at http://www.amazon.com/Rita-Bay/e/B0083WWI7U/. Follow her on Facebook https://www.facebook.com/ritabayauthor and Twitter 
Leave a comment and your name will be placed in a drawing on November 2nd for an e-book of Rita's shapeshifter paranormal from Champagne Books, Into the Lyons' Den, Book 1 of the Lyons' Tales.
Check out the cover of Finding Eve, Book 2 of the Lyons' Tales.
Happy Halloween, Rita Bay