JACK IS BACK
My husband tried to convince me it was my imagination, a dream, and I wanted to believe him, but the whole experience was just too real. It wasn't just the visual—he'd actually touched me. I squeezed his hand. I was wide awake. I talked to him.
I know it was you, Jack. The last words I said to you before you left were, "I love you, Jack."
You smiled your familiar, warm, impish smile, said, "I know." I reached for you, but you were gone.
I never saw him again after that night.
But how was that possible? Jack had been dead for a year. We'd gone to his funeral, we'd cried over his grave. A beautiful man taken from those who loved him without warning and far too soon.
My best friend, Maureen, had gone to the grocery store and was surprised to find out from her daughter that Dad was still in the shower. Something was not right. Jack had just stepped in the shower minutes before Maureen left. She ran to the bathroom to see if he was all right, only to find him dead of a heart attack on the shower floor. It was a horrible to shock to all his friends and family, and an unimaginable shock to Maureen.
This night, almost a year later, Maureen and I had gone to dinner and the movies to celebrate her birthday. My husband was out of town on business, so I planned to spend the weekend at her house. I shared half of her big king-sized bed.
About an hour after we'd been asleep, a strong hand gripped my leg and shook me. I struggled to open my eyes from a deep sleep, and was surprised to see Jack standing next to the bed.
"Jack?"
He grinned, "Hi, babe."
I sat up. "What are you doing here?"
"Just checking on things. What do you know about Joey?"
Joey was the man Maureen had just begun to date. They'd only been out a couple of times. I'd met him the day before when he came to have lunch and a swim at her house. "I don't know much about him, Jack. He seems nice enough."
Jack didn't reply. He pressed his lips together and nodded. I waited for him to speak. When he finally did, we joked and discussed mundane topics for several seconds, just like we would have sitting around the card table when he was alive. He smiled and tilted his head at Maureen.
I looked over at her and returned his smile. She was sound asleep, hadn't heard a word we'd said. I started to ask him something, but he took my hand.
"I gotta go, hon." He faded before my eyes.
"Jack, wait." My hand was empty. He was gone.
It wasn't until breakfast the next morning that it hit me. Unbidden tears sprang to my eyes when I picked up my coffee cup.
Alarmed, Maureen asked me, "What's the matter?"
"I don't know how to say this." I watched her face, dreading her reaction. "I talked to Jack last night."
Maureen smiled through a deep sigh. "You're the third person who's told me that in the past week. What did you talk about?"
"Nothing much really, he asked me about your kids, my kids, teased me about driving over my own suitcase when I backed out of the garage last week. He wanted my opinion about Joey."
She took a sip of coffee and nodded. "He's worried about me dating Joey. And there is something about him I don't trust."
"Are you sure? I mean, he's seems okay."
"I trust Jack. Joey is history." She leaned back in her chair. "Thanks for telling me. I believe it was him. I believe you."
"Yes. I believe it too."
In an abrupt change of subject, Maureen asked me, "What shall we shop for today?"
I laughed. "How about we get all glammed up at the makeup counter in Macy's?"
"Great idea."
Leave a comment for a chance to win an autographed copy of Jelly's Big Night Out.
About the Author: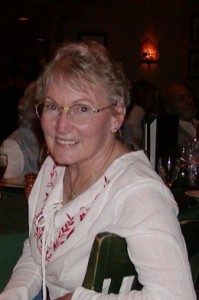 I wrote my first novel at the age of six. It was titled "The Mouse," and it was only a couple of pages long—including illustrations! My mother saved that first edition and every now and then I take it out and laugh over it.
When my beloved husband suddenly died, while we were vacationing in Switzerland, writing became my personal grief counselor. As a mother of two adult sons, and the owner of a busy retail travel agency, with plans to add a coffee bar, my two best stress relievers were walking and writing.
At first the writing allowed me to pour out all my sadness. Then, the more I wrote, the more I realized that I was going to go on, I was going to be happy, and I had a lot of living to do.
I wrote the first few chapters of a story and gave them to an author friend to read. She said it was a good start, but "then what?" I didn't have a clue how to plot a story, develop memorable characters or format a manuscript. I needed to take a writing class.
My first two finished manuscripts still reside on a CD or thumb drive somewhere around here, and I certainly hope they're never found. I can't bear to erase them because they're mine, they're loved, and like a crazy relative one hides in the attic, they reside in a quiet, safe place.
As I worked to learn the craft, I developed a whole new circle of friends and fellow writers. I joined a writing group in Los Angeles, and then later here in Florida. I know and love writers of every genre, some published, some working toward publication, and some who've timidly dipped their toes in the vast, cold writing ocean.
Once a Marine –

Is it a one night stand or the first day of forever?

BD James is on an upward career path. She works for a tyrant whose erratic demands have already cost her a broken engagement. Her personal life takes a dramatic turn when she meets Rafael Cruz, a retired Marine who lives a secret and dangerous double life.

When she learns Rafi has deliberately kept her in the dark about his black ops missions, she questions whether her passion for him is strong enough to overcome her fear and mistrust.

Rafi believes BD is the one woman who is strong enough to challenge him—a quality he values highly. He's reluctant to change his footloose life, but BD's much more than a plaything. He would give his life for her. He'll do whatever it takes not to lose her.
Buy the book at Amazon or Barnes and Noble.