Halloween is one of my favorite holidays. Kids dress in costumes, jack-o-lanterns glow on porches and mischief is in the air. But, Halloween wasn't always a holiday designed to frighten and scare. Halloween used to be a romantic holiday. Before the 1930′s, Halloween parties were for single people to find love and for matchmaking. Between 1875-1935, Halloween parties included: masquerade parties, barn dances, progressive dinners and society balls. The parties involved kissing games, mistletoe and fortune telling.
Here are some ways of foretelling your future spouse on Halloween night:
• Look into a well or spring by lantern night on Halloween and see the face of your future husband and children.
• Melt lead and pour it into cold water. The shape represents a future husband's trade
• Walk into your bedroom backwards at midnight on Halloween. Look over your left shoulder and see your future husband.
• Catch a snail on Halloween and keep it in a flat dish. In the morning, the first initial of your future spouse's name will be written in the slimy trail.
Although we use candles on Halloween to light our pumpkins, candles were also used for fortune-telling on Halloween. These are some fun ways candles were used for fortune-telling:
• Light a single candle and jump over it. If the candle stays lit, there is good fortune in the coming year. If the candle goes out, the coming year will be bad luck.
• Light twelve candles and place in them in a row. Each candle represents a month of the year. Jump over the candles. The candles that go out signify the months a woman will marry. If none go out, the woman will remain unmarried.
• Light a tall candle and place it on a table. Walk three paces from the candle, then turn and try three times to blow it out. If the candle is still lit, it means the woman will not marry, three tries and the future spouse will be a working man, two tries and a man of rank, and one tries and he'll be a rich man!
(Source: Halloween Trivia, by Tonya Lambert. Blue Bike Books, 2010)
To celebrate Halloween, I'm giving away one PDF or Kindle ebook copy of my latest sweet, contemporary romance, HALLOWEEN LOVE FORTUNE to one person who comments below about one of your favorite Halloween traditions. Please leave your email address so I can contact the winner. The winner will be selected and announced on November 2.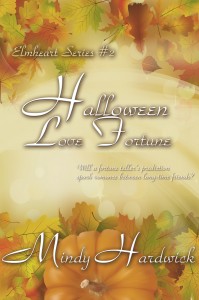 HALLOWEEN LOVE FORTUNE is a story based on Halloween romance and party games. Jenny Piercy is excited to help with the Elmheart Hotel's old-fashion Halloween barn party and enjoys nothing more than working side-by-side long-time friend, Zach Cullver. But, it's going to take more than a fortune teller's prediction of true love to bring these two together. Can a coffin and a mummy costume show Zach and Jenny the best romance is found in long-time friendship in this sweet, contemporary romance novella?
I hope on this Halloween night, you find a little romantic magic among the ghosts and goblins.
Happy Halloween!
About the Author: Mindy Hardwick enjoys writing first love and sweet, contemporary romance for all ages and is known for her small-town, artistic community stories. Mindy enjoys teaching others about writing. When she's not writing, Mindy can be found art journaling, visiting flea markets dreaming of new ways to repurpose old materials, and walking on the Oregon Coast beaches with her dog, Stormy. Mindy believes that a great story can warm the heart, lift the spirit, and heal the soul.