My real life ghost story
My husband and I have lived in our current home for over ten years, but we moved here almost by accident. Through a series of perfectly timed events, we went from property search to signing papers in a matter of days. We could not have picked a more opportune spot to live. For more reasons than I can list, this house was meant for us. From the day we moved in, however, strange things happened.
The first thing we noticed were our son's toys. He was only six months old at the time, so there was always a battery operated something lying around. My husband and I would alternately wake up in the middle of the night to a toy going off here or there. We dismissed it as imagination or batteries dying, but it happened often enough that we wondered. The kids would occasionally have conversations with unknown people, but we chalked that up to kids' imagination. In time, it became the TV acting strangely. It wasn't as if we were sitting on the couch and it would turn off, but we'd be watching and we'd step out of the room to go to the bathroom and the set would shut down. It also turned on occasionally.
We went out of town for a weekend a few months after moving in. Since the house was new construction, it didn't have a deadbolt or even a screen door at the time. When we came back from our trip, the front door was open (and I'm sure it was closed tight when we left). It wasn't unlocked, it was OPEN. Who knows how long it had been like that, but thankfully, all was as it should have been, and we got a deadbolt, pronto!
After we'd lived here for several years, we decided to finish our basement. The house is a ranch, so the basement was a large, unused space. We divided it into several rooms and began construction. As many do, I took pictures of the progress—before, during and after. I'd taken several shots of the completely empty basement. The only source of light were three individual light bulbs that spanned the space. I was amazed when I saw the first batch of pictures (which unfortunately were lost when my old computer died). The length of the room was peppered with orbs—tons and tons and tons of them. It was so cool and I'm bummed I lost the picture, but I'll never forget the sight.
On a whim, I visited a psychic. Through the course of the conversation she asked about my house. I hadn't told her anything of the strange incidents, nor had I even thought about them. She told me the house was meant for us to live in and that we should hang a Celtic cross in the basement. She described a man she saw, who I didn't recognize. Later, while looking at very old family pictures, we discovered a shot of my father's grandfather, Patrick. It was exactly who the psychic had described.
Once we hung the cross and finished our basement, the activity slowed, but occasionally we still discover something unusual (he was playing with one of the smoke detectors one day). It's not spooky, nor even unsettling. In fact, it's kind of fun to know one of our deceased relatives is looking out for us.
We just say, "Hey, Grandpa Patrick," and go about our day.
Anyone else have any real-life ghost stories to share? I'll give away one copy of my new release, "Unexpected Consequences," to the best story!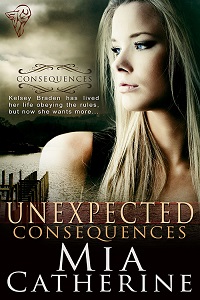 Author Bio:
Born and raised in Wisconsin, Mia Catherine is a proud Cheesehead living with her husband and their three young sons. An avid fan of television dramas, Mia looked away from the small screen when she became disillusioned with the lack of substance on current shows. Enjoying the fantasy involved in a good love story, she turned to reading, and quickly discovered a little voice in her head. That voice led to writing her first chapter, and the second, and the third…
Now, translating that voice in her head to words on the computer is Mia's escape when times are hard. As words begin to form a story, she's allowed to escape the trials of everyday life and live in her own little world, if for only a short time.
Knowing others find some pleasure reading what she's written is just an added bonus.
Website/Blog:
Social Media:
www.facebook.com/miacatherineauthor
www.twitter.com/themiacatherine
www.pinterest.com/themiacatherine
www.goodreads.com/themiacatherine
Buy Links:
Amazon: http://amzn.to/17lRT1M
Barnes & Noble: http://bit.ly/19RtbMM
Total E-Bound: http://bit.ly/16RdWTL