They've Got Cat Class and They've Got Cat Style
by Megan Slayer
I have a personal affinity for black cats. So much so, I've got one of my own. I didn't name him, but as I get to take care of him, he might as well be mine. He sits with me while I write and keeps me company. He's loyal and pesty when he wants food in the am. He also reminds me of Halloween and is featured in my writing.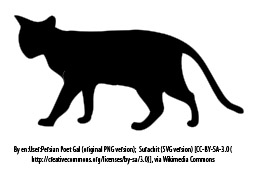 A while back, Changeling had a call for Halloween themed stories. It's funny. I happened to be watching him stroll across the floor and wondered what he was thinking. What would it be like if he were a shifter and could talk to me? I'm pretty sure I don't want to know the answer or what he'd say. But I started thinking about what it would be like if he or a cat like him, was a shifter. The story and a series was born.
My cats in the stories all have somewhat ridiculous names. Why? Because people don't always have the most sophisticated names for their pets. I know I don't. But when the cat shifts, in the case of Godzilla on Halloween, his mistress learns his actual name. Someone wants the shifters dead. Can the killer be stopped before Godzilla is stuck as a cat for the rest of his life?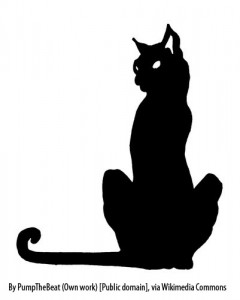 Another thing that inspired his story and the stories for the others in his litter was the time of year. Halloween isn't kind to black cats. The culture has changed a bit, but there are still areas where it's not safe. I made sure we brought in our black cat before Halloween just in case. I'm glad. He's the best goofball in the whole world.
In the story, Godzilla isn't safe. So it's up to his mistress to make sure no one kills her pet. Will she? Will the killer win? Read Cat Class, a Trick or Treat story, to find out more. And if you're interested, there will be three more books featuring his litter mates. Stay tuned!
Comment and you're entered to win a bracelet/earring combo made by the author and also a swag pack (US only)!
Here's a little bit more about Cat Class:
He's got cat class and cat style, but can he win her heart?
Trust a witch to give away black cats on Halloween.
Hayden knew her cat was different the moment she picked him up from the box at old lady Hildegard's house. But there's a full moon out this Halloween, and Hayden's about to find out just how special her fur baby truly is.
He's got cat class and cat style, but can he win her heart?
Available at: http://changelingpress.com/product.php?&upt=book&ubid=2131
~~~
Here's a little bit about Megan:
When she's not writing the stories in her head, Megan Slayer can be found luxuriating in her hot tub with her two vampire Cabana boys, Luke and Jeremy. She has the tendency to run a tad too far with her muse, so she has to hide in the head of her alter ego, but the boys don't seem to mind.
When she's not obsessing over her whip collection, she can be found picking up her kidlet from school. She enjoys writing in all genres, but writing about men in love suits her fancy best. The cabana boys are willing to serve, unless she needs them. She always need them. So be nice to Javier or he will bite–on command.
She also masquerades under the name Wendi Zwaduk and is published through Changeling Press, Decadent Publishing, Liquid Silver Books, MLR Press, Resplendence Publishing, and Total-E-Bound Publishing.
Megan's site: http://wendizwaduk.com/indexMegan.htm
Megan's blog: http://theauthormeganslayer.blogspot.com
Megan on Amazon: https://www.amazon.com/author/meganslayer
Megan on Goodreads: http://www.goodreads.com/author/show/5330530.Megan_Slayer
Megan on Facebook: http://www.facebook.com/theauthormeganslayer
Megan on Twitter: https://twitter.com/#!/MeganSlayer
AuthorGraph: http://www.authorgraph.com/authors/MeganSlayer