"The truth about the Headless Horseman."
I know why the Headless Horseman is missing his noggin. He got on a horse, that's why. Horses have opinions, and it's not good to put a thousand-pound animal with an opinion between your legs.
According to Washington Irving's story, The Legend of Sleepy Hollow, the Headless Horseman was a Hessian soldier killed during the Revolutionary War. A well-aimed cannonball lopped off his head. I suspect this unfortunate soldier's horse played a part in the catastrophe. No doubt, his steed spotted some tasty grass on the American side of the battlefield and trotted toward enemy lines for a snack. Had the Headless Horseman hopped off the obstinate creature, he might've retained his head and we wouldn't be talking about him today.
My theory is based on personal interactions with equines possessing opinions contrary to mine. Every time I've mounted a horse, disaster ensued. For instance, twenty years ago a hunky dude asked if I wanted to go horseback riding. I said yes. Heck, I figured riding horseback would be easy as driving a car. Point the horse in the right direction and soon I'd be picnicking in a field with my handsome date, exchanging sultry looks over turkey sandwiches.
Five minutes after we left the barnyard, my mare turned off the trail and galloped into a field. I pulled on the reins, but putting on the breaks spurred the old nag into a sprint. She hadn't tasted freedom in years, and she was determined to sample the grasses she'd scented in the autumn air. I pled for her to reconsider. She didn't listen. In her defense, she might've been deaf. Left with no other options, I screamed.
My hunky date raced after us. My mare evaded pursuit with admirable spirit until old age caught up with her. She skidded to a wheezing halt. I oozed off the saddle, smarter than I was five minutes ago. I'd learned that horseback riding isn't romantic…but being rescued by a wind-flushed man is.
He asked if I was all right. Now that I was standing on solid ground again, I nodded. The old mare's loud asthmatic gasps made conversation difficult. My date must've thought the bright red flush of terror creeping up my neck was attractive, because he asked me out for another date. We married a year later.
Marriage filled me with optimism, and I agreed to another horseback ride during our trip to Wyoming. My horse broke into a gallop for no apparent reason, nearly unseating me several times. Years later, my kids convinced me to get on horseback to tour the Vermont countryside. My mount soon grew bored with the scenery and set off for greener pastures. I might've enjoyed the side trip had I known where the heck we were going.
And so, I caution you to be careful should you ever have the opportunity to go horseback riding. By all means, give it a try if you are with a hunky guy…but if you are in the middle of a battlefield riddled with cannon fire, please decline.
To celebrate Halloween, tell me what animal scares you. On November 2, I'll pick a winner and award a copy of Anything You Ask and The Strong, Silent Type. Rest assured, none of these books contain scary horses!
Happy Halloween, all!
Warmly, Lynn Kellan
Visitors welcome at http://LynnKellan.com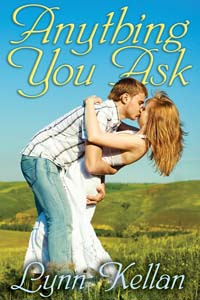 Convincing her to love him was the only way he could go home.
Available in ebook and print at http://bit.ly/14IkE9K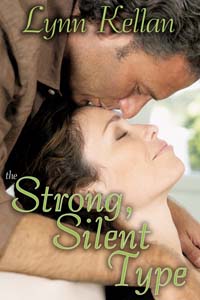 His scars left him feeling dead inside…until she moved next door.
A perfect read over the holidays. Available for ebooks at http://amzn.to/14PLeuy