A Halloween Interview with award-winning author Karen Wiesner.
What do you like most about Halloween?
The holiday itself is for kids, but I'm a huge fan of horror and paranormal fiction, and this night seems to be made for all things fun of that sort.
When creating a Paranormal/Supernatural/Horror tale, how do you choose what creatures/beings you want to write about?
The idea usually comes to me in whatever form seems best to write it, including the creatures. But I'm always aware that there's nothing that hasn't been done in these areas, so I try to change things up in unique ways, for instance the twist on a ghost story in my new book BOUND SPIRITS and the nail-fetish-statue-come-to-life in THE DEEP.
Have you ever dressed up like one of your characters for Halloween?
I really haven't dressed up for Halloween since I was about eleven. My favorite costume when I was young was either a witch (I devoured all of Ruth Chew's witch books) or a gypsy.
What scares you the most?
Real life horrors. All the paranormal creatures…those are fun, and it's fun to be scared when it's not real and can't really happen in reality. But the stories that are based on things that could happen in real life…serial killers, etc.—those things scare me. I don't like reading them, and it drives me utterly insane the way the publishing industry labels books incorrectly as horror (instead of psychological thrillers). There are so few really good horror books available these days.
What is the first horror book/story that you remember reading?
While this one wasn't horror, it gave me a love for all things paranormal: How to Care for Your Monster was a book I read over and over when I was young. It was written by Norman Bridwell (the guy who wrote the Clifford series). You can't really get it anymore, except used, but I wore that book out. Funny thing is, my husband also said it was one of his favorite books when he was young, too. I'd never known anyone else who'd ever read it. Meant to be, huh?
Some of the earliest horror books I remember reading were an out-of-print series of teen horror called Twilight: Where Darkness Begins, You'll Like My Mother by Naomi A. Hinze (gothic horror, which I adore), and Dracula, of course. One of my all-time favorite horror novels is The Ruins by Scott Smith—a novel that has no chapters whatsoever and is 384 pages you literally cannot put it down from start to finish. Brilliant!
I'm giving away a PDF download of Beauty is the Beast, Book 7 of the Woodcutter's Grim Series to one person who leaves a comment on my post.
My two newest scary books are available just in time for Halloween:
BOUND SPIRITS, Book 1 of the Bloodmoon Cove Spirits Series
Paranormal Romance (a ghost story)
Don't close your eyes
Nestled on Lake Superior in northern Wisconsin is a small, secluded town called Bloodmoon Cove with volatile weather, suspicious folk…and newly awakened ghosts bent on revenge.
Find out more:
http://www.angelfire.com/stars4/kswiesner/fiction11.html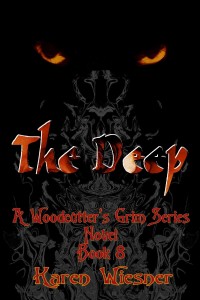 THE DEEP, Book 8, A Woodcutter's Grim Series Novel
Inspirational Romantic Paranormal Horror
For the ten generations since the evil first came to Woodcutter's Grim, the Guardians have sworn an oath to protect the town from the childhood horrors that lurk in the black woods. Without them, the town would be defenseless…and the terrors would escape to the world at large.
Very loosely based on "Metamorphoses: The Story of Pygmalion and the Statue" by Ovid. Cheyenne Welsh can't forget her past and the disappearance of her younger sister. When she returns to Woodcutter's Grim to sell the family property she grew up on, she's confronted with all the nightmare-realities of her childhood, still alive and well, still right where she left them—down in the darkness the Deep dwells inside. Her home…
http://www.angelfire.com/stars4/kswiesner/fiction6.html
ABOUT THE AUTHOR:
Karen Wiesner is an accomplished author with 101 books published in the past 15 years, which have been nominated for and/or won 125 awards, and has 38 more titles under contract. Visit her website at http://www.karenwiesner.com and sign up for her free newsletter to qualify for her monthly book giveaways.