Who doesn't love Halloween? It's a night where adults get to act like kids, dress up like zombies, hookers, demons or deranged bunnies (whatever – ha) and eat candy. Okay, I guess adults could do that any night of the year, but Halloween is probably the most acceptable night to do so in public.
Sempire Seductions, my erotic paranormal romance series, doesn't revolve around Halloween and there aren't any deranged bunnies in it but the series does revolve around different types of demons. Hot, sexy demons – some good, some evil, some in between.
I'm thinking if Valia, the heroine of book 2 in the series, went trick-or-treating, her favorite candy to receive would be a pineapple sucker. Yeah, I know, that wouldn't do it for me either, but it would work for her. What would her costume be? Hmmm. I can totally see her dressing up as a harem girl. Rydin, the hero, would favor something deep, rich and chocolaty and he probably wouldn't agree to dress up unless Valia used her wiles to convince him. Then, I could totally see him dressing up as Conan the Barbarian.
Me? Well, I love the mini Mr. Goodbars. Yummy! And I've dressed up as a cat, a witch, a prisoner and a hobo. One year, I'd like to dress up as a belly dancer. I even have the costume, but I've never had the guts to wear it. Maybe this year will be the year.
So, what is your favorite Halloween candy and what is your favorite costume to wear? Let me know in the comments and you'll have a chance to win a $15 Bitch Face Cosmetics gift card!
Valia's Villain Blurb

When Valia approaches the Ferox demon, hoping for scorching sex and a feed, she doesn't expect to be handcuffed, transported to the demon realm, accused of dirty deeds she has no memory of committing and held captive for three days. Even though she believes her captor to be crazy, she feels a connection to him she's felt with no one else.

When Rydin senses the Sempire who locked him up, fed on him and used him as a sex slave many years ago, he knows his wait for revenge is finally over. Burning with the need to punish her, he imprisons her in the demon realm, where she is at his mercy, but as much as he tries to ignore it, a connection sparks between them every time they touch.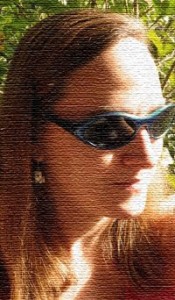 Jocelyn was born in Iowa and currently resides in hot-as-hell Texas. She shares her home with her very own 6'4″ alpha male and varying numbers of spoiled cats and dogs. Teaching one of her dogs to file his nails is one of her all-time favorite accomplishments.
She thinks dragonflies are awesome, spiders are creepy and it's rumored that she sleeps with a machete by her bed in case zombies attack in the middle of the night. Jocelyn loves to paint, loves to read, and loves to write sizzling erotic romance about yummy demons that would make your momma blush.
Here's where you can find Jocelyn on the web
Website * Facebook * Twitter * Blog  * Goodreads
Here's where you can buy Valia's Villain
Ellora's Cave  * Also available on Amazon & B&N