The Adventures of Halloween
Halloween is a special event in my Louisiana neighborhood, which consists of only two streets– East and West Hollow. If you start and end in front of my house, you'll have walked a mile. For the past 20 years, ever since we've lived here, children have come from miles around to trick or treat our homes. With the help of our neighborhood husbands, parents park their cars on two vacant lots at the entrance–no cars allowed inside on Halloween night–and everyone sets out on foot. For two hours, our two streets are alive with shrieks and giggles and blinking lights. Parents have as much fun as the kids, and I've suspected some make it a huge family affair with aunts, uncles, grandmas and papaws trailing after the children.
The oldest trick or treater I've met looked to be twenty something. He had his girlfriend with him. The youngest goblin was in diapers, wrapped in her teenage daddy's arms. I've handed out Hershey's kisses and Blow-Pops to pretty little ballerinas, skinny skeletons, a green Hulk, cute cowboys, Pippi Longstocking and a young man wrapped in gold chains.
"What are you?" I asked.
He held out his arms and answered, "A pimp, of course." He ran off yelling, "Mom, I got chocolate!"
Seeing the elaborate costumes of today make me remember my childhood and my own trick or treat adventures. I loved picking up yellow ducks to win a prize at my school's Halloween carnival and often got a sticky face from gnawing candy apples. I used to make my own mask by cutting and decorating a brown paper bag. A friend of mine wrapped himself from head to toe in toilet paper. He looked pretty creepy stumbling down our dirt road with the loose ends of Charmin blowing in the breeze.
Halloween costumes from the 50s and 60s were quite different from the flashy attire sold in stores today. Now tell the truth, how many of you have actually worn that French Maid outfit? Leave a comment and I'll draw a winner who'll receive a mask and beads–just in time for Mardi Gras. Now there's a holiday that can be just as fun as Halloween!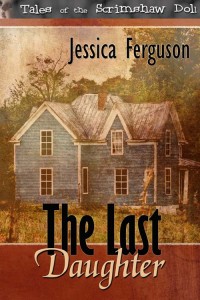 Jessica Ferguson is the author of The Last Daughter, a romantic suspense published by The Wild Rose Press. Her short story If You Believe will release Oct. 1st by Helping Hands Press. Jess is co-editor of Swamp Lily Review, A Journal of Louisiana Literature & Arts and a staff writer for Southern Writers Magazine. She is the author of one Silhouette Romance, The Groom Wore Blue Suede Shoes, writing as Jessica Travis. Jess worked as assistant editor/writer/photographer for The Times of Southwest Louisiana, and her work has appeared in magazines and newspapers in Louisiana and Texas.
My social media sites:
Blog: http://jessyferguson.blogspot.com
Amazon buy link: http://www.amazon.com/Last-Daughter-Tales-Scrimshaw-ebook/dp/B00ES5DVI6/ref=sr_1_1?ie=UTF8&qid=1378525740&sr=8-1&keywords=The+Last+Daughter+by+jessica+ferguson
G+ —- https://plus.google.com/u/0/114295990505843694966/posts
FB https://www.facebook.com/JessicaRoachFerguson
Goodreads – http://www.goodreads.com/user/show/4681878-jessica-ferguson
Amazon page — http://www.amazon.com/Jessica-Ferguson/e/B008EAMVN2/ref=sr_ntt_srch_lnk_3?qid=1376147715&sr=8-3
twitter – @jessyferguson