HALLOWEEN MEMORIES-TRICK OR TREAT
Fall is a nostalgic time of year that seems to finale the end of October on Halloween.
When I look at my photo albums I see my children year after year dressed up as goblins, ghosts, and once a little red devil, all with delighted grins on their stuffed-full-of-candy faces. I can readily recall how my fingers ached with hand stitching those small horns on top of a red hoodie to make that devil costume. My success, my reward, was observing my son grinning with his stalwart, cardboard pitchfork, adorable and warm.
October is a transitional month. It can be balmy as a pleasant summer day or snowy, windy or cold. To make the costumes, I had to convince the children to choose something that would allow them to wear their coats, if need be. You can't do much with a princess, but the devil worked well as a warm hoodie.
One year we threw a neighborhood party in the garage complete with bales of hay, tubs of apples for bobbing, gallons of cider and plates of cookies and candy. Was there a piñata? Out back through a side door, a long tunnel snaked across the lawn, constructed of large boxes lugged from the grocery store and maybe, did I beg for a few from a refrigerator appliance store? Anyway, it was a glorious tunnel. When the kids crawled through, they might encounter cob webs, sticky stuff, marbles, and all sorts of other icky things created and giggled over by my diabolical children. It was a roaring success and by next morning that poor tunnel was so well-used it had collapsed in some sections.
There may be a Mother's Day and a Father's Day, but Halloween belongs to the children. For one night they get to pretend to be someone different, win free candy, and stay up past bedtime. That's not a bad goal for grown-ups either. Just for one night a year.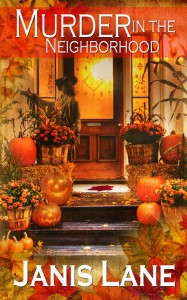 Leave a comment for a chance to win a copy of my novel soon to be published @ Soul Mate Publishing, MURDER IN THE NEIGHBORHOOD.
About the Author: Janis Lane lives in Western NY where the leaves turn glorious colors in the fall and Halloween is still taken over by the children, well-supervised by their parents, of course. She writes Cozy Romantic Mysteries @ Soul Mate Publishing and Romantic Adventures @Desert Breeze Publishing and, as Emma Lane, Regency Romances @ Musa Publishing.
Visit her @ www.ejanislane.com or www.emmajlane.com. Contact her @ emmajlane1@gmail.com She can be found most days on
Facebook and loves to hear from her readers.