Soul Cakes
Halloween has traditionally been thought of as a day when the walls between the worlds grow thin, and the spirits of those who have passed on come back to roam the earth, bestowing blessings on those loved ones left behind.
For those of more mainstream beliefs, November 1 and/or 2 are All Saint's Day or All Soul's Day—the Day of the Dead in Mexican culture—which again honor those loved ones who have passed on before us.
The tradition of passing out soul cakes, small round cakes made spiced with cinnamon, nutmeg and allspice, was prevalent in Britain and Ireland during the middle ages. The cakes were laid out on All Hallow's Eve with glasses of wine, and on the following day children would go out "souling", begging for the cakes from door to door while singing this song first written down in 1891:
A soul! a soul! a soul-cake!
Please good Missis, a soul-cake!
An apple, a pear, a plum, or a cherry,
Any good thing to make us all merry.
One for Peter, two for Paul
Three for Him who made us all.
Each cake eaten represented a soul being freed from purgatory. (How I wish I could find a way to add some line from Supernatural here!) You can celebrate this ritual today with the following recipe from www.food.com
1 cup butter, two sticks American
3 3/4 cups sifted flour
1 cup fine sugar
1/4 teaspoon nutmeg
1 teaspoon cinnamon
1 teaspoon ginger
1 teaspoon allspice
2 eggs
2 teaspoons cider vinegar
4 -6 tablespoons milk
powdered sugar, to sprinkle on top
Directions:
1. Preheat oven to 350°F.
2. Cut the butter into the flour with a pastry blender or a large fork.
3. Blend in the sugar, nutmeg, ginger, cinnamon and allspice; beat eggs, vinegar, and milk together.
4. Mix with the flour mixture until a stiff dough is formed.
5. Knead thoroughly and roll out 1/4-inch thick.
6 .Cut into 3-inch rounds and place on greased baking sheets. Prick several times with a fork and bake for 20-25 minutes.
7. Presentation:.
8. Sprinkle lightly with powdered sugar while still warm.
I hope you enjoy.
If you have any traditional food you prepare for All Soul's Day or the Day of the Dead, please let me know. I will be awarding a free download of A Taste of Winter and a beautiful red costume mask to one lucky person who leaves a comment!!!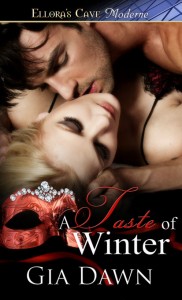 Here is a brief history of my writing career.
After several deaths in the family and a health scare of my own, I quit writing back in 2008 after releasing several titles with Samhain Publishing. When my son was diagnosed with Type 1 Diabetes–young adult onset–in May of this year, I did what any good mother would. Cried for several days and then went to check out the Brenda Novak Auction where I bid on, and won, a three chapter critique from Ellora's Cave!! I pitched to the lovely Julie Naughton at the Readers and Writers weekend sponsored by Lori Foster and Duffy Brown in June, and voila, the Red Masks Series was born. The first in the series, A Taste of Winter, will be releasing November 8, 2013. You can check it out here: http://www.ellorascave.com/a-taste-of-winter.html
Gia Dawn
www.GiaDawn.com