I have never seen a ghost. Not knowingly, anyway, by which I mean I could well have seen dozens of ghosts and just not realised. (That's exactly the sort of thing that could happen to me, given how oblivious I am to things going on around me.) The nearest I've got was when I was driving down an unlit road and a strangely moving, tall, glowing apparition appeared in my headlights. My stomach churned, but it only turned out to be a horse and rider, with reflective strips attached to various parts of their respective anatomies.
But I do know at least two people, whose testimony I would respect, who have seen ghosts. One saw the ghost of her grandfather at an upstairs window on the day of his funeral. The other saw a huge apparition of a monk near Beaulieu, something she described as terrifying but not evil. She was aware of an overwhelming feeling of good coming from him. Beaulieu Abbey is a well known tourist attraction and has a history of strange sightings/sounds.
I've also come across stories from family members that make me go, "I wonder…" Just this summer, we were holidaying on Jersey (a place which has many ghostly legends of its own) and my middle daughter plus her boyfriend decided to cycle round the island. It's not far, but it's challenging, given the number of hills. They were on the north of the island (one of the spookiest parts) and were going up yet another hill, desperately thirsty and tired. They'd given up hope when they turned a bend in the road and saw both a bench and an ice cream van. Miles from anywhere, nobody else around, just these two very welcome facilities.
Afterwards, looking at the map, we couldn't work out where they might have been to find such an oasis in the hilly desert. We came up with the theory that these were a ghostly/angelic bench and a ghostly/angelic ice cream van, that only appeared when poor, desperate cyclists came panting and straining up the hill.
So, back to where I started. I wonder if I have come across ghosts and never realised?
Leave a comment for a chance to win a three e-book package from Elm Books Death series: Death on a Cold Night, Death and the Detective, and Undeath and the Detective.
About the Author: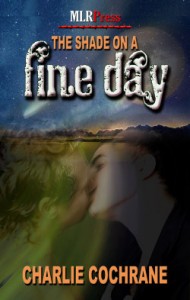 As Charlie Cochrane couldn't be trusted to do any of her jobs of choice—like managing a rugby team—she writes. Her favourite genre is gay fiction, predominantly historical romances/mysteries.
Charlie's Cambridge Fellows Series, set in Edwardian England, was instrumental in her being named Author of the Year 2009 by the review site Speak Its Name.
She's a member of the Romantic Novelists' Association, Mystery People and International Thriller Writers Inc, with titles published by Carina, Samhain, MLR and Cheyenne (and coming soon from Elm).
You can catch Charlie on Facebook, twitter, goodreads, her website or her blog.