HALLOWEEN – OH, THE HORROR! 🙂
Halloween combines the best of two things. What other holiday can do dressing up and scaring yourself silly so well?
My friends think I'm nuts, and as such I have no one to keep me company for Halloween events. I enjoy them, but I'm not going by myself, are you kidding?
I love the scary part of Halloween—the horror movies, haunted houses and the traditional vampires and werewolves. But I can't deal with zombies; why? Because they are the most "realistic" monster to me. Anything that resembles too close to life frightens me the most. What if there was a disease out there that could turn us into flesh-eating, mindless freaks?
Actually, I take it back—I did watch the zombie movie 28 Days Later and couldn't get to sleep for a couple of nights. And after a couple of episodes, I refuse to watch anymore of The Walking Dead, (lol).
I have fond memories of old shows. Does anyone remember a television show called "The Night Stalker"? Wow, that was the best scary show on television. Honestly, I don't know how I managed to sleep at night!
I also enjoy "Supernatural" – sure it helps that there are some cute guys on the show (hello, Sam!), but the earliest episodes were the best. Hunting down the truth of mythical and horror stories, and fighting ghosts. There was one episode with a scarecrow and human sacrifices that still gives me the creeps!
So what are my favourites?
Vampire movie – 1970s Salem's Lot. This starred David Soul (from the original Starsky & Hutch television series) as a reporter returning to his home town to find it infested with vampires and how he destroys them. Sounds simple, but the insane creep factor and the vampire scared me so bad that I hid in the bathroom for the rest of the movie. And all based on a Stephen King novel—go figure.
Werewolf movie – American Werewolf in London. It was a bit cheesy, but still scary, especially on a movie screen. When I had visited London and went up that same long escalator, I understood how those victims must have felt. And the special monster effects were fantastic!
Haunted house – Screemers in Toronto; six rooms of scares, chills and lots of screaming. The haunted mansion was the best (and the scariest), and I ran out of there so fast that my friends couldn't keep up.
Scary books – I have to admit there not many books that scare me. The best horror stories I've enjoyed are Stephen King's and I find his collection of short stories are more frightening than the full length novels. I think it has to do with the idea of using ordinary little towns as backdrops and offering a "taste" of what can happen.
The best anthology I've read was "Nightmares and Dreamscapes" – I don't know what it was about that book (I think it was the vampire), but short stories give just enough of a taste of a story that allows me to use my imagination to think "what else could have happened?" And then I freak myself out! lol
And I mention these as being scary for me because I don't scare easily.
You all have to let me your all-time favourite, scary moments! I'm sure there's a horror movie or book out there I haven't seen or read yet.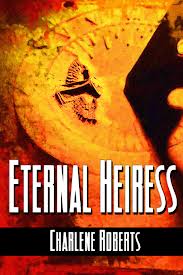 Leave a comment for a chance to win an ebook (.pdf or .epub for tablet) of Eternal Heiress, an urban fantasy novel (approx. 300 pages), published by Double Dragon Publishing.
About the Author: Charlene Roberts lives in Toronto, Canada. Her writing career started after helping a friend type her historical novel. When she became a member of her local writing group, she pursued her love of the written word until her first sale and hasn't looked back since.
She has worked as a Script Supervisor, Book Reviewer for Romantic Times, modelled and now works as an Executive Assistant at a consulting company. However her love of creating stories for others to read and enjoy still remains her first and foremost passion.
Website: http://charlenelroberts.wordpress.com/
GoodReads: http://www.goodreads.com/author/show/4333577.Charlene_Roberts
Facebook: https://www.facebook.com/pages/Charlene-Roberts/551115788273109?ref=hl
Buy the book at Double Dragon, Amazon, or Kobo.