Rachel Rebecca
– a true ghost story for Halloween by Catherine Cavendish
She attached herself to me – and that really is the only way I can describe the 'latched on' feeling that would swarm over me whenever I sensed she was around. I heard her name variously as 'Rachel' or 'Rebecca' until I became convinced that she possessed both those names, so Rachel Rebecca she became.
The year was 1973 and I was living in a small flat in Leeds. Not much more than a bedsit really, in a converted Victorian terraced house. Four other girls lived in the building, so why Rachel should choose to attach herself to me is a mystery I have never solved.
At first, she was a movement out of the corner of my eye that I couldn't quite grab hold of. Then silly little things like tin openers, a hairbrush and spoons would disappear. I lived alone. No-one had a key to my flat and none of these items would reappear. It was as if some black hole had opened up and swallowed them. Now and again, the pre-remote control TV would change channel – on one occasion flicking through each of the 3 available stations before settling back on the original one.
Needless to say, I told no one.
Then I was promoted at work. Time to find a larger apartment and leave Rachel Rebecca behind. Or so I thought.
"Who's that little girl?" my new boyfriend asked, three weeks after I'd moved into my lovely, shiny new flat.
I nearly dropped the bottle of Chianti I was pouring.
"What little girl?"
"The one over there, by the door. She's smiling at you. Looks to me like she wants to play."
As if on cue, a small drinks mat slid off the table, which was easily within reach of where John had placed her.
I set the bottle carefully down on the sideboard. "Can you describe her?"
"She's about ten or eleven, with long dark hair, in ringlets, and looks like she stepped off one of those Victorian Christmas cards."
I took a deep breath. "Is her name Rachel? Did she follow me here from Mexborough Close?"
John shook his head. "Sorry, she faded out as you were talking."
After that, things began to disappear out of drawers and off the mantelpiece, just as they had in my previous flat. Only this time, I heard girlish laughter when I knew there was no one around. I would feel a strong presence standing next to me in the kitchen and, when I turned to see who it was, a breeze fluttered my hair as if someone had rushed past me.
My relationship with John didn't last the course and, in any case, he only ever saw her on that one occasion, so he couldn't help with any more information.
Gradually things quieted down. Sometimes weeks would go by and nothing happened. Then I moved again. This time away from Leeds. But Rachel came with me.
I went to a service at the local Spiritualist Church, and the guest speaker connected with me. She described the little girl exactly as John had. She told me that children who pass over into the spirit world continue to behave as earthly children and this little girl was no different. She was mischievous and I must talk to her and tell her to behave. Then, with no prompting from me, the speaker said she heard the names 'Rachel' and 'Rebecca'.
A few months later, I was watching my new TV, with its remote control next to me. Suddenly its red function light started flickering – something it would only do if a key was depressed. The volume started to rise.
"Stop it, Rachel! That's very naughty. You are not to play with the remote control, do you understand?" It was the first – and only – time I spoke to her. The remote switched to 'mute'.
Weeks of silence drifted into months. I moved to another city. This time Rachel didn't follow me and I have neither heard nor experienced her since. I've often wondered where, and why, she went.
Now I live in a haunted building with a very different ghost but that, as they say, is a whole other story.
Cat is offering a free copy of her chilling Paranormal Horror novella The Second Wife. To be in with a chance of winning, all you have to do is comment on this post. The winner will be selected on 2nd November.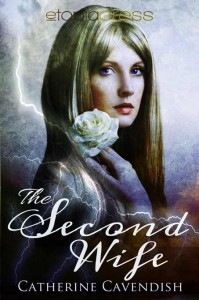 About the author
Catherine Cavendish lives in North Wales with her husband and a slightly eccentric tortoiseshell cat. She has had a lifelong fascination with the paranormal and has had a number of ghostly experiences herself. When not scaring herself half to death with her writing, Cat loves to visit haunted locations and surround herself with books (not necessarily at the same time). She is currently working on a new paranormal horror story.
You can find Cat here:
www.catherinecavendish.com
http://www.facebook.com/CatherineCavendish
www.goodreads.com as Catherine Cavendish
http://twitter.com/#!/cat_cavendish
The Second Wife is available from: