Halloween-it's not just for the kiddies
Thank goodness the Celts celebrated the end of the year with the festival of Samhain, or we wouldn't have Halloween. You see, the Celts believed that the ghosts of the dead walked the earth on the night of Samhain, so they lit bonfires and wore costumes to ward off the roaming ghouls. In the eighth century, Pope Gregory III designated November 1st as a time to honor all saints and martyrs; the holiday, All Saints Day, incorporated some of the traditions of Samhain. The evening before became known as All Hallows' Eve and later became Halloween. Eventually Halloween evolved into the community-based, spectacular event it is today with child-friendly activities such as trick-or-treating and attending parties becoming the norm.
I LOVE Halloween! It is my favorite holiday. It's all the fun of Christmas without the expense. No really, think about it. You can dress up, go to parties, eat lots of goodies, visit with friends and family, even decorate your home with spooktacular items, but there are no presents to buy. And the best part about Halloween is that you can stop cleaning your house, allow the dust and spider webs to accumulate, then call them decorations. 😉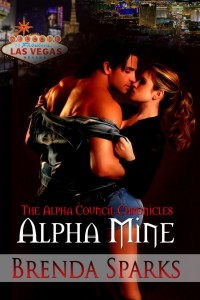 It's no wonder that the first story I've written in my vampire series takes place during Halloween. In the story, Alpha Mine, the characters are in Vegas for the holiday. Can you think of a better place for a vampire to be? After all, he could walk down the street in a blood-stained shirt with his fangs showing, and the humans passing by would be none the wiser, for everyone walks the streets of Vegas in costume during the week of Halloween.
To celebrate the Halloween Blogfest, I am giving away a Kindle copy of Alpha Mine. All you have to do to enter is leave a comment on this blog post. On Saturday 11/2/13, Random.Org will chose a winner and I will contact you with details. BE SURE to leave your email address in your comment for a chance to win. Good luck and HAPPY HALLOWEEN!!
About the Author: Born in Virginia, Brenda Sparks now resides in the Sunshine State. Balancing her professional commitment to the local school district with her writing is challenging at times, but writing suspenseful paranormal romances is a passion that won't be denied. Her idea of a perfect day is one spent in front of a computer with a hot cup of coffee, her fingers flying over the keys to send her characters off on their latest adventure. Brenda loves to connect with readers. Please visit her online or stop by her website to say hi.
Website ~ Blog ~ Facebook Fan Page ~ Twitter @brenda_sparks ~ Goodreads ~ Facebook Author Page