Have a Halloween Drink, Win a Free Copy of Year's End: 14 Tales of Holiday Horror
By Betsy Miller
I always think of Halloween as ushering in the holiday season. The days get shorter, the nights get longer. When faced with the slow march of Autumn stretching into Winter's cold stare, I figure why not have a party? I'll even invite Autumn and Winter—the more the merrier, right? Autumn can bring pumpkin bread and Winter, well, she can stare into her drink and do her edgy goth thing.
So, what to offer your Halloween partiers? If you want drinks with a Halloween tie-in, my exhaustive research of asking people and searching the Internet has revealed a number of different approaches. Pick the one that fits your personality and you're all good.
Dress your drinks in tiny costumes. Decorate the hell out of the punch bowl, put little spiders on the rims of the glasses, just go for the look and feel.
Halloween candy, baby. I want to drink the sugary goodness that tastes just like the fun-sized treats I've been munching on since the end of August. Visit a site like drinksmixer.com and search for your favorite. Almond Joy, anyone?
Fall flavors and colors. The air is crisp, the leaves are falling—I want to feel the season. Give me a drink with apples or pumpkin that makes me feel like I'm sitting near a cozy fireplace. Bust out the hot mulled cider, spiked pumpkin lattes, hard cider, you get the idea.
Who cares about a theme? It's all about the beer. What's on tap? Nuff said.
Creep me out. It's Halloween, right? Give me punch with lychee eyeballs floating in it, black drinks, slimy drinks, or a vampire-worthy blood-red martini. Try Dark and Stormy Death Punch, or Bloody-tinis; recipes at FoodandWine.com and About.com.
Stop my brain. I want to knock back a drink that will numb my prefrontal cortex. When the zombies come, they'll lurch past my comatose self to seek out someone with a working brain. Pick your poison—lots of zombie drink options are…huh, Winter, what was in that drink?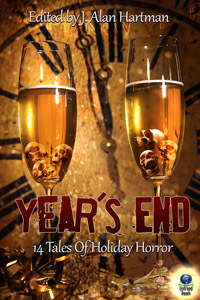 While you're enjoying your Halloween drink, you can sit back and read my story "Mixology" and thirteen others in Year's End: 14 Tales of Holiday Horror. To enter to win a free e-book, leave a comment. The winner will be announced at Long and Short review. Year's End is available where e-books are sold.
Buy link: http://store.untreedreads.com/index.php?main_page=product_info&cPath=6_79&products_id=722
Author Bio: Betsy Miller writes fiction that spans several genres, including speculative, suspense, and literary. She is the author of two books, The Parents' Guide to Hip Dysplasia and The Parents' Guide to Clubfoot, and is currently working on her first novel, Dance, Interrupted. Miller lives in Silicon Valley where she writes for high-tech companies. betsymillerbooks.weebly.com.