Autumn Jewels
by Alison Henderson
I'm a native Midwesterner, and autumn has always been my favorite season. As a child I loved it because my birthday falls during the first week of October. Then there are the colors—red, yellow, and orange contrasting with the brilliant green of grass that gets a second wind with the arrival of cooler temperatures. In a good year with enough rain, Minnesota in October can take your breath away.
Autumn also means harvest time. I love all the seasonal foods—apples, pears, pecans, and especially pumpkins. It seems like every day I see a new mouthwatering pumpkin recipe online, and I want to try them all. Pumpkin soup, roasted pumpkin with brown sugar, and best of all—pumpkin cheesecake. About fifteen years ago, we invited my boss and his wife over for Thanksgiving dinner, and I made a pumpkin cheesecake. I thought I'd died and gone to heaven. Sadly, my daughter is a staunch traditionalist and let me know that in the future, she would tolerate nothing but basic pumpkin pie. I haven't made pumpkin cheesecake since, but one of our favorite local restaurants features it from October through New Years'. Theirs is exquisite, far better than anything I could make at home, and offers the perfect excuse to eat out frequently.
This year I feel a bit like I've missed the autumn bandwagon. In April, my husband and I moved to sunny Carmel, California. It's one of the most beautiful places on earth but so mild that only the arrival of the winter rains signals the change of seasons. That's one reason I was so delighted to discover the wonder of glass pumpkins. You may have seen them in gift shops where you live, glittery re-creations of every type of autumn gourd in a rainbow of colors. Some are remarkably lifelike in orange and green-and-white-stripes. Others are deep, Mediterranean blue or sparkly, clear glass. Here are a couple of photos I took at a display and sale on the grounds of our local middle school. Aren't they gorgeous? I think I'll buy a few to help put me in the mood now that I can no longer count on Mother Nature to do it for me.
My new contemporary/romantic suspense, Unwritten Rules, also takes place during the fall. It features a determined female bodyguard, her sexy ex-CIA agent-turned-thriller-writer client, a pair of meddling grandmas, and lots of sharp, snappy dialogue. I'd love to send a copy to one lucky commenter, so please leave your email address if you'd like to be entered in the drawing.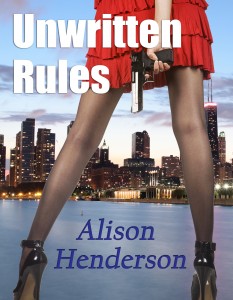 Author Bio:  I haven't always been a writer, but I have always embraced creativity and relished new experiences. Seeking to expand my horizons beyond Kansas City, I chose a college in upstate New York. By the time I was twenty-one I had traveled the world from Tunisia to Japan. Little did I suspect I was collecting material for future characters and stories along the way.
I began writing when my daughter entered preschool (she's now a full-fledged adult) and became addicted to the challenge of translating the living, breathing images in my mind into words. I write romance because that's what I like to read. The world provides more than enough drama and tragedy. I want to give my readers the happily-ever-after we all crave.
I've been married to my personal hero for more than thirty years. After decades of living in the Midwest, we've recently heeded the siren call of sun and sea and moved to the most breathtakingly beautiful place imaginable – the gorgeous central coast of California. I look forward to the new stories this place inspires.
Links:
Website: www.alisonhenderson.com
Blog: http://alisonhenderson.blogspot.com
Twitter: @alsnhendersn
Facebook: https://www.facebook.com/alison.henderson.33
Buy Link: http://amzn.to/1cl6jDA