WHAT DOES DIANA ANDREWS DO ON HALLOWEEN?
Here's hint: prostitutes are often called "working girls." On holidays, they're often working.
This is something I learned from my Technical Consultant. The reader may have heard the term. Movie and television productions often employ technical consultants. A cop show will hire a police officer, or a hospital drama will have physicians on hand to explains how things are done in real life.
My Technical Consultant was a young woman in Diana's line of work. At one of our meetings she mentioned that she planned to make a few hours of Thanksgiving Day available to clients who wanted to see her. I knew immediately that I would use that scenario somehow, and in fact, I did it in a short story called Calories. In this story a man's wife wants him out of the house while she gets ready for the big dinner. His decision to see Diana has dire consequences.
Calories was published by Untreed Reads and reviewed here at Long and Short Reviews.
This client wants to get away from his life for a while. Other men have no one and must pay for company, even on Christmas. This situation comes up in Safe Passage which I wrote in response to a hardboiled Christmas challenge at the Do Some Damage crime fiction blog:
http://dosomedamage.blogspot.com/2010/12/safe-passage.html
Which brings us to Halloween. I haven't yet used this holiday in fiction. I certainly plan to, and some scenarios have occurred to m. One might be a costumed swinger party, which Diana attends as half of a couple. I learned from my Technical Consultant that a man without a willing partner will sometimes hire a "girlfriend" to attend such a party, because single men are often not welcome. Why a swinger party? Because the potential for jealousy is always present, and jealousy can lead to the kind of mayhem that makes Diana put on her detective hat.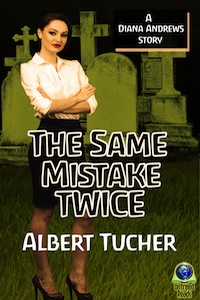 But here is where I can use the reader's help. What are your ideas for a Halloween story? Tell me in a comment, and the best idea will win a copy of the new Diana Andrews novella, The Same Mistake Twice.
Are you up for it?
About the Author: Albert Tucher was an aspiring operatic tenor before his insatiable appetite for rejection led him to writing. He is the creator of prostitute Diana Andrews, whose first novel length adventure, The Same Mistake Twice, is just out from Untreed Reads. Diana has also appeared in fifty short stories in such venues as ThugLit, All Due Respect, and the anthology The Best American Mystery Stories 2010.
Albert Tucher is a librarian in his day job, and his hobby is drinking too much coffee.
Untreed Reads page: http://store.untreedreads.com/index.php?main_page=index&cPath=6_261
Amazon page: http://www.amazon.com/Albert-Tucher/e/B005MOOTGK
Barnes and Noble page: http://www.barnesandnoble.com/c/albert-tucher
Website: http://alberttucher.writersresidence.com/