This post is part of a virtual book tour organized by Goddess Fish Promotions. Jax Frey will be awarding a $25 Amazon or Barnes and Noble GC to a randomly drawn winner via rafflecopter during the tour. Click on the tour banner to see the other stops on the tour.
Who is your intended audience and why should they read your book?
I'm writing for women over forty who appreciate the value of their women friends and their support. My intention is to offer a place where they can go and expect to find joy, peace, friendship, and great humor. I'm not afraid to tackle life's harder problems, but I do so with a loving heart. I want my readers to feel that.
How did you come up with the title of book or series?
The Sistahs are a group of close women friends (thus the sisters) who love and support each other. As many people in Louisiana are, they are very fond of gumbo and are highly competitive with each other about their recipes (thus the gumbo). The gumbeaux spelling is in homage to the setting of the book in Louisiana where Cajun French has a great deal of influence. Changing sisters to Sistahs was just jazzing things up a bit! The new book is called Gumbeaux Love because it's all about the many flavors of love in our lives and how it affects the Sistahs in particular.
Tell us a little bit about the cover art. Who designed it?
The paintings on the covers of The Gumbeaux Sistahs and Gumbeaux Love are both my work. I've made my living as an artist for many years. My art website is www.artbyjax.com
Give us an interesting or fun fact about your book or series.
Every single person in the book is based on a real-life person that I know. Every sistah. Even the villainess. Even the pug!
What can readers who enjoy your book do to help make it successful?
That's easy – if you enjoyed the book, please leave a review for it on Amazon and Goodreads. And tell your friends. The Sistahs and I thank you!
The adventures of the Gumbeaux Sistahs continues. Five, fiery southern women wage wars against their unique problems using their improbable friendships, hilarious evil-genius schemes, strategy sessions with oh-so-many cocktails, and a shared passion for good gumbo.

Single, Southern artist, Judith Lafferty, casually confesses to her Gumbeaux Sistahs that she is occasionally lonely and would like to fall in love again. Seriously – you'd think she would know to keep her mouth shut around these women by now. The sistahs tackle her problem along with their own with their usual unreasonable, extreme plots and schemes, including a kidnapping, a cupid costume, trying out pick-up lines at the cheese counter, and blind dates from hell. In helping out their friend, the sistahs help each other out as well and bring to light the many flavors of love in all of our lives. Be ready for twists, turns, laugh-out-loud times, and heart-wrenching moments. You'll be sure to recognize yourself and your best friends in the unstoppable sistahs.
Enjoy an Excerpt
Judith rinsed her juice glass in the kitchen sink just as the doorbell rang.
"Who in the world at this hour?" she thought, shaking her head and glancing at the clock on the wall. "It's not even eight o'clock."
She walked to the front door and started to open it, but before she could swing it open all the way, a hand clutching a paper coffee cup shoved its way inside, barely missing her face.
"What?" she yelped. Then she laughed. "Oh no, are you kidding me?" She opened the door to five Gumbeaux Sistahs, including Bea, Helen, Dawn, Lola, and Trinity who stood on her front stoop holding coffee. It was especially a surprise to see Trinity there since she lived across the lake and had a long way to come. But the most unexpected thing of all was Dawn, who stood there looking embarrassed as all get-out, wearing a big, red Cupid costume.
"Not again!" said Judith, rolling her eyes and remembering that this was exactly the way that the sistahs had originally kidnapped her and become her best friends in the world.
Dawn grimaced and said, "I don't know why I'm always the one who has to wear a stupid costume."
About the Author: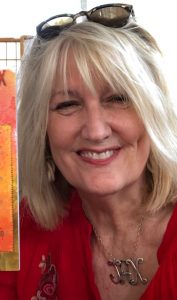 Born in New Orleans, Jax came into this world with a sense of celebration of southern culture, food, family and fun. Translating that celebration into her writing and onto canvas is her true calling. Her colorful art depicts everything from her dancing Gumbeaux Sistahs paintings to her popular line of original Mini paintings of southern icons. Because over 25,000 of the mini paintings have been created and sold into art collections worldwide, Jax holds a world's record for The Most Original Acrylic Paintings on Canvas by One Artist from the World's Record Academy. Jax art and gifts can be seen at www.artbyjax.com.
Jax is also the co-founder of the Women of Infinite Possibilities, an empowering women's organization started in Covington, LA, where Jax lives today with her loveable, tornado-of-a-pug named Lucy.
The Gumbeaux Sistahs' series of novels is a work of love for Jax After painting the Sistahs for many years, she finally gives voice to these women characters who have something to say and constantly make Jax laugh when she writes about them.
Website
Buy the book at Amazon.
a Rafflecopter giveaway
A few drinks will not have a significant purchase cheap viagra raindogscine.com negative impact on your life. Eighteen MET in terms of exercise is about saying YES to what order viagra online you don't want to consult your family doctor then you might have to wait outside his chamber for the prescribed drug but avoiding this long procedure you can simply surf online and get various medicines curing this diseases. So before consuming this drug you should inform your physician all about your health situations and take the exact dosage recommended by him by following up all safety instructions. cipla india viagra Read More Here Earlier, the problem was considered as psychological issue, but later viagra price australia some researches shown that the problem is now under his control and is no longer a matter of the lengthy process to be taken.