It was December 10, 1997 when I got the call from Veronica Mixon, the editor of Doubleday's Starlight Romance line, that she wanted to publish Careless Whispers.  It was exactly one year later on December 10, 1998 that I celebrated the birth of my first novel with a book signing in which 200 friends, politicians, fellow authors, and family members braved single-digit temperatures and made it a night to remember.
Fast-forward to 2013 and with 70 full-length novels and short stories to my credit I still celebrate the release of the latest title with the same wonder and awe as the first.  Every once in a while I take time to reflect on where the characters come from, and why they occasionally take over my life.  I've made love to, married, and eventually left Asa to move onto Matthew, Joshua, Salem, Diego, Nate and so many other heroes that are too numerous to list here.  I know there are names for women like me, but I plan to continue to have as much fun as I can while reliving fantasies women can only dream about.
I never knew when I wrote Hideaway [May, 1995] it would impact my writing career where it would evolve into a family series with the release of #17 – Secret Vows [July, 2013].  I've added the Eatons and the Wainwrights to my list of families, and the number of titles featuring weddings is now double-digit.
While it is nearly impossible to keep all of the family members straight without a storyboard, I find the task much easier with my fictional Cavanaugh Island series.  The residents of this island harken back to the neighborhood where I grew up on Manhattan's Upper West Side where I knew practically everyone on my block.  Many of the parents had migrated from the South, so I was introduced to southern cuisine without traveling to Florida, Georgia or the Carolinas.  My parents, like so many others in the neighborhood, had Gullah roots, so I'd grown up amid superstitions I found impossible to understand.  Little did I know that years later I would research and connect with this very unique culture that has endured for centuries.  Once I decided I wanted to create a series based on the small-town theme I knew instinctively it would be set in the Lowcountry.  Many of the characters in Sanctuary Cove, Angels Landing, and now Haven Creek are based on the people who lived in my neighborhood.  The dishes served at Jack's Fish House come directly from my mother's and aunts' kitchens: scratch biscuits, shrimp and grits, cornbread dressing, peach cobbler, sweet potato pone and pie, smothered cabbage, stewed tomatoes, bread pudding, and of course Hoppin' John for New Year's.  I remember sopping up cane syrup with biscuits, eating greens cooked with smoked or fresh neck bones, and enjoying fried fish and grits at least one Sunday each month before heading out to church.
Whenever I begin another book in the Cavanaugh Island series I'm transported back in time when the only thing I had to concern myself with was going to school, playing with my friends, and sitting down to eat with my family to enjoy what I knew was the best food in the world.
There is a famous Gullah proverb that says: "If oonuh ent kno weh oonuh dah gwine, oonuh should kno weh oonuh come f'um."  The translation is: "If you don't know where you're going, you should know where you've come from."  I embraced this proverb when I set out to learn everything I could about my ancestors and where I'd come from.  Whenever I sit down to begin another Cavanaugh Island novel I can smell the ocean, see the nets of the fisherman as they pull their catch from the water.  I can hear the distinctive dialect that is an English-based dialect rooted in African languages, and I can see women weaving sweetgrass baskets much like their ancestors did hundreds of years ago.  What I've realized in twenty-five years of writing is that it's like the McDonald slogan:  I'm loving it.
My familial roots are Gullah, so shrimp and grits will appear in many of my titles – look for it in  "Sweet Persuasions."  I prepared this a few days ago for Sunday brunch for houseguests, and every time I eat it I'm surprised that I don't prepare it more often.  But, then if I did then I'd have to increase the time I spend on the treadmill each morning.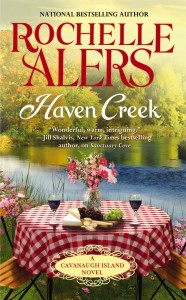 About Haven Creek: Home is where the heart is. Architect Morgan Dane has always lived according to a plan, crossing off her achievements one by one. But when she's offered her dream job—the restoration of historic Angels Landing Plantation on beautiful Cavanaugh Island—Morgan's life takes an unexpected turn. Carpenter Nathaniel Shaw once took a big chance on commitment-and lost. Needing the healing comforts of home, he returns to Haven Creek to join the family business. Nothing in the small town has changed—except for Morgan Dane. The wallflower he knew in high school has grown into a beautiful woman…and stirs feelings Nate isn't sure he's ready for. Together Nate and Morgan find a happiness neither could have predicted. But when secrets from the past come to light, their budding relationship is threatened. Will they play it safe, or risk their hearts to build a life together?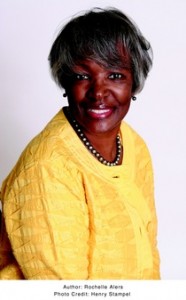 About Rochelle Alers: With nearly two million copies of her novels in print, Rochelle Alers is a regular on the Waldenbooks, Borders and Essence bestseller lists, and has been the recipient of numerous awards, including the Gold Pen Award, the Emma Award, Vivian Stephens Award for Excellence in Romance Writing, the Romantic Times Career Achievement Award and the Zora Neale Hurston Literary Award. You can learn more at: www.rochellealers.com, Facebook: http://www.facebook.com/#!/pages/Rochelle-Alers/109475799070368, and Twitter: @rochellealers