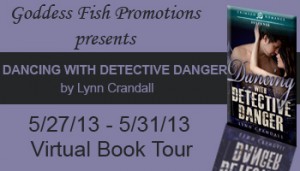 This post is part of a virtual book tour organized by Goddess Fish Promotions. Lynn will be awarding a $20 Amazon gift card to a randomly drawn commenter during the tour. Click on the tour banner to see the other stops on the tour.
*****
Like anyone else, I find comfort in the ideas that sustain us, the concepts that are held in the collective consciousness and are believed by all. For instance when all else falls apart, the belief that family is always there for us can be a soft place to land. When our best laid plans bring us a heap of trouble and despair, the belief that everyone gets a second chance gives us hope to persevere. And when the life we thought we wanted turns sour, it gives us strength to believe that the path to happiness is not closed to us, it's just taking us in a different direction.
These are the concepts that inspired Dancing with Detective Danger and informed the substance of the main characters, Sterling Aegar and Ben Kirby. I wanted to explore the ways people live their lives through the lens of beliefs that serve their purpose but can take them to places they never intended to go. I wanted to take beliefs – such as the one that family is always there for us – and show contrasts of that belief.
For Sterling and her sister Lacey, family changed drastically at the death of their father when they were young. As the structure of their lives changed, each sister took on different ways of coping, and for Sterling, fear and anger fueled her choices into adulthood. A vow to honor her father by following in his footstep in becoming a police officer gave her painful feelings purpose. Her belief that she could somehow avenge his unsolved murder by doing her part to help justice prevail helped her manage the fear and anger. And when she met Ben on the job as a fellow police officer, she found his zest for life captivating and his fearless lifestyle invigorating. But at the death of her sister's husband, the fear and anger took her over and bound her into a cocoon of her making, believing it would protect her from further hurt. She ran from love rather than risk more devastating loss.
Ben, too, harbored wounds from his early years, and his penchant for thrills and his work on the edge was his way of dealing with his belief that he brought pain to those he loved. But with Sterling, his aching loneliness was soothed…until she left.
When the two meet up again at the beginning of Dancing with Detective Danger, it has been two years since their break up. The beliefs they've carried, both life-affirming and life-negating, are triggered and each character has to face a personal crossroad of whether to invest in beliefs that expand their lives and their definition of family and bring them love or continue to invest in beliefs that give the illusion of keeping them protected, safe, but alone.
To tell this story, I chose to set it in a mid-size urban setting because I love the vitality of a thriving city. The sisters are independent business women who enjoy their work and their relationship with each other, so the backdrop of city gives them places to find danger and intrigue as they uncover truths, but it's small enough to ground them in a sense of place.
This pairing of contrasts is also a part of the names I picked for the sisters. Their names, in a sense, reflect their individual approaches to life: Sterling has an edge and must balance her tendency toward coldness and Lacy is soft and must balance her tendency to lose herself in making others happy. As for Ben, who doesn't love a hero with that name?
In the book, I hope readers find an interesting plot that takes accessible characters on paths that are difficult but doable if they expand their beliefs and challenge their personal patterns that are understandable defenses but that no longer serve them well.
About the Author: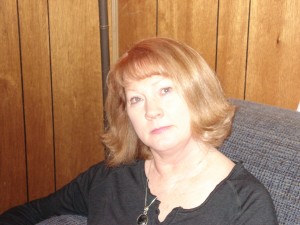 I started spinning stories as a child when I tried to entertainmy younger sister at night when we were supposed to be going to sleep. In the dark, my stories typically took on a scary or paranormal element — didn't do much to put us to sleep. Today, I hope my stories still fail to put readers to sleep, but rather take them on a journey. That's what I've been on since I decided to make writing my focus. As a reporter and magazine feature writer, I truly enjoy learning as I work on stories. As a romance writer, I enjoy doing the research and following an evolving story of my characters. I'm still learning as I go.
Goodreads: http://www.goodreads.com/book/show/16719189-dancing-with-detective-danger
Amazon: http://www.amazon.com/Dancing-Detective-Crimson-Romance-ebook/dp/B00AWWONCM/ref=sr_1_1?s=books&ie=UTF8&qid=1357403415&sr=1-1&keywords=dancing+with+detective+danger
Twitter: @lcrandall2
Uncovering secrets and exposing truth are all in a day's work for private investigator Sterling Aegar. But when her latest case threatens to reveal her own buried feelings for an old love, Sterling runs for cover.

A body in the bathtub and pleas from a jilted wife to find her wayward husband mean a welcome break from the usual humdrum cases Sterling and her sister, Lacey, are called to investigate. But when Sterling's old flame, Detective Ben Kirby, walks into the murder scene, she feels her world spin out of control. Danger from thugs and murderers poses no greater threat than the peril she'd suffer if she lets daredevil Ben get too close.

Seeing Sterling for the first time in two years is for Ben like drinking in a healing tonic. He could never forget the way it felt to run his hands over her delicious curves or the way she touched his soul. She remains the one person who can make the emptiness in his gut go away. Finding the murderer is his job, but protecting Sterling from seriously dangerous people is his mission.
As the case unfolds, Sterling and Ben not only solve the murder and locate the missing husband, they confront secrets that set them each free from a painful past.