How do the characters in Fiona Lowe's Saved By The Bride Navigate a Tricky Office Romance?
Just recently, I read an article written in the careers section of the newspaper by a psychologist who strongly advised against dating someone you work with. Why? Because, if (and when) you break up, it isn't just you and your ex who are involved in the fallout, but the entire office.
Apparently the meeting of eyes over the water cooler, the teasing joke over the cubicle divide and getting cozy at drinks after work, can be detrimental not just to your health but your job and your career prospects. So dating your co-worker is something most companies frown upon and actively discourage.
My heroine, Annika, in Saved By The Bride is an independent young woman who isn't shy of hard work but would not more think about dating her boss than fly to the moon. She needs this job to pay her back-rent and buy food so she won't do anything to jeopardize her weekly pay check. However, what's a girl to do when a deliciously gorgeous man who makes her weak at the knees and also happens to be her boss, suggests they enjoy themselves over the summer?
She thinks outside the square!
As does Finn, who, right up to meeting Annika, has never dated anyone he's employed.
This is how they get around the issue.
*****
His laugh was like the deep, rich notes of the bassoon and stroked her like velvet. "Sweetheart, you've noticed. One dropped air mattress, one dropped knife and now there's a river of soy sauce heading toward the floor. And let's not forget this morning when you fell out of bed and walked into the doorway. There's so much sexual tension sizzling between us, you've become an occupational health and safety hazard to yourself."
And damn it, it was all true. She dropped the cloth in the sink and marched over to the chair where his discarded shirt lay. Her fingers wound it into a ball and she threw it at him. "If you're so worried about me hurting myself then put on some damn clothes."
He flicked the shirt out so it wrapped around her waist and then pulled her gently toward him. "And where would be the fun in that?"
He smelled of soap, shampoo and the promise of wonder.
"This isn't fun for me, Finn. This is torture."
He dropped his head so his lips were next to her ear, and his breath and his words stroked her. "But it's torture of the best kind, right?"
She bit her lip and shook her head. "No." She put her hands on his forearms and leaned back. "Last night, I made a big mistake, Finn. I wanted to kiss you but it got out of control way too fast and I'm telling you, it's not going any further. I refuse to become the cliché of the P.A. who sleeps with her boss. Her very rich boss."
Intelligent eyes studied her. "So this buyer's remorse of yours is to do with ethics?"
"Yes."
"Then quit."
Oh that she could. "You know I need the money."
"Fair point." His fingers played with her hair. "Have you ever slept with your boss before?"
"No." The word shot out on stream of indignation with a lust chaser.
His gaze burned into her. "Would it help if I told you I've never slept with any of my P.A.s, or any other members of my staff for similar ethical reasons?"
"Little bit." The words came out on a breath as his fingers caressed her cheeks. Her knees sagged.
"So really, both of us are in a difficult situation."
"Difficult." Her lips could hardly frame words.
His fingers dipped into the hollow of her throat, fondling her skin in ever-decreasing circles. "What if AKP was to subcontract directly to Annika's Custom Calligraphy with the express purpose of managing the warehouses and to provide a P.A. to the Kylemore office for the summer?"
Miraculously, there was still one tiny part of her brain that was free of desire-fuelled haze, and she could see exactly where he was going with this. She'd be her own boss. "My fee's pretty steep."
"I pay industry rates." He matter-of-factly named a figure.
She was glad she was gripping his arms or she would have fallen at his feet. She tried to look businesslike and composed when she was feeling the exact opposite. "Is that number the truth, Finn, or are you just trying to get me into bed?"
His mouth flattened and a serious look entered his eyes. "By now you should know that the truth is very important to me, and I never joke about business."
She recalled their first misguided twenty-four hours and how he'd conducted himself ever since. She should have realized the figure was accurate. "You're right. I do know that about you."
His serious expression lingered. "This agreement's just for the summer, Annika. Come Labor Day, Sean's back in command and I'm back in Chicago or Mexico."
 Just for the summer. The words were clear, concise and completely ambiguity-free. A definite end date—that worked for her. This thing between them was all about a summer of sex and given recent events in her life, she deserved some no-strings fun. "Annika's Custom Calligraphy accepts."
*****
 Do you have any office romance stories?
To learn more about Fiona Lowe's Wedding Fever series, and get a peek at Whitetail, Wisconsin you can watch the book trailer here. The series starter, Saved by the Bride, is available now at Amazon, Nook, Carina Press and other online book retailers.
About the Author: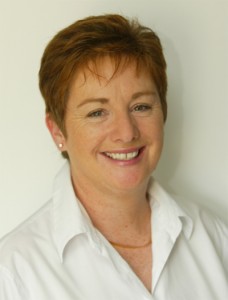 Fiona Lowe is a RITA® and R*BY award-winning, multi-published author with Harlequin and Carina Press. Whether her books are set in outback Australia or in the mid-west of the USA, they feature small towns with big hearts, and warm, likeable characters that make you fall in love. When she's not writing stories, she's a weekend wife, mother of two 'ginger' teenage boys, guardian of 80 rose bushes and often found collapsed on the couch with wine. You can find her at her website, Facebook, Twitter and Goodreads.
Welcome to Whitetail, Wisconsin, future home of Weddings that WOW!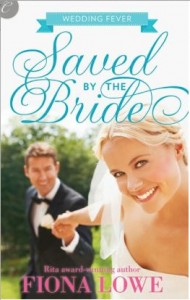 Finn Callahan can't believe his sister is getting married, not after their parents' disastrous track As acting mayor, Annika will do anything to revive the economy of the town that's been her refuge ever since her art career imploded and her fiancé walked out. Even if it means crashing an engagement party to talk business with the bride's billionaire father. But the evening starts with a kiss from a gorgeous stranger—and ends with a night in jail.
Unable to resist their mutual attraction, Annika and Finn are soon mixing business and pleasure—just for the summer. Too bad Annika's heart missed the memo about not falling in love…record. And he'd rather be anywhere than working from his family's vacation home. Until he catches a leggy blonde sneaking in the window, and suddenly telecommuting for the season is very appealing.
Book one of Wedding Fever.