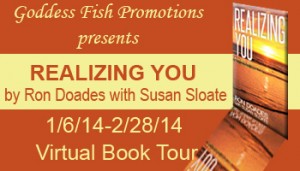 This guest blog is part of a virtual book tour organized by
Goddess Fish Promotions
. One randomly chosen commenter will win a $50 Amazon/BN.com gift card. Click on the tour banner to see the other stops on the tour.
Where do ideas come from?
I think ideas come from letting your subconscious mind freely interact with your conscious mind on a playing field of experiences and possibilities. If that high-sounding statement has not turned you, off, stay with me.
You may know that Disney's creative sessions are based on the premise that there are no bad ideas. While some ideas are not really good ideas, even apparently bad ones—hysterically laughable—even the most incredulous ideas can open people's minds to let in really game-changing thinking. Just imagine the thought processes of Steve Jobs and his associates in conceiving and designing Apple's operating system, incorporating the visual characteristics that Mr. Jobs learned in a college art class.
It seems to me that authoring books follows the same ideation process. Really successful authors have the abilities to go where others dare not go. They are not afraid to risk looking foolish by putting their new ideas into books. We have examples galore of such successful writers. Are really successful writers good writers? By what and whose standards? While many successful writers may have learned grammatical rules in school, most of them have distinct writing styles that violate various rules.
For the purposes of this blog, I would like to conclude by asserting that successful writers are able to free their minds to create new ideas, while not being preoccupied with always getting the grammar right (at least in the creative writing phase). I believe that perfect grammatical expression is not their goal. Their goal is to express their creative thoughts in ways that engage and touch readers. Their ideas come from the freedom they give themselves to take creative risks.
About the Author: RON DOADES is president of Ronald Doades & Company, a consulting firm that, since 1977, has helped the people of large and mid-size energy companies improve their individual and corporate performance results by learning from the best-practice experiences of others. A popular speaker on the topic of managing change for optimal results, he holds an MBA from Columbia University and an MS in Psychology from The New School in New York City. Visit him at www.realizingyoubook.com
SUSAN SLOATE is the author of twenty published books, including STEALING FIRE, a #2 Amazon bestseller and Quarter-Finalist in the 2012 Amazon Breakthrough Novel Award Contest, and FORWARD TO CAMELOT (authored with Kevin Finn), which in its first edition was a #6 Amazon bestseller, took honors in 3 literary competitions and was optioned for film by a Hollywood production company. She lives in Mount Pleasant, SC. Visit her online at http://susansloate.com.
Meet Robby Aihn, the newest star in the self-help universe and author of the runaway bestseller, Realizing You, now struggling with his first taste of fame. Though his five principles for good living are changing other people's lives, his own life is starting to fall apart. When Robby stages a lavish self-help conference in Dallas, he attracts others with their own secrets: his estranged wife and unhappy teenage daughter; the businessman pursuing his own agenda; the all-star pitcher facing the end of his career; and the shy co-author Robby never acknowledged, who is searching for meaning in her own life. Join Robby and the others on their journey toward understanding and fulfillment, in this truly novel approach to changing YOUR life.