Desires…Awaken Yours
By
N. J. Walters
Ask any romance reader if they love reading a series and about 99% of the time they'll give you the same answer—YES! But what is it that makes a good series? Sometimes a series is set in a particular place or time, or it may feature the same characters and allow you to delve deeper into their world. But sometimes a series is based on an idea.
That's what happened with the Awakening Desires series. Yes, there are characters that carry over from book to book, but each book in the series can be read as a stand alone read. Each book is about the desires of the hero and heroine. What do they want out of life? What do they want to attain in their career? Their relationships? Do they even know what they want? And how do these desires get awakened?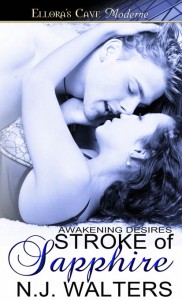 Exploring all these fascinating questions has led me to write eight books in the Awakening Desires series. I've explored light bondage in Capturing Carly and dominance (not BDSM) in Stroke of Sapphire. I've delved into the psyche of the wounded hero in Katie's Art of Seduction and Craving Candy. I've seen a woman push the boundaries of her world and actively go after the man she wants in Erin's Fancy. I've watched as the different worlds of social status and race collide in MacNamara's Lady. A woman running for her life falls in love with a man who never expected to find it in Jackson's Jewel and I've sympathized with a woman who thought her career was enough for her only to discover she was wrong in Touch of Topaz.
Human desires are as varied as the people who experience them. We all crave a measure of control and safety in our world and gain it through career, home and friends. But we all want acceptance and love even more and that isn't always easy to find. When we do find it sometimes we run from it or distrust it. But when we are courageous enough to reach out and grab hold of it, love can be the most powerful gift we ever receive.
What do you desire?
STROKE OF SAPPHIRE
Eighth in the Awakening Desires series.
http://www.ellorascave.com/stroke-of-sapphire.html
 When Sapphire Jewel turns to him on the final evening he's assigned to protect her, ex-Army Ranger and security expert Jake Knight sweeps her into bed. His personality and his profession have shaped him into a man who needs to be in control of all aspects of his life, especially in the bedroom. He's not into the whole dominant/submission BDSM thing, but he does need to be the dominant force when it comes to physical relationships. Fearing his sexual demands are too much for Sapphire to handle, Jake does the only thing he can to protect her—he leaves her.

Sapphire is in love with her bodyguard. One night of intense, passionate sex has him running for the door and she doesn't know why. When Jake unexpectedly shows up in her life again, she must decide if she can live with the sexual demands he'll make of her. But most of all, she must decide if she can once again risk her heart.
Be sure to leave a comment along with your email address as I'll be giving one lucky person a PDF download from my backlist—Winner's Choice!
ABOUT THE AUTHOR: N.J. has always been a voracious reader, and now she spends her days writing novels of her own. Vampires, werewolves, dragons, time-travelers, seductive handymen, and next-door neighbors with smoldering good looks—all vie for her attention. It's a tough life, but someone's got to live it.
Visit me at:
Website: http://www.njwalters.com
Blog: http://www.njwalters.blogspot.com
Newsletter Group: http://groups.yahoo.com/group/awakeningdesires/
Facebook Author Page: https://www.facebook.com/N.J.WaltersAuthor
Twitter: https://twitter.com/njwaltersauthor