First, thank you for having me on your site! I'm very excited that my next book in the Love's Command series has finally found its way to readers. The delay from book one to book two is entirely my fault though! I get a bit caught up in my paranormal series or perhaps my Alpha males in those books are just that much more demanding…although Navy SEALs can be just as hard to handle, they are, mostly, more respectful of this writers limited brain power and the restrictions sleeping puts on my ability to keep up with all the stories! 🙂 Leave a comment and you will win your choice of one of these two books.
For me, writing in the contemporary world takes a lot more outside of my own imagination work – for instance, research! This story is set in Hawaii and unfortunately, I couldn't get on a plane and head off for a lovely week or two on the islands. I'm one of those authors that rely a great deal on personal knowledge. For instance, in Running Scared, I knew the areas in Florida I wrote about, what it's like to drive cross country, and what life on a ranch is like, in addition to how small towns work. I also knew what it was like to run from something, so that, I hoped I could illustrate through my writing.
In Safe in His Arms, I struggled a bit, but finally dove in and got the setting, emotions, and characters surrounding them exactly the way I wanted. Now, I didn't do it alone! I have a critique partner and a few BETA readers that helped me think this story through. And, of course, my editor was there to point out any irregularities in my setting and so on. I'll never forget my goof up with using "captain" with my Navy SEAL. Ugh. Coming from an Air Force family, I simply assumed the Navy also had captains, but no, not true as a reader pointed out. 🙂
So this story, while it took me some time from the last release to hit my editor's lap, is well worth the wait. Mac and Mandy are that couple you see that breaks apart to everyone's surprise and instead of never getting back together, move heaven and earth to end up back in each other's arms. I hope everyone that reads my story enjoys this action packed love story as much as I did writing it.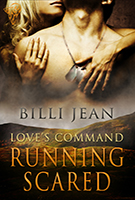 When a woman running scared runs into the arms of a sexy cowboy, she might lose her fear, but will she also lose her heart?
When a woman on the run hits a town right out of the Wild West, the first cowboy she meets sets his sights on her. Alone, scared, and starting over, Susan will have to decide if the big, bad Russell Ryland, retired Navy SEAL, now rancher, is for real or just using up his down time between missions.
Russell takes one look at the smiling, blue-eyed beauty and realises there's a heck of a lot more after retirement than he'd thought. As he begins to dream of a life with Susan, he fights an unfamiliar battle within himself-doubt. Does she want him, or is she merely out for some fun?
Time for the reluctant couple nearly runs out when the very men Susan is hiding from come to call. Will Russell wake up quickly enough to save her? Or will their doubts get them both killed?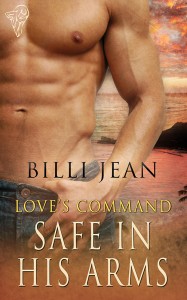 Can a woman learn to trust her heart enough to give her dream another chance? Can a man reveal all, in order to keep his love safe in his arms?
Mandy would do almost anything for Mac, anything except give him her heart—again. She has spent five long years trying to get over him. Now, forced back into his arms, will she finally have the courage to reach for her dream? Or will she lose him before she has even got a chance to be in his arms?
Mac has never been able to shake his need for Mandy—not even after five long years without her. Now she is back but, instead of the young, sweet girl who gave him her innocence, she is a fierce, courageous woman—so sexy he can barely keep his eye on the prize—her in his arms for the rest of their lives.
Billi Jean was born in California but didn't stay put for long. She's lived in New York, Indiana, Missouri, Arizona, Colorado, Florida, Massachusetts, and Vermont. She's lived and worked from ranches to beach side coffee shops to the woods in western Massachusetts.
She's been writing since high school when she couldn't wait for Robert Jordon to write his Wheel of Time series faster. She writes paranormal, contemporary, and historical romances with a flair for action and adventure.
Billi Jean is best known for bringing a balance of humor and emotion into her writing, leaving her readers both smiling and teary eyed, but always cheering her characters along.
Amazon Author Page Billi Jean