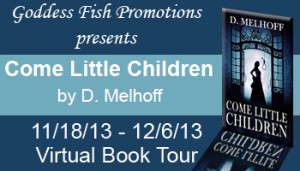 This post is part of a virtual book tour organized by
Goddess Fish Promotions
. One randomly chosen commenter will receive a $25 Amazon or BN.com gift card. Click on the tour banner to see the other stops on the tour.
Grandfather's Stories: The (Possible) Explanation for My Path to Horror
By D. Melhoff
The first time I remember my parents abandoning me was around age six. It must have been for a hockey game—or maybe a movie night or a poker tournament—but really, it doesn't matter. The point is, even though I must've had babysitters before, this was the first time I remember experiencing separation anxiety. Of course, as the years went on, I was increasingly OK whenever mom and dad took off because it usually meant that I got to spend more time at grandma and grandpa's house.
All four of my grandparents live in the same city, so my brother and I spent a lot of time going back and forth between their two homes, where—unsurprisingly—they always tried to outdo themselves with their own special spoiling tactics. Ice cream sandwiches and tractor rides, picnics and road trips. We spent long hours at the library, longer hours around campfires, and too many hours to count watching The Price is Right and Family Feud and Match Game '73 on the 24/7 Game Show Network. It was a quaint, small-town childhood, so it must've come as a shock when the family found out their darling little grandson turned out to be a horror author.
"What went wrong?" they (probably) gossiped. "How did we screw him up? What happened to being a surgeon, or a lawyer, or a public official?"
I'm not sure. If this was a full-out court case of nature vs. nurture, it seems like all evidence points to the fact that I was predestined for a life of dark fiction and macabre stories. The only person who might be able to testify otherwise would be my grandfather Melhoff.
Grandpa Melhoff was—and still is—a good storyteller. Whenever I spent the night at his and grandma's house, I was given a sliver on the edge of his mattress and a quick bedtime story before being tucked in and told to go to sleep. That was the idea, at least. The reality was, my grandfather didn't know any traditional bedtime stories—or maybe he didn't like them. Either way, he always made up his own off the top of his head.
Now you have to understand, Grandpa Melhoff is no shrinking violet. He likes woodworking and whiskey and the Cleveland Indians. His version of a good bedtime story would be the instruction manual for a radial arm drill press; back then, however, I was six-year-old royalty, and when I wanted a bedtime story, he had no choice but to tell one.
The result was a series of the strangest, most twisted stories a kid could get.
The two that I remember most include one about a dog that got its paw stuck inside a piece of furniture and had to have it sawed off, and another about a bird that kept flying into the side of the house. No morals, no resolutions. Just strange streams of thoughts as he drifted to sleep beside me and left me wondering the point of it all. Sometimes he would start mumbling and I'd have to hit him and say, "Grandpa, you're not making any sense!", while other times his snores would come blasting out of no where and he would be out cold for the rest of the night. If I asked him to finish the story the following evening, he would say he couldn't remember a damn thing and have to start another one from scratch.
Perhaps that's where my darker side was born: in the shadows of that small bedroom as I lay there thinking about strange endings to twisted stories while my grandfather's snores shook the house around us, each snort loosening the tiny screws that held my tender young sanity together.
Jury, what's the verdict? Nature or nurture? Is grandpa innocent or guilty?
Honestly, it doesn't matter; after all, there's a statute of limitations on blaming your family for your direction in life. Either way, I'll never complain—I like the shadows anyway— and besides, who needs those tiny screws anyway?
About the Author: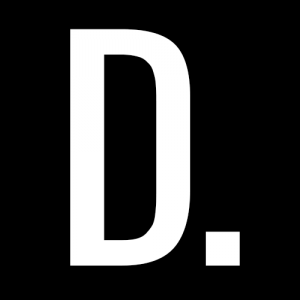 D. Melhoff is the author of Come Little Children, a new supernatural thriller about a family of morticians who are connected to a string of paranormal murders in the town of Nolan, Yukon.
Official Website:www.dmelhoff.com
Facebook: www.facebook.com/dmelhoff
Twitter: @dmelhoff
GoodReads: https://www.goodreads.com/dmelhoff
The Nolan morgue is more than just an ordinary funeral home. When their newest employee uncovers a supernatural conspiracy connected to a string of child murders, she must use every shred of her intelligence to stop a new breed of serial killer and escape the morgue alive.