This post is part of a virtual book tour organized by Goddess Fish Promotions. Anita will be awarding a $25 Amazon GC to a randomly drawn winner via rafflecopter during the tour. Click on the tour banner to see the other stops on the tour.
Code Name Trackers: The elite of the elite. FBI agents, each with a secret, an extraordinary ability that defies reason and logic.

An intricate scheme to kidnap the children of high-ranking politicians on Capitol Hill gets disrupted when private investigator Kerry Branson rescues one of the victims.

Teamed with FBI Tracker Ryan Barr, they discover the plot extends to the Office of the President and—the horrific plan has drug cartels and terrorist cells lined up to cash in.
Enjoy an Exclusive Excerpt
The footsteps came closer. A beam of light flashed over the ground. Pulling his knees tight to his chest, he wrapped his arms around his legs, tucked his head under his arms, and squished his eyes shut. Tears clogged his throat. Momma, where are you?
The harsh voice sounded over his head. "I don't see him over here. I'll circle the other way. The damn brat can't get far."
When the noisy steps faded away, Tristan scrambled from under the tree and ran. Pajama bottoms flapped around his bare ankles. Ahead was a break in the woods, and he raced toward the opening.
A shout echoed not far behind him. "He's running toward the road."
It was the man from the bedroom. Terror pushed him. His legs pumped, but he couldn't go any faster, and it hurt to breathe. He had to find another place to hide, but where? It was getting dark, and the mist made it hard to see. Behind him, footsteps kept getting louder.
Ahead was a fence, a road—then—lights. A car. Could he reach the road before it passed? Dropping, he crawled under the barbed wire and felt a hand scrape the sole of his foot.
About the Author: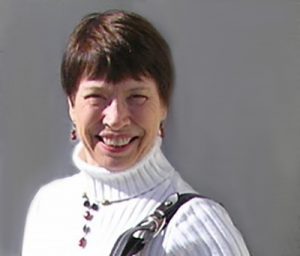 Award winning author, Anita Dickason, is a retired Dallas Police Officer. Anita served as a patrol officer, undercover narcotics officer, advanced accident investigator, and SWAT entry/sniper.
Upon retirement, she became involved in a research project that dealt with the death of a witness to the Kennedy assassination. The research led to her first book, JFK Assassination Eyewitness: Rush to Conspiracy, that details the results of her reconstruction of the 1966 motor vehicle accident that killed Lee Bowers, Jr.
The project jump-started a new career as an author and publisher, and she started a new business: Mystic Circle Books & Designs, LLC.
As an author, her fictional works are suspense/thrillers with a touch of paranormal and romance. Characters with unexpected skills, that extra edge for overcoming danger and adversity, have always intrigued her. Adding an infatuation with ancient myths and legends of Native American Indians, and Scottish and Irish folklore creates the backdrop for her characters.
As a publisher, her diverse background has proven to be an invaluable asset. Assisting other authors to publish their works utilizes the gamut of her experience. Graphics design has become one of her favorite endeavors.
Twitter | Facebook | Website | YouTube
Buy the book at
Kobo
,
Barnes and Noble
, or
Amazon
.