Long and Short Reviews welcomes Rob Roy O'Keefe, who is celebrating the recent release of Small Stones. Leave a comment or ask the author a question for a chance to win a copy of the book.
Go with the flow
One of the more common challenges that authors are asked about concerns writer's block. That's not the topic for today, however. What I find more interesting is the opposite state, something known in psychological circles as "flow."
Here's a somewhat clinical definition: flow refers to a state of mind which brings together cognitive, physiological and affective aspects. Flow is characterized by high levels of engagement or immersion in the particular activity you're involved in. It's sometimes discussed in context with sports, when it is usually referred to as being "in the zone."
Whether I'm engaged in short format writing, like this article, or long format writing, it's not unusual for me to experience this state of flow. The good part about it is that ideas seem to come out of nowhere, not just while writing, but when I'm involved in other activities like taking a long walk, working in the yard, or taking a really long walk so I don't have to work in the yard. They're usually the kind of ideas that feel like I've caught lightning in a bottle. I want to write them down immediately. They don't always work out, but there's a good chance they do.
I can attribute the development of some of the more interesting character traits in my book, Small Stories, A Perfectly Absurd Novel, to being in this state. Early on, I had decided to write one of the characters, Walt, as someone with a lot of anxieties, but I wanted him to express those in more unusual ways. The solution? When he's anxious, he sneezes. By itself that might not seem all that unique, but Walt sneezes in languages that he doesn't speak – Mandarin, Swedish, Farsi, and a host of others.
The downside is that when I'm in this state, I'm much more internally focused, which comes off as seeming distant or aloof to other people. It's nothing intentional, it's just hard to shut it off. Keep that in mind the next time someone doesn't seem to be paying attention to what you're saying. Sure, maybe they're just being rude, or maybe they're working on the next great novel.
Here's an excerpt from my current novel, Small Stories, A Perfectly Absurd Novel
"First question," announced Wanda. "Who are you and why are you running for Town Council? We'll start with you, Mr. Small."
"Wait!" Sasha interjected, catching everyone off guard.
"What's wrong, Sasha?" Wanda asked.
"I just wanted to say this is very exciting!" Sasha exclaimed, keeping with tradition.
"Yes, I suppose it is," Wanda acknowledged. "Okay, Duncan –"
"Wait!" Sasha was obviously still excited.
"What is it now. Sasha?" Wanda inquired, hoping to get back to the task at hand.
"I hope I win! No, I hope Duncan wins! Maybe we can all win!" Sasha was gushing enthusiasm, kind of like the verbal equivalent of Yellowstone's Old Faithful geyser, dependable and dramatic.
Duncan decided to move on with the debate. "As you know, I'm Duncan Small, and –"
"Ha!" interrupted Walt.
"What do you mean 'ha'?" asked Duncan.
"You're using a classic Post Hoc fallacy," Walt announced.
"I am? I don't even know what that is."
"You're putting forth a premise that you are Duncan Small simply because you say you are," Walt almost explained.
"But I am who I say I am," Duncan asserted.
"We need proof."
"Everyone here knows who I am!" Duncan countered, borrowing an exclamation mark from Sasha.
"Now you've simply inserted an Appeal to Authority fallacy. Ad verecundium," Walt finished in Latin.
"Stop showing off," Wanda pleaded with her brother. She then offered some background. "Walt was the top student in his Logical Fallacies class at Welcome Wagon University."
Sasha jumped in. "I know all about fallacies! We learned about them in CIA training – Obfuscation 101! I'd tell you more, but I'm only allowed to describe it in misleading terms!"
Engaging in a debate seemed to profoundly change Walt. Suddenly he was calm, credible, and commanding. As for Sasha, in some way Duncan couldn't quite grasp, she was making sense.
Duncan's brain felt like it was under assault. While it tried to sort through all the layers of improbability just encountered, his mouth stepped in. "Huh? Welcome Wagon University??" was the best it could manage.
"Grata illustratio, receperint mundi," Walt recited proudly. "'Welcome enlightenment, welcome the world.' Our class motto."
Duncan's brain hit reset and after a brief pause, came back online. "I think I need a break."
A little tale of trial and error. Okay, mostly error.

Duncan and Maya Small have just moved to an out-of-the-way town filled with odd characters, quirky customs, and a power-obsessed local official who one day hopes to be declared emperor. Duncan is sharp enough to know something needs to change, and delusional enough to believe he's the one to make it happen. The only thing standing in his way are feral ponies, radical seniors, common sense, and Duncan's inability to do anything without a list.

Small Stories: A Perfectly Absurd Novel, is a tale of power, bake sales, manipulation, the Welcome Wagon, and diabolical forces at work in the shadows (mostly because they can't afford to pay the light bill), although the Smalls soon discover nothing is at it seems. One thing is certain, however – there's something funny going on.
About the Author: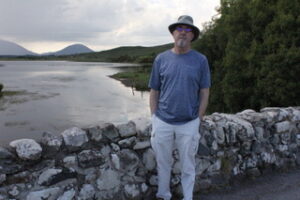 Rob Roy O'Keefe was raised in the Antarctic by a colony of emperor penguins, which explains both his love of fish and his intense anxiety when in the company of sea lions. At the age of 12 he left to go on walkabout, but upon learning that Australia was over 3,000 miles away, he took the more expedient route from Cape Melville, Antarctica to South America's Cape Horn.
He wandered north through the Andes, accumulated an abundance of practical knowledge, such as how to convince a hungry condor that you are not carrion. He eventually stumbled upon the hut of an Incan shaman who took him on as an apprentice. After a decade of immersion into the mysteries of the unseen world, Rob departed, fully prepared for his eventual success in the fields of talking, commuting, and sitting behind a desk.
Today, Rob resides in New England's Merrimack Valley, where he lives in a tree house made of Good Humor popsicle sticks held together by the discarded dreams of retired sailors.
Buy the book at Amazon.