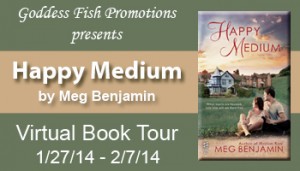 This post is part of a virtual book tour organized by
Goddess Fish Promotions
. Meg will be awarding the complete
Ramos Family Trilogy
:
Medium Well
,
Medium Rare
, and
Happy Medium
(all ebooks) to one randomly drawn commenter. Click on the tour banner to see the other stops on the tour.
Ghoulies and Ghosties
The third book in my
Ramos Family Trilogy
,
Happy Medium
, was released recently by Berkley Intermix (following book 1,
Medium Well
, and book 2,
Medium Rare
). All three novels are ghost stories because, well, I've always been sort of intrigued by ghosts. Haven't you?
When I was a kid, I devoured every ghost story I could lay my hands on at the local library, and I still enjoy reading those "ghosts of Colorado" books. So when I started working on my ghost trilogy, I found that I knew quite a lot about what ghosts were supposed to be like. I knew that a lot of ghosts were looking for closure, and if you could figure out what they wanted, they'd go away. I knew that twilight was ghost time, or at least you were more likely to see them then than at other times of day. And I knew that ghosts tended to stick around places where they'd had traumatic experiences, sometimes places where they'd died.
But that was all pretty standard stuff. As I started to work on my medium books, I found lots of questions I didn't know the answers to. How do you protect yourself from ghosts, for example? Different cultures had different answers, but elements like iron and salt seemed to be pretty standard. Did ghosts ever threaten humans with anything besides just a good scare? Yes, as it turned out. Most cultures have stories of malevolent spirits that could really do a number on the living if you aren't careful.
All of my research gave me ideas to play around with. What if you had ancient ghosts who were a little like vampires, drawing strength and "staying power" from humans? What if you were a reluctant medium who really didn't know how to go about using your power? And what if your "spirit guide" was a real pain in the posterior?
The hero of Happy Medium, Ray Ramos, runs into a particularly nasty kind of ghost which also shows up in lots of cultures around the world—a succubus, a spirit that gains power from sexual energy. And like his siblings in Medium Well and Medium Rare, he's totally perplexed about how to use the inherited mediumistic powers he didn't know he had. My heroine, Emma Shea, has some undiscovered psychic power of her own that draws her, unwillingly, into the same struggle as my hero. They do have a spirit guide, who's on loan from Ray's sister Rosie, but even he can't save them from the dangers they find in their haunted mansion.
In the end, I came up with a mixture of traditional ghost lore and my own inventions, all of it set in a very real place—the King William District of San Antonio. And I had a lot of fun doing it. After all, who doesn't like a good scare, assuming there's a happy ending somewhere down the line!
Here's the blurb for Happy Medium:
Love is good for the soul… unless it's one that you're trying to exorcise.

Ray Ramos has a problem–the King William District mansion he and his business partner purchased for a fast renovation needs more work than expected. Ray could use a quick infusion of cash. Enter Emma Shea, assistant to Gabrielle DeVere, the star of American Medium. Gabrielle is looking for San Antonio houses to use for her televised séances, and Ray's fixer upper seems to fit.

When Gabrielle does a sample séance, Ray and Emma become the target of a touchy ghost with no respect for boundaries. After Ray learns his family has a special affinity for ghosts, the two decide to investigate the haunted house. It doesn't hurt that Emma is immediately attracted to the laconic Ray or that Ray is intrigued by the buttoned-down beauty who seems determined to hide her considerable assets behind sober business suits. But can the two of them fight off a vengeful succubus bound to the house while getting a lot closer than either of them planned?

Amazon | Barnes and Noble
About the Author: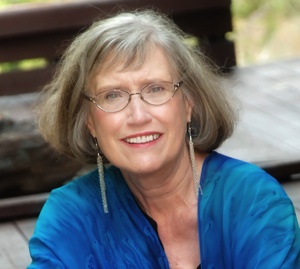 Meg Benjamin is an author of contemporary romance. Her Konigsburg series for Samhain Publishing is set in the Texas Hill Country and her Ramos Family Trilogy for Berkley InterMix is set in San Antonio's King William District. Meg's books have won numerous awards, including an EPIC Award for Contemporary Romance, a Romantic Times Reviewers' Choice Award for Indie Press Romance, the Holt Medallion from Virginia Romance Writers and the Beanpot Award from the New England Romance Writers. Meg lives in Colorado with her DH and two rather large Maine coon cats (well, partly Maine Coon anyway). Her Web site is http://www.MegBenjamin.com and her blog is http://megbenj1.wordpress.com/. You can follow her on Facebook, Pinterest, and Twitter. Meg loves to hear from readers—contact her at meg@megbenjamin.com.