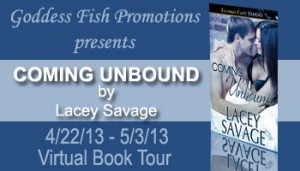 This post is part of a virtual book tour organized by Goddess Fish Promotions.  Lacey will be awarding a $25 Amazon gift certificate to a randomly drawn commenter during the tour.  Click on the tour banner to see the other stops on her tour.
*****
I've written many blog posts over the years, most focusing on my latest book, work-in-progress, or the writing life in general, but I've never cracked open my office door and invited you to take a peek at some of my… stranger writing habits.
I think all writers have them, and yes, some are stranger than others. Truman Capote wrote lying down. John Cheever wrote in his underwear. (Wrote while wearing underwear – I don't mean that he actually wrote in the fabric of his skivvies, but who knows? Maybe he did!) Vladimir Nabokov wrote entire novels on index cards. All right, so we're a strange lot, us authors. Here are a few of my weird habits:
–       I have a gorgeous office… and never use it. Instead, I write in my library, sitting in a leather chaise lounge, with my laptop on my lap.
–       I burn a candle during all writing sessions. But not just any candle: it has to be a "Trick or Treat" candle from Yankee Candle, because the smell of candy corn and buttercream apparently gets the words flowing for me.
–       I brew a cup of tea before each writing session. But just like with the candle, it can't be any type of tea. It's a green tea flavored with rose petals, which I can only find at a specialty tea shop here in town.
–       I start by reading a chapter of one of my favorite books. I keep a stack by my writing chair for this purpose, and often grab one at random. I find this gets my brain used to what good writing sounds like: the flow of dialogue, the intricacies of beautiful description… before I know it I'm itching to write my own prose.
–       I'm highly motivated by calls for submission, and I often challenge myself to come up with a story in a genre or around a theme I'd never contemplate on my own. (Know of a publisher that wants a story about vampire motorcycle gangs, set at Christmas in Jamaica? I'm all over that!)
–       I have a folder on my desktop that's home to roughly 30 manuscripts in various stages of completion. I'm not proud of it, but I've finished more books than I've abandoned, so that's something, right?
Your turn! Do you have any weird habits you'd like to share with the world? They don't have to be writing-related, of course, but I'll feel a little less alone if you let me in on a few of yours!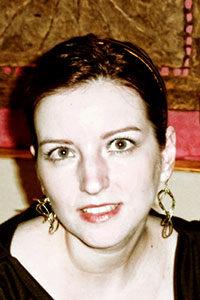 Award-winning author Lacey Savage loves to write about her dreams – or more specifically, she loves to breathe life into her steamy fantasies (and she's got plenty!). She pens erotic tales of true love and mythical destiny, peopled with strong alpha heroes and feisty heroines. A hopeless romantic, Lacey loves writing about the intimate, sensual side of relationships. She currently resides in Ottawa, Canada, with her loving husband and their mischievous cat.
Website: http://www.laceysavage.com
Blog: http://www.laceysavage.com/blog/
Twitter: https://twitter.com/laceysavage
Facebook: https://www.facebook.com/lacey.savage.7
Book buy link: http://www.ellorascave.com/coming-unbound.html
Ginny and Cole have struggled to connect intimately since before their marriage. When Cole suggests they surprise each other with the most sexually daring things they can dream up for their anniversary, Ginny reluctantly musters every ounce of courage she possesses to get nipple piercings.

Cole's surprise?

He's turned their suburban basement into a dungeon—and hired a sexy Dom to teach them the art of BDSM.

Desperately in love with his wife, Cole's aware of sensitive sexual demons in Ginny's past, and will try anything to beat them. Whips, toys, ménage play with the Dom…all these and more could help Ginny find pleasure, break through her issues.

Or, if they're not careful, possibly just break Ginny.