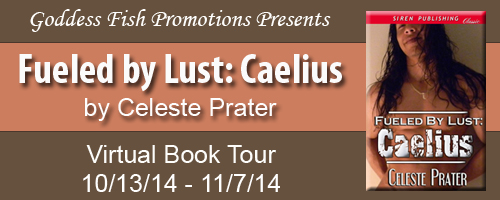 This post is part of a virtual book tour organized by Goddess Fish Promotions. One randomly drawn winner via the Rafflecopter below will receive a $25 Amazon or Barnes & Noble gift card. Click on the tour banner to see the other stops on the tour.
1) Is there a story behind this book or any of the characters you'd like to share with us?

I think the most interesting part about the characters in the Fueled By Lust series is that I actually dreamed of them, even their names. When I saw them forming out of a ball of foggy mist, I knew they weren't from this world, so science fiction was the only way to head with their stories. Another interesting fact is that after I had already written much of the background on their species, I discovered that some of it is actually based off fact, such as their original ancestor. There really was an emperor named Lucius Tarquinius and he was expelled from Rome around the same time period that I set for their genesis from pure energy life forms into half energy/half human. Sometimes I get chills when I see names I thought I had randomly picked show up as somehow connected to that same emperor's family line. It's exciting to discover something new tenuous thread to something in each installment.
2) What was the inspiration for this book?
This is book 5 of a series and takes the natural path leading out of the previous four installments, so I'll have to give you the inspiration for the entire series.
It grew out of two solid years of reading every erotic romance I could get my hands on to figure out what the method to the madness was in creating a novel. Last count was close to 600 and I learned what had been done to death, what was riveting, and what NOT to do to the poor readers. I was also inspired to write this as a series since I thoroughly enjoyed knowing how my previous book's characters continue with their lives. The timelines are very closely related. I never ran across a series where they would give you a storyline of a secondary character as they interacted with the main character in the previous books.
3) If you used a real setting, how intimate are you with it? Have you been there just to visit or have you lived there? Or did you do a lot of research about it?
Besides their home world of Insedivertus, the hub of the Insedi's lives takes place in Austin, Texas. I'm from Texas, just not from there. I've been to Austin plenty of times and had a basic idea of the layout. However, I do research to make sure that I get the streets correct. Another setting is in the Chinati Mountains of West Texas. I have the Insedi entering Earth through a vortex there. There's a small town outside of the mountains called Marfa. They have tourists come through constantly to observe the mysterious 'ghost lights'. These are real places. I've never been. I didn't find out about the ghost lights until after I'd written in my notes that the Insedi reform outside the vortex as a ball of light. I definitely researched the area after that. Very spooky!
4) Did you fall in love with you hero(es)? Why?

Oh, yes, every single time. Each one has such a unique personality. They are these gorgeous, hunky males and have no clue how spectacular they are. They are totally smitten and respectful with females. When they find their potential mate, they're obsessed with making sure she's happy (in and out of the bedroom). Just when I think I've found my favorite, I get the next one's story out and I'm in love all over again. Lucy heroines!
5) How long did it take to write this book and how long before you found a publisher?

With each installment, it takes me about three months to complete. I start the next one within days of submitting the last one. I'm always anxious to find out what's going to happen next. With book 1 Drusus, I was picked up by Siren Publishing eight months later. That was a very exciting day!
6) What was the toughest part about writing this book? Did any characters misbehave and if so, how?

As with any of the installments, they misbehave on me. I always write out an outline with major events and turning points. I'll give some vague ideas in between each section. Once I start writing a scene or the dialog it becomes whatever is falling out of my head. Sometimes I'm trying to take them down a path to one of the major milestones and they veer me off in another direction. If I try to force my way back to the bullet point, everything gets stilted and doesn't feel right. I have to backtrack and just let loose with where they want to take me. For example, in Cato's story (Book 3) I had given a brief hint about the issue with Cato and his dad earlier in the book, but when I was writing the bar scene with Cato and Maxim, it wouldn't let me bring up the topic I wanted them to talk about. It kept veering into Maxim being associated with the father/son issue. When I just relaxed and let the muse take over, I discovered that Cato and Maxim's fathers are brothers.
7) If this book became a movie, who would you cast to play the parts?

The actor would have to be muscled up, gorgeous as hell, and have long flowing hair. I need to send my model Valentino to acting class since he's PERFECT as Caelius. The only other one that comes to mind is Jason Momoa, but I've got him stuck in my mind while I'm writing Maxim's story. I wish he had a lot of brothers. I'd be set!
8) What do you like to do when you need a break from writing?

I ride my Harley when I have an opportunity. No one can talk to me and my mind gets cleared of all the cobwebs. If that's not feasible, I like to find a pool table and play a few rounds. Totally relaxes me.
9) Where do you usually write? Do you write in silence or with music or other background sounds?

I was chained to my tower computer and a desk when I was writing Drusus' story (Book 1), so I got a laptop to keep it from feeling like work. I also have a snazzy cushioned lap desk with a built in air-cooling unit. It also has an extendable side table for the mouse. Most of the time I'm parked up on my bed or lounging anywhere I please. I don't like total silence when trying to write because I'll notice the smallest sounds and get sucked into whatever is going on. I prefer white-noise such as the low hum of an air conditioner or fan. Then I'm good to go.
10) Tell us a little more about what makes you tick.

I abhor drama. I'm one of those weird females that was born without the gene. I admit it. I don't care if you don't like the way Suzy is looking at you and want to get my take on it. How in the hell should I know what was running through someone's mind at that exact moment? Walk your silly ass over there and ask her why, damn it. You can dream up more fake scenarios and drive yourself crazy when a good WTF moment might reveal that Suzy was looking over your shoulder at the person acting like they wanted to choke you.
What I say is about 99.9% of what I mean. I don't like messing with people's heads (unless they deserve it, then I'm brutally wicked on the mind play). No gray areas please, black and white it with me. I won't zone out on you and we might actually have a decent conversation.
11) Is this book part of a series and if so, tell us about the series please.

Oops! I guess I took the guess out of this one since I've already blathered on about the series. I will give this piece of advice. To truly enjoy the series, I definitely recommend that any that haven't started it yet, begin with Drusus first (Book 1) so you can get the complete overall plot. Even though each book has its own HEA, there's a lot you learn as you move from book to book.
If you don't mind, I'd like to give a shout out to the hunks that grace the cover of this series. I personally pick my models (except for Drusus, I'm still trying to figure out who he is), and they become my partners on this awesome journey. Total hot, alpha males and the sweetest bunch of men I've ever met.
Cisco Perez portrayed Severus. He's with a male revue club out of Orlando, Florida called Rock Hard Revue. They just recently appeared on America's Got Talent. Find Cisco on Facebook under Cisco Male Entertainer.
Devon Sutton is from Cleveland, Ohio and did a great job as Cato with that awesome tat. His male revue club, IronMen The Show, recently finished filming a pilot for A&E. Find him on twitter under @devonsutton75.
The awesome Richard Jimenez, producer for Magnificent 7 Male Revue out of Los Angeles, California introduced me to Lucien's model and a Magnificent 7 entertainer, the very sexy and intelligent Axel. You can find them at http://magnificent7malerevue.com/
Valentino is an independent male entertainer and is the hunk you see on Caelius's cover. All that hair is real ladies! You can find him on Facebook under ValentinoMx.
Jason Spears is with a nutritional company out of Texas and will be the model for Maxim's book. He'll knock you out with his smile. Hopefully, we'll be seeing his social media sites coming up soon.
Thanks for having me here. Enjoyed it! Big kiss to my fans!
Caelius Meron strips at Heat Seekers Male Revue just so he can find his mate. So imagine his shock when he finds her in a cooking class he was forced to attend. So what's the problem? There's twenty-two of them according to Rhia Brennan. Undaunted by her claim that he's too young, Caelius battles every roadblock she places. But what if one may be too difficult to ignore?

Kallon Aceso knows exactly who should own his heart, but Ulixes Dionysus doesn't appear to want it. But is it really something else buried so deep that it may keep them apart forever?

Travel with these two Insedi as they both chase their hearts desire, only to be thwarted by misconceptions and mistakes from the past. Can they scale these insurmountable walls, or will they have to walk away and forever mourn what they could never have?

Book 5 in the Fueled By Lust Series brings back the sexy males that make your legs tremble just by saying your name.
Enjoy an excerpt:
Lowering his voice, Caelius leaned in even closer. He feared he may have disappointed her, and he didn't want to miss any part of her expression.
"Does what I do each night bother you?"
She looked up and blinked a few times before she spoke. Her voice came low and husky, and his skin pebbled.
"No. Not in the least. It was the sexiest thing I've ever seen in my life." He watched her throat work on a hard swallow before she continued.
"Your body was gleaming and showed off every single muscle as you swung that sword. It was the first time I'd seen your hair down, too. It's…it's beautiful. After you won, you worked your way down the row of women and paid each one of them close attention. I'm sure they felt like they were the only person in the room when you looked at them. With every song, your body swayed perfectly to the music, and it mesmerized me. I…uh…yeah…it was great."
Caelius was having a hard time focusing on her answer. Her jasmine-scented desire had resurfaced and was wreaking havoc on his concentration, not to mention his cock. It was at full length and pushing insistently against his jeans. He said the first thing that came to mind. Something he wanted very badly.
"I want to kiss you, Rhia." He wasn't expecting her to recoil as if he was a hissing viper. Her laughter was shaky and broken.
"Good grief, Caelius. Why on Earth would you want to kiss me?
I was born and raised in a small town between Dallas/Fort Worth and Austin. Wanting to see more than my small Texas town, I joined the Marines, which satisfied my craving to see more of the U.S. and my drive to see if I could be one of the few and the proud.

A firm believer in educating the mind, I have achieved several advanced degrees, the latest being a master's of science.

My true love is writing erotic romance, especially about alien hunks that know how to treat their females.

Drusus, Severus, Cato, Lucien, Caelius, Maxim and many more have swirled in my dreams until I had to bring them to life and allow them to find love within the pages of the Fueled by Lust book series.

Book 1 DRUSUS was nominated as Top 5 Finalist and placed 3rd in the 2014 RWA Passionate Ink's 9th Annual Passionate Plume Book Contest in Erotic SciFi/Fantasy Category, Book 2 SEVERUS achieved BEST BOOK review rating and won April 2014 BOOK OF THE MONTH Reader Poll at LONG AND SHORT REVIEWS, Book 3 CATO won the May/June 2014 BOOK OF THE MONTH Reader Poll at LONG AND SHORT REVIEWS. All currently released books in the series have resided made it into the Top 5 Bestseller Lists at Bookstrand.com within days of release as well as making it into the Top 10 Hottest New Releases in Erotic Science Fiction on Amazon.

Social Media Links:

Twitter: https://twitter.com/Celeste_Prater

Facebook: https://www.facebook.com/pages/Celeste-Prater-Erotic-Romance-Author/181230038723758

Instagram: http://instagram.com/celestepraterauthor

Pinterest: https://www.pinterest.com/celesteprater/

YouTube: https://www.youtube.com/channel/UCudyD1KXoknydE443MWe5mA

Google+: https://plus.google.com/118162420222320764665/posts