Long and Short Reviews welcomes back Julie Ann Walker who is visiting with us today with a special offer for anyone who pre-orders her upcoming novel Fuel for Fire! Also, to win a Julie Ann Walker gift basket, enter the Rafflecopter at the end of the post.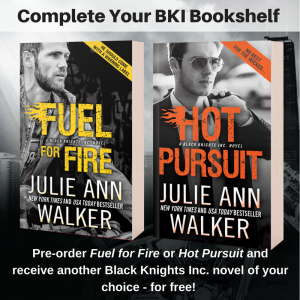 Pre-order Fuel for Fire or Hot Pursuit and receive another Black Knights Inc. novel of your choice!
New York Times and USA Today bestseller Julie Ann Walker delivers red-hot romantic suspense in Fuel for Fire!

Dagan Zoelner has always had his eye on spunky CIA agent Chelsea Duvall. When a mission throws them together, this could be his only chance to win her heart for good.

Dagan Zoelner has made three huge mistakes

The first two left blood on his hands.

The third left him wondering…what if?

What if he had told the woman of his dreams how he felt before his world fell apart?

Spitfire CIA agent Chelsea Duvall has always had a thing for bossy, brooding Dagan. It's just as well that he's never given her a second look, since she carries a combustible secret about his past that threatens to torch their lives…
Enjoy an Excerpt
Her mind briefly touched on her mother, and a great sadness weighed down her heart. Grace Duvall would be devastated by the death of her only child. But Chelsea took comfort—cold comfort, but comfort all the same—in knowing that her life insurance policy would be enough to pay her mother's debts. That was something. Something to hold on to.
"Well?" Surry demanded. "What will it be?"
Chelsea licked her lips. Fear was a living thing inside her, crawling through her chest like a centipede on prickly legs. She squashed it and sealed her own fate. "Do your worst, you sorry, low-life sonofagun!"
Surry's beard-stubbled chin jerked back as if he couldn't believe the choice she'd made. Then his eyes narrowed, and grim determination transformed his face.
Closing her eyes, Chelsea waited on the inevitable. That centipede was going crazy inside her, making her chest ache and raising the hair on her head. She braced herself for the deathblow as a million regrets, a million joys, a million memories flittered through her brain.
Funny how many of those regrets and joys and memories feature Dagan.
She held her breath, savoring it, knowing it was her last and—
"Drop. The. Knife."
With a cry, she blinked open her eyes and craned her head around to see three figures dressed from head to toe in black. Each of them wielded a weapon as if it were an extension of himself.
The Black Knights…
Even had Dagan not spoken the three most beautiful words she'd ever heard in that smooth moonshine voice, she would have known the trio anywhere. There was no mistaking those broad shoulders or those defiant, cocksure stances.
Her eyes homed in on Dagan. He was in the middle and slightly forward of the other two. It wasn't his height or carriage that gave him away. It was his stillness. Ace and Christian seemed to vibrate with barely leashed power. But Dagan was a statue. Not a muscle quivered. Not a tendon or ligament cracked. Chelsea was reminded of a pair of tectonic plates under intense pressure. She knew what came next. The earth would rip open, and hell would spew forth.
Surry must have felt the doom behind Dagan's stillness, because his voice sounded wheezy when he demanded, "And who the fuck are you?"
"Worry less about who we are," Dagan snarled, "and more about what we'll do if you don't drop the knife."
Proving he had more balls than brains, Surry spun Chelsea's chair around and palmed her forehead to wrench her head back. The sharp tip of the letter opener nicked at the skin pulsing over the large vein in her neck. She hadn't had time to scream, and now she didn't dare breathe.
"Ring up the police, sir," Surry said. From the corner of her eye, Chelsea saw Morrison/Spider make a move toward the desk.
"Take one step in the direction of that phone, and you'll be eating a bullet for breakfast." There was no mistaking Dagan's words or his tone. He meant what he said.
Morrison must have come to the same realization. The old man stopped in his tracks.
About the Author: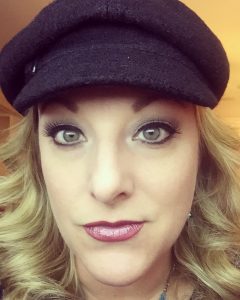 Born in Tulsa, Oklahoma, Julie grew up in a house full of women – she has three older sisters. As you can imagine, there was no lack of drama… or romance. Her mother enrolled her in a book club as soon as she began to read and it was the small spark that ignited her voracious appetite for the written word. Because of Julie's early immersion in literature, she found writing came quite naturally. In high school, she won multiple writing contests and was the proud senior editor of The Tiger's Tale – her school newspaper. During her college years, however, she longed for a challenge. "Reading and writing felt like second nature to me, so I looked for a way to flex my mental muscles," she recalls. After receiving a Bachelor of Science degree, Julie began teaching advanced high school mathematics. "I loved working with the students and facing the challenges of the classroom, but I longed for the occasional snow day when I could race to the local book store, buy two or three new novels, and curl up in front of the fire to read." It wasn't until a fortuitous move to Chicago that Julie once more returned to her first passion. "Thankfully, my husband – my own personal hero – encouraged my decision to write full time." Now Julie lives on beautiful Lake Shore Drive with a view that sometimes competes with her deadlines. When she's not writing, she enjoys camping, hiking, cycling, cooking, travel, and…reading, of course!
Website | Facebook | Twitter | Instagram | Goodreads
The book is available for pre-order at
Amazon
,
Barnes and Noble
,
iBooks
,
IndidBound
, or
BAM
.
http://wp.me/p2ZcT9-hkua Rafflecopter giveaway