This post is part of a virtual book tour organized by
Goddess Fish Promotions
. Judy Ann will be awarding a $25 Amazon or B/N GC to a randomly drawn winner via rafflecopter during the tour. Click on the tour banner to see the other stops on the tour.
When widower Rich Redman returns to Pennsylvania with his young daughter to sell his deceased grandmother's house, he discovers Grandmother Gertie's final request was for him to find a missing relative and a stash of WWI jewels.

Torrie Larson, single mom, is trying to make her landscape center and flower arranging business succeed while attempting to save the lineage of a rare white rose brought from Austria in the 1900s.

Together, the rich Texas lawyer and poor landscape owner team up to rescue the last rose and fulfill a dead woman's wishes. But in their search to discover answers to the mysteries plaguing them, will Rich and Torrie also discover love in each other's arms? Or will a meddling ghost, a pompous banker, and an elusive stray cat get in their way?
Enjoy an Exclusive Excerpt
Later, as Torrie and Rich sat in the kitchen and ate Lulu's sandwiches and salad, the roar of a motorcycle and rumbling of a pickup interrupted their peaceful meal.
Joe Bradley and Gus Larson appeared at the back door, both holding the sides of their heads with their hands as they smashed their noses against the glass and peered in.
"Golly gee," Rich said with a smirk. "Just what I've always longed for—the Sesame Street duo. Bert and Ernie. And on the day we rid ourselves of Lulu and the girls. What luck!" He looked at her with a suggestive glint in his eye. "Do you think if we sit here motionless, your brother and his sidekick will think we're wax figures and make like bees and buzz off?"
"For heaven sake, Rich, let them in." Torrie rose, crossed to the French doors, and opened them. "You're just in time for German chocolate cake made by Lucille Smith. It's the prize-winning one she bakes for the church bazaar and county fair." At the mention of chocolate cake, both men wore grins as wide as sock monkeys. Behind her she heard Rich groan out, "Nice work, Torrie. Let's have a party and have all your friends over to eat my food."
Trying hard to hide her amusement, Torrie returned to the kitchen with Joe and Gus trailing behind her like eager taste testers at a holiday bake-off. They scrambled to get a seat at the table and nodded a curt greeting to Rich.
"I thought this would be a good day to check on your ideas for the living room. I just finished up installing a new bathroom sink for Marlene," Joe said. "Lulu's chocolate cake? What an awesome treat. Thank you."
Rich eyed him warily.
"And I'm off from the garage for a few days. Business is tapering off, so I'm ready to tackle any handy work you might need outside. I thought I'd start on the overgrown rhododendron," Gus said. "Man, this is not just a chocolate cake. It's her famous, blue ribbon chocolate cake! What a stroke of luck. Do you have some milk to go with this?"
This time Rich didn't try to hide an outright irritable snort.
About the Author: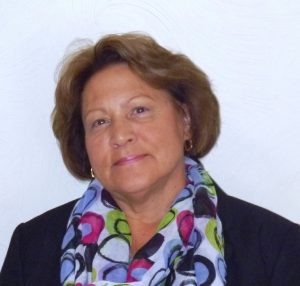 Judy Ann Davis began her career in writing as a copy and continuity writer for radio and television in Scranton, PA. She holds a degree in Journalism and Communications and has written for industry and education throughout her career.
Over a dozen of her short stories have appeared in various literary and small magazines and anthologies, and have received numerous awards. She is published in multi-genres, including romance, mystery, western, and comedy. Four White Roses is her fourth novel to date.
When Judy Ann is not behind a computer, you can find her looking for anything humorous to make her laugh or swinging a golf club where the chuckles are few.
She is a member of Pennwriters, Inc. and Romance Writers of America, and divides her time between Central Pennsylvania and New Smyrna Beach, Florida.
Blog | Website | Facebook | Twitter | Pinterest | Goodreads
Buy the book at Amazon
Other Judy Ann Davis titles
KEY TO LOVE
RED FOX WOMAN
UNDER STARRY SKIES
SWEET KISS [A Novella]