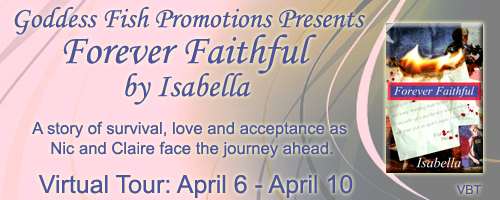 This post is part of a virtual book tour organized by
Goddess Fish Promotions
. Isabella will be awarding a $10 Amazon or B/N GC to a randomly drawn winner via rafflecopter during the tour. Click on the tour banner to see the otherh stops on the tour.
Random Thoughts from the Author
Background of the book
This is second in the Faithful series. This book was partially based on my experience as a military wife and some of the people I met along the way. I wanted to focus on the family side of things in this book. Nic Caldwell is a Marine who is being deployed again, but this time to Afghanistan. Her wife, Clare, is left behind to wonder if Nic will meet the same fate as her first spouse, who died in Iraq. Nic comes pretty close to fulfilling that concern. It a nutshell, it's a book about surviving a deployment, post-traumatic stress disorder (PTSD) and how love conquers all.
Balancing life and writing
I don't just have to balance writing, but I also have to balance being the publisher too. Sometimes writing has to take a back seat to the responsibilities I have publishing other writers. It's similar to being a parent. Once you decide to take on that job, of publisher, you must make sure all the pieces fit into place for your writers. They put their careers in your hand and pass on their babies, in this case their novels and your job is to get them clothed, feed and sent off in to the world.
Where do ideas come from?
I have a pretty healthy imagination, so coming up with ideas isn't hard. It's harder to turn them off and focus on one idea, all the while the other stories are fighting for space in my head. Once I'm finished with one project, it's likely that I have already laid out the next novel in a spiral bound notebook I keep by my bed. I always travel with a notebook and am constantly jotting down snippets of scenes and ideas for later use.
Advice for writers
Write, write and write some more. Take a class on writing. It's a craft and the only way you get better is to write. If you want to be a writer don't talk about it, do it. I meet lots of people who tell me that they have a book rolling around in their head. It's the difference between a talker and a doer. Once you've written the novel, let it rest and then go back and read it again.
Writing tips
Read. For me, reading helps me be a better writer. I love words. I always have, and I like to read well-written prose. I don't often think that I'm a great writer, but I'm working on it every day. I have several books on writing and have realized that I'm a bone writer. I get the bones of the story down and then I have to go back and add some meat to the bones. Mary Carroll Moore has a great book called Your Book Starts Here. It covers the craft of writing, how to build your book, and more. I read it and I often go back to it to refresh.
Character creation
I keep a character worksheet for each character in my books. I created them so that I could keep track of characteristics – eye color, hair, names, height and weight, scars, speech and language usage, personality, and other things that can easily get mixed between characters. I watch the words I use for each character and make sure that I'm in their head when I'm writing them. I also try to make sure that I'm not writing a character type I've used before, so keeping detailed notes helps keep me on track.
5-10 musts every story in your genre should have
o It's the rule of 6's, Back blurb – 6", first page – 6", last page – 6". If you haven't hooked 'em by then forget about it.
o If you don't start with a bang, ask yourself why?
o Character depth keeps the readers engaged and hating or loving your characters. (This is where flaws or chinks in the armor come in to play.)
o Give the character something to work for. Nothing comes easy in this world, and when they get close, throw another obstacle in the way.
o End on a beat.
o Do your research.
My take on critique groups
Hmm. Too many cooks spoil the soup. Critique groups can kill a novel. I know there are a lot of people who are going to disagree with me, but my experience has been that the members of a lot of critique groups are also writers. Writers can be competitive, and so that can be a tough environment to let your baby loose into the world. On the other hand, a constructive critique can help a writer look at things in a different way. Remember, readers can read only what you wrote, not what you meant.
What kind of writer am I?
I love dialogue that moves the plot along and then I'm putting meat on the bones of the story once it's fleshed out. Looking for a hook that keeps the reader turning the pages is always a challenge. Then braiding the story with dialogue, description, and plot. Weaving them together and getting this great tapestry of story is really the ultimate feeling.
A day with (you) behind the scenes
I'm a night owl. I write at night when the house is quiet. I stay up till 2 or 3 in the morning working on writing. I work during the day on publishing stuff and my other job, teaching online. During the day, I answer emails, call authors, and do my social media. I try to stay off social media after 9 pm. It can suck you in and you get lost in the vortex of social media and before you know it you've burned through 2 or 3 hours.
How I handled the research for the book
For Forever Faithful, I interviewed a few women who were stationed in Afghanistan. They were honest about their experiences there. I detailed their living situations, both in garrison and on patrol. I modeled the job Nic Caldwell did after a friend who actually did a similar job on a tour in Afghanistan. She was hit by an improvised explosive device (IED) and lost hearing in her right ear, took shrapnel to her face and body, and broke a few bones. I actually taught Tae Kwon Do at the college in the book and I had access to students and graduates from the college who were a big help.
If I'd never heard of me would I read my book?
I would. Of course I'm biased, but I think my Faithful series and my Yakuza series are well researched, fast paced, and have characters that readers can understand why they do what they do. I try to create characters that you either really hate or would want to be with.
How to handle negative criticism
They say you should have a thick skin if you're going to get into writing, but that's like saying if you're going to have kids you should expect the world to thrash them. Some readers are great in giving detailed feedback on where the book failed them, and some make it personal. I realize that not every reader is going to like what I wrote, but I appreciate that they gave my book a chance when they decided to read it.
What would I tell a new author?
Treat it like a profession. Work at it, take classes, and grow your craft. Expect to work hard after the writing is done. Writing is the first half of the process, editing and promoting are the second and third components of the job. I've seen really hard working writers get their books finished, published, and then their book languishes. I think the hardest part of the process is promotion. Writing is a lonely journey and authors tend to be shy, reserved people who aren't comfortable selling themselves.
Forever Faithful is the sequel to the award winning book "Always Faithful." "Always Faithful" is about a Marine officer, Nic Caldwell, who's has the unenviable task of informing families that their loved one is either missing, or has been killed. She is assigned task of making a notification of death to the wife of a former college friend. During the process of bringing Mike Monroe home, a series of events unfold that bring Claire Monroe and Nic Caldwell closer and through those events they fall in love. Nic isn't without her own demons, having survived a helicopter crash that killed her entire crew in Iraq and leaving her to fight for her own life. Survivor's guilt has nothing on Nic.

"Forever Faithful" brings Nic and Claire back facing a deployment after Nic graduates from a military university in California. She finds herself in Afghanistan and the victim of another accident that leaves one of her peers dead and Nic fighting for her life. Nic is faced with injuries that leave her questioning whether she can be the woman she once was in Claire's eyes. What unfolds is a story of survival, love and acceptance as both women face the journey a head.
Enjoy an excerpt:
Claire sat on the bed, cradling her daughter close. What would she do when she was chasing boys for all the wrong reasons? Trying to banish the thought from her mind, she clutched Grace closer, laying her head on her chest. She felt Grace relax against her, the fight gone.
"Mommy?"
"Hmm?"
"Why do I have two mommies and Tim only has one?"
Aw, the looming realization that her parents were different. She knew it was coming, but Claire didn't expect it quite yet. "Cause you're lucky."
God, what a stupid answer, she thought, pulling Grace closer. Gently she laid Grace down on the bed and lay beside her, threading her fingers through sweaty hair, pushing the unruly mess out of Grace's face.
"Can we find Tim another mom?"
"What?" She had to stop herself from giggling at the notion that Tim needed another mom. What would Tim's dad say?
"Yeah, he needs another mom, too."
"It's not that easy honey."
"But you have Nic and you love each other, so Tim's mom needs another mommy to love her, too."
Oh, the innocence of youth. If life were only that simple.
About the Author: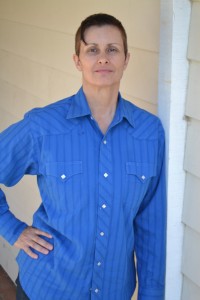 Christine Svendsen is the founder and chief executive of Sapphire Books Publishing, a leading United States publisher of LGBT books. Christine founded the company in the face of rejection from big-time publishers who either told her that they weren't looking for books of her type or that they wanted her to rewrite her stories completely. She defied them all by establishing her own publishing company, which now features a long list of award-winning LGBT authors. Today, Christine publishes books through her company and writes under the pen names of Isabella and Jett Abbott.
Christine's most recently published novel under the name of Isabella is "Forever Faithful," the sequel to "Always Faithful," a book based loosely on being a former military officer's wife and the adventures of living on a military base.
Other novels by Isabella include:
● "Broken Shield," which covers the topics of spousal abuse and how it can lay hidden in a relationship, even when the person being abused is a cop.
● "American Yakuza" I and II, tracing the adventures of a multicultural character who tackles the male dominated world of the Japanese mafia.
● "Executive Disclosure" and "Surviving Reagan," a series about Chad Morgan, an executive protection specialist, and Reagan Reynolds, a daughter ready to take the reins of her father's company until her plans get derailed by her own misguided determination.
Novels by Jett Abbott include two books: "Scarlet Masquerade" and "Scarlet Assassin."
Christine is currently working on a new novel called "Time Stamped."
When she's not writing, Christine teaches college part time, rides motorcycles, and spends time remodeling her cabin in the Sierra foothills. She lives on the central coast of California with her wife and has three wonderful sons.
Isabella@sapphirebooks.com
Website | Facebook | Sapphire Books Facebook Page
About Sapphire Books Publishing:
Founded by Christine Svendsen, Sapphire Books Publishing is "the gem of lesbian publishing." Dedicated to quality fiction that reflects the lives of the lesbian community, the company publishes romance, erotica, paranormal, mystery and intrigue, fantasy, and other fiction where the main characters are lesbians. Since its inception, the company has grown to include a cadre of highly acclaimed LGBT authors, including Linda Kay Silva, Kim Pritekel, Beth Burnett, and Linda North. Sapphire Books are available in hardcover, softcover, and ebook formats throughout the world.