This post is part of a virtual book tour organized by the publisher to celebrate the release of
Forbidden Promises
, the fourth book in Katee Robert's
The O'Malleys
series. Enter the Rafflecopter for a chance to win a copy of the book.
If you could apologize to someone in your past, who would it be?
I wasn't always the best friend when I was in high school, and though I have apologies to my friends since, I'd like to go back and smack myself upside the back of the head for being so difficult.
Is there a writer you idolize? If so who?
There are two I've been losing my mind over for the last few years, and would (and have) made a fool of myself in front of—Sarah J Maas and Patrick Rothfuss. I adore their books with a fangirl glee both for the stories and how amazing their craft is.
What would we find under your bed?
My bed sits directly on the floor, so nothing, but if it didn't, there'd probably be books stashed under there.
What makes you happy?
Being near water, quiet moments, chaotic family time, knitting, losing myself in a good book… The list goes on.
Tell us about the absolute BEST fan letter you have received.
I've received a few about people going through hard times who have thanked me for giving them a few hours' reprieve from real life, and those always get me emotional and humble me so much.
New York Times and USA Today bestselling author Katee Robert delivers the next book in her sizzling O'Malleys family series, hailed as "The Godfather meets Romeo & Juliet."

"A tension-filled plot full of deceit, betrayal, and sizzling love scenes will make it impossible for readers to set the book down." –Publishers Weekly

"A great read from the talented Robert!" –RT Book Reviews

"This is an extraordinary series by any standards, and FORBIDDEN PROMISES slays the competition." –Fresh Fiction

Some lines should never be crossed . . . not even for love.

Sloan O'Malley just left her entire world behind—her family, her wealth, and even her real name. For the first time in her life, she's free. She can live the "normal" life she's always wanted. A life without fear. But there's nothing safe about her intensely sexy next-door neighbor.

Jude MacNamara has no room for innocence in his life. Only revenge. Still, he's never been able to walk away from the forbidden, and Sloan—who is every inch of pure, mouthwatering temptation—has forbidden written all over her. Only after it's way too late does he discover the real danger: claiming Sloan as his puts a target on her back. To protect her, Jude is willing risk everything . . . and to hell with the consequences.
About the Author: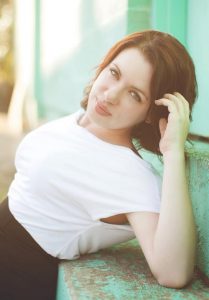 Katee Robert is a New York Times and USA Today bestselling author who learned to tell stories at her grandpa's knee. Her novel The Marriage Contract was a RITA finalist, and RT Book Reviews named it "a compulsively readable book with just the right amount of suspense and tension." When not writing sexy contemporary and romantic suspense, she spends her time playing imaginary games with her children, driving her husband batty with what-if questions, and planning for the inevitable zombie apocalypse.
Website | Facebook | Twitter | Pinterest | Instagram | YouTube | Goodreads
Buy the book at Amazon, Barnes & Noble, Books-A-Million, Google Play, iBooks, IndieBound, or Kobo.