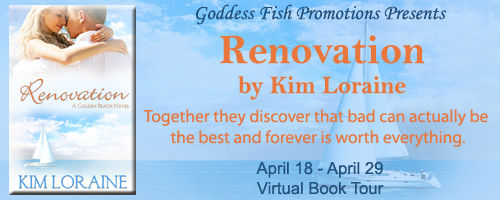 This post is part of a virtual book tour organized by Goddess Fish Promotions. Kim Loraine will be awarding a $15 Amazon or Barnes and Noble GC to a randomly drawn winner via rafflecopter during the tour. Click on the tour banner to see the other stops on the tour.
For the Love of Writing
"How do you find time to write books?" This is a question I am asked ALL the time. I usually shrug it off with a simple smile and say, "I just do it when I can." In truth, I fight for every moment, every word, even when they aren't my best. Sometimes it's just a bunch of subpar dialog or cliché filled paragraphs, and other times, it's exactly what the story needs.
I've got three kids; the youngest is barely two weeks old. As she's napping and I'm yawning my way through a second cup of coffee after last night's marathon feeding/crying/changing session, I'm finding time to write this post. I never think of writing as a chore. It's my ME time. I've never come up for air after writing feeling worse than I did before I started. That being said, balancing my home life and my writing life is not without its challenges. Yes, there are dishes in my sink, clean laundry decorating my couch, and fingerprints on my mirrors. But I also have released two full-length novels and a novella in the last twelve months. I just approved the cover art for my third novel which is set for release in May.
The question isn't how I find time, because I simply can't go without writing. My characters start yelling to have their stories told. I get grumpy, antsy even. For the last few months of my pregnancy I wasn't able to sit at my computer for longer than ten minutes without getting distracted, not to mention uncomfortable. I wrote so little it is shameful. But, I was always thinking about my characters. I came up with dialog, played scenes out in my head, thought of what they might be doing at that particular moment. Even when I wasn't putting my fingers to the keyboard, I was writing.
I'm fortunate to have a great support system. My husband makes me leave the house on weekends so I can go write. Honestly, I think he's holding out hope that I'll write a massive bestseller so he can retire early. So, even with the dishes, dust, fingerprints, and endless piles of laundry, even when my mom-guilt rears its ugly head, I write. I write because my eight-year-old likes to write his own books right next to me. I write because of the pride I hear in my kids' voices when they talk about how I am an author. I write because I love it.
Valerie Peters is done with bad boys and ready to start living for herself. She's determined to settle for nothing less than a romantic, sweeps-you-off-your-feet, nice-guy. So when a sexy firefighter with the hottest reputation in town saves her from near-drowning, there's no doubt he's everything she shouldn't want.

Donovan's looks and image have kept his nights entertaining and his ring finger empty. One-night stands serve as a short-term distraction to the flashbacks of his past he increasingly struggles to ignore. But a chance encounter with his best friend's sister makes him realize that one night is no longer enough.

Together they discover that bad can actually be the best and forever is worth everything.
Enjoy an excerpt:
Donovan Miller braced his arms on the side of the pool as he pushed himself out of the water. His limbs trembled slightly from exertion. He reached for his towel and caught sight of the swimmer a few lanes away. She was tiny. Her body moved smoothly through the water, mesmerizing him as she rotated back and forth. He could tell she was an experienced swimmer by the consistency in her strokes. As he toweled off, he admired the curves of her body. Alarm bells rang in his head when he realized she was rapidly approaching the wall and showed no sign of slowing.
"Hey! Hey! Watch out!" he shouted as he ran toward her lane, hoping desperately to intercept her.
With a dim thud, her head hit the side of the pool. He watched as her eyes rolled back and she sank under the water.
"Shit! Shit!"
Jumping into the swimmer's lane, he pulled her to the surface, attempting to immobilize her neck as much as possible. He assessed her pulse and checked to make sure her airway wasn't compromised.
"Call an ambulance," he barked at the dumbstruck lifeguards headed in their direction.
She floated in his arms, eyes closed, bleeding. He took a moment to feel thankful he'd seen the effects of blood mixed with water before. Even a small amount of blood can look like a murder scene when water is added. He held her while they waited for the ambulance. He stroked her hair and checked her pulse again, disconcerted by the feeling of her soft skin under his fingers. Her eyes fluttered open, affording him a concerned glance before she winced in pain.
"What happened?" Her voice was thin and raspy.
"Shh, don't try to move, sweetheart. You slammed into that wall pretty hard."
"I . . . mmm . . . lost my count."
"It's gonna be okay."
She frowned, eyebrows pulling together. "Can I get up now?"
"There's an ambulance on the way. They'll be here in a minute. We need to wait to move you. I want to get you on a spine board and in a neck brace." He smiled and locked eyes with her. "What's your name, sweetheart?"
"Valerie. Valerie Peters." Her face pulled into an adorable frown again. "Don't call me sweetheart. I don't even know you."
About the Author: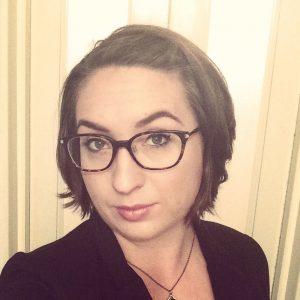 Kim Loraine is the author of the "Golden Beach" series, including "Restoration" (2015) and "Renovation" (2015). She started writing at a young age, scribbling down song lyrics, short stories, and poems she was too afraid to share with anyone. Busy working as a music teacher in her Pacific Northwest hometown, it wasn't until her family of four picked up everything and moved to beautiful Japan that she decided to finally take the plunge and send her characters out into the world.
The central theme in Kim's books is self-discovery, whether that is found through taking risks, breaking down walls, or admitting mistakes. Kim likes to write characters that seem like someone you actually know, who find that life is a journey not without its challenges.
When not writing Kim spends her time with her husband, chasing around their crazy kids, exploring Japan, and binge-watching Doctor Who on Netflix.
Facebook | Twitter | Amazon Author Page
Buy the book at
Amazon
.